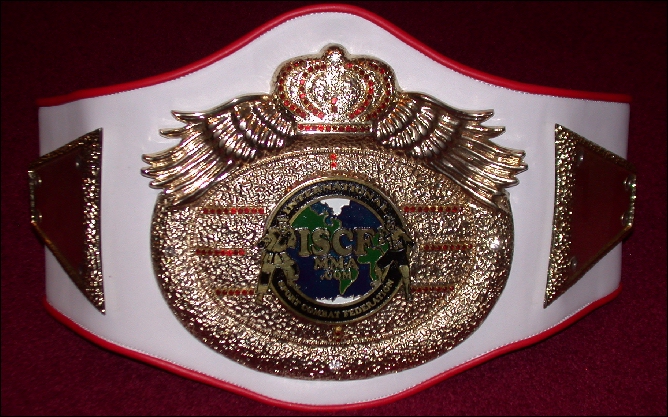 ISCF WELTERWEIGHT
WORLD CHAMPION

-VACANT -
ISCF West Coast Welterweight Champion: Max "PAIN" Griffin

May 3rd, 2013, West Coast Fighting Championship, Sacramento, California, USA
Defeated Kito Andrews by unanimous decision, 50-45, 50-45 & 50-47.


FIRST DEFENSE: October 10th, 2015, West Coast Fighting Championship, Sacramento, California, USA
Defeated Randall Wallace by TKO at 1:44 of Round 4.
PRE BOUT PROMO VIDEO - Randall Walace Bout HIGHLIGHTS - Griffin HIGHLIGHTS
All Other ISCF Titles: Vacant

TOP 10 CONTENDERS



REMAINING CONTENDERS
LISTED BELOW IN NO PARTICULAR ORDER
FOR UPDATES IN FIGHT RECORDS, PLEASE E-MAIL ISCF AT info@iscfmma.com


WCC: Max Griffin Sacramento, California, USA, P: 16-8, AMMA: 5-1, PANK: 8-0, AKB: 6-0, 168, 6', 11-29-85, Dave Marinoble, (916) 786-0333, - (1-25-21)
ERC: Matt Brown, Xenia, Ohio, USA, P: 22-18, A: 2-0, 170, 6', 1-10-81, The JG MMA and Fitness Academy, (513) 889-5851, - Wikipedia, - (1-25-21)
Anthony Pettis, Milwaukee, Wisconsin, USA, P: 24-10, A: 1-0, 170, 5'10", 1-27-87, Roufusport, - (1-25-21)
Rory MacDonald, Kelowna, British Columbia, Canada, 21-6, 170, 5'11", 7-22-89, Tristar Gym, - (1-25-21)
Rafael Dos Anjos, Rio de Janeiro, Brazil, 30-13, 170, 5'7", 10-26-84, Evolve Mma / Rda, - (1-25-21)
Ben Askren, Phoenix, Arizona, USA, 19-2, 170, 5'10", 7-18-84, Roufusport, - (1-25-21)
Donald Cerrone, Broomfield, Colorado, USA, 36-15, 170, 6', 3-29-83, BMF Ranch, - (1-25-21)
James Krause, Odessa, Missouri, USA, P: 28-8, A: 8-1, 155, 6', 6-4-86, Glory MMA & Fitness, - (1-25-21)
Robbie Lawler, Granite City, Illinois, USA, 28-15, 170, 6'2", 3-20-82, Combat Club, - (1-25-21)
Nate Diaz, Concord, California, USA, 20-12, 170.4, 6', 4-16-85, Cesar Gracie Jiu-Jitsu, - (1-25-21)
Zak Cummings, Springfield, Missouri, USA, P: 22-6, A: 6-0, 185, 6', 8-2-84, Rick Wymer, (417) 862-2243, - (5-10-19)
Gunnar Nelson, Reykjavik Iceland, 17-4, 170, 5'11", 7-28-88, 1988-07-28, Mjolnir / SBG Ireland, - (4-15-19)
Tyler Diamond, Oroville, California, USA, P: 9-1, A: 7-1, 0-1, 170, 5'7", 3-18-91, Josh Hinkle, (530) 353-9116, - (4-15-19)
Daron McCant, Excelsior Springs, Missouri, USA, P: 4-1, A: 9-1, 5'10" 145, 3-27-92, Rob Kimmons, (913) 787-6241, - (3-2-19)
Demian Maia, Barveri, Sao Paulo, Brazil, 26-9, 170, 6', 11-6-77, Wand Fight Team, - (3-2-19)
Alex Oliveira, Tres Rios, Rio De Janeiro, Brazil, 19-6, 170, 5'11", 2-21-88, Tata Fight Team / Ats Team, - (3-2-19)
Jorge Masvidal, Miami, Florida, USA, 32-13, 5'11", 170, 11-12-84, American Top Team, - (3-2-19)
Colin Lubberts, Jacksonville, Florida, USA, P: 3-0, 7-2, 157, 6'2", 9-29-95, Dean Grant, (904) 588-2934, - (3-2-19)
Andrey Koreshkov, Omsk, Russia, 21-3, 170, 6', 8-23-90, Rusfighters Sport Club, info@rusfighters.ru - (3-2-19)
Randall Wallace, Oakdale, California, USA, 15-7, 169.2, 3-1-89, Tom Theofanopoulos, (209) 847-9406, - (3-2-19)
Ronny Tsutsui Jr. Vallejo, California, USA, P: 2-3, 9-1-1, AK: 1-1, 154.9, 5'10", 9-16-89, George Tsutsui, (925) 759-6040, - (3-2-19)
Jake Ellenberger, Omaha, Nebraska, USA, 31-15, 170, 6', 3-28-85, Reign MMA, - (3-2-19)
Christian - Chris Jacobs, Deland, Florida, USA, P: 1-0, 7-3, 153, 5'11", 2-29-92, Todd Cutler, (386) 366-4030, - (3-2-19)
Jesus Lara, Eugene, Oregon, USA, P: 1-2, A: 6-2-1, KB: 1-1, 160, 5'10", 4-8-93, Ben Baxter, (541) 505-8388, - (3-2-19)
Emre Orun, Saint Augustine, Florida, USA, P: 2-7, A: 6-8, MT: 7-4, 171, 6'1", 12-13-89, Brannon Lee Hicks, (904) 226-2257, - (3-2-19)
Fred Freeman, St. Louis, Missouri, USA, P: 2-2, 7-9, 5'9" 146, 12-4-88, Jarred Block, (314) 583-320, - (3-2-19)
Carlos Condit, Albuquerque, New Mexico, USA, 30-13, 155, 6'2", FIT NHB Team, - (3-2-19)
Mike Pyle, Las Vegas, Nevada, USA, 27-14-1, AMMA: 0-1, 170, 6'1", 9-18-75, Syndicate MMA, - (3-2-19)
Jake Shields, San Franciso, California, USA, 33-11-1, 170, 5'11", 1-9-79, Cesar Gracie, - (3-2-19)
_______________________________
Mike Swick, San Jose, California, USA, P: 15-6, A: 1-0, 185, 6'1", 6-19-79, American Kickboxing Academy, - (8-1-15)
Raymond Gray, Jefferson City, Missouri, USA, P: 3-6, A: 22-13, 185, 5'10", 10-28-85, Rob Hulett, (573) 424-5744, PHOTO, - (3-2-19)
Chad Williams, St. Louis, Missouri, USA, P: 1-3, A: 16-2, (14-1) 170, 6', 7-25-86, Self, Dustin Garrens, (816) 805-7501, - (3-2-19)
Steven Siler, Provo, Utah, USA, 28-14, 165, 5'11", 2-15-87, The Pit Elevated Fight Team, - (12-14-15)
Trent McDade, Altamonte Springs, Florida, USA, P: 1-0, A: *3-2, (2-2) 160, 5'11", 10-3-93, Jose Figerous, (407) 230-8235, - (12-8-14)
Jeremiah Denson, Grain Valley, Missouri, USA, p: 1-1, 14-3, 170, 5'10", 2-13-90, Phil Jones, (816) 651-5087, - PHOTO, - (9-18-14)
Brian Ebersole, Bradley, Illinois, USA, 51-16-1, 170, 6', 11-27-80, Tiger Muay Thai, - (10-2-14)
Shaun Fields, Cape Coral, Florida, USA, P: 1-0, 4-5, 157, 5'10", 10-10-84, Willy, (941) 875-0875, - (9-19-14)
Tarec Saffiedine, Temecula, California, USA via Belgium, 15-3, AK: 12-1-1, 170, 5'9", 9-6-86, Team Quest, - (8-28-14)
Patrick Cote, Quebec City, Quebec, Canada, 20-9, 170, 5'11", 2-29-80, BTT Canada, - (10-2-14)
John Howard, Boston, Massachusetts, USA, 22-9, 170, 5'7", 3-1-83, Wai Kru MMA, - (8-28-14)
Siyar Bahadurzada, Kabul, Afghanistan, 21-6-1, 5'11", 4-17-84, Blackzilians / Jaco Hybrid Training Center, - (2-28-14)
William Macario, Rio De Janeiro, Rio De Janeiro, Brazil, 7-1, 170, 5'11", 7-1-91, Pejor, - (2-28-14)
Bobby Voelker (Volker), Olathe, Kansas, USA, P: 24-12, A: 14-0, 170, 5'11", 4-26-79, Brad Jones, (913) 963-6940, PHOTO, - (8-28-14)
Ryan LaFlare, Lindenhurst, New York, USA, 10-1, 170, 6'1", 10-1-83, Bellmore Kickboxing Academy, - (112-19-13)
Rick Story, Tacoma, Washington, USA, 16-7, 170, 5'10", 8-28-84, Brave Legion, - (11-18-13)
Jason High, Huntington Beach, California, USA, 18-4, 170, 5'9", 10-12-81, American Top Team / Hd MMA, - (11-18-13)
Pawan Maan Singh, Delhi, India, 4-1, 170, 5'7", 1987, - (1-14-14)
Anthony Lapsley, Indianapolis, Indiana, USA, 22-6 (2NC), 170, 5'9", 2-13-80,, - (11-18-13)
Josh Burkman, Salt Lake City, Utah, USA, P: 26-10, A: 9-1, 170, 5'10", 10-4-80, The Pit Elevated Fight Team, - (11-14-13)
Martin Kampmann, Las Vegas, Nevada, USA, 20-7, 170, 6', 4-17-82, Xtreme Couture, - (11-14-13)
Chris Clements, Chatam, Ontario, Canada, 11-5, 170, 5'10", 2-9-76, Team Tompkins, - (9-24-13)
Paulo Thiago, Brasilia, Federal District, Brazil, 15-5, 170, 5'11", 1-25-81, Constrictor Team, - (9-24-13)
Randall "Buddy" Wallace, Oakdale, California, USA, P: 5-1, A: *4-3, (2-1) 170, 5'11", 3-1-89, Tom Theofanopoulos, (209) 482-6505, - (9-3-13)
Jordan Williams, Cameron Park, California, USA, P: 1-0, 7-1 Overall, (4-1 & 3-0 ) 170, 6'1", 10-13-90, Jim West, (916) 517-2538, - (8-30-13)
Jason Witt, Kansas City, Missouri, USA, P: 2-1, *8-4, (7-4) 170, 5'11", 11-7-86, Bill Brown, (816) 216-4363, - (9-3-13)
Lewis Gonzales, Turlock, California, USA, 9-0, 162.4, 5'10", 9-19-87, Jim West, (916) 517-2538, - (8-22-13)
Justin Baesman Susanville, California, USA, 14-3, A: 3-0, 170, 5'10", 6-3-81, Sean Sharky, (925) 383-3450, - (8-22-13)
Brock Weaver, McIntosh, Alabama, USA, P: 1-0, *15-7, (9-7) 156, 6', 12-5-91, Jimmy Mills, (251) 458-0579, - (9-3-13)
Jordan Mein, Lethbridge, Alberta, Canada, 27-9, 170, 5'11", Canadian Martial Arts Centre, - (8-22-13)
Kito Andrews, Sacramento, California, USA, 10-3, A: 2-1, 169.5, 5'11", 3-2-78, Team Alpha Male, Joe Guevara, (916) 997-7727, - (8-22-13)
Hyun Gyu Lim, Seoul, South Korea, 12-3-1, 170, 6'2", 1-16-85, Korean Top Team, - (9-3-13)
Ryan Tobar, Iowa, USA, P: 1-0, A: *5-3, (4-2) 156, 5'10", 1-18-90, Andrei Bennei, (319) 457-1707, - (9-3-13)
Justin Jaynes, Richmond, Michigan, USA, P: 2-0, A: *30-14, (11-10) 170, 5'7,8-10-89, Self, - (9-3-13)
Pascal Krauss, Freiburg, Germany, 11-2, 170, 6'1", 4-19-87, Roufusport, - (9-3-13)
Jeremy Anderson, Davenport, Iowa, USA, P: 1-0, A: 18-7, 170, 6'2", 8-27-79, Miletich Fighting Systems, (563) 355-3360, - (11-12-13)
Warren Smith, Atlanta, Georgia, USA, P: 1-0, A: 4-5, 170, 5'6", 6-19-85, TJ McDaniel, (770) 334-0443, - (11-12-13)
________________________________
JJ Ambrose, Lakewood, California, USA, 19-4, 165, 5-9, Phuket Top Team, - (6-11-13)
Jacob Volkmann, White Bear Lake, Minnesota, USA, 15-4, 155, 5'9, 9-5-80, Minnesota Martial Arts Academy, - (6-11-13)
Kenny Robertson, Metamera, Illinois, USA, P: 12-2, A: 4-0, 170, 5'10", 2-14-84, Bob Long, (309) 647-2755, - (6-11-13)
Adam Meridith, St. Louis, Missouri, USA, P: 1-0, 8-3, 170, 6'2", 12-7-87, Self, (573) 353-1427, - (6-11-13)
David Menne, Forest Lake, Minnesota, USA, 46-17-2, 5'11", 170, 7-29-74, Greg Nelson, (612) 560-5696, - (6-11-13)
B.J. Penn, Hilo, Hawaii, USA, 16-9-2, 170, 5'9", 12-13-78, BJ Penn's MMA, - (6-11-13)
Diego Sanchez, Alburqurque, New Mexico, USA, 24-5, 170, 5'10", 12-31-81, - (6-11-13)
Ryan Cenkus Independence, Missouri, USA, P: 7-6, A: 1-1, 155, 5'9", 5-18-78, Phil Jones House of Pain 816-651-5087, - (6-11-13)
Matthew Cano, Cheyenne, Wyoming, USA, P: 1-0, A: 4-2, 165, 5'10", Leroy Lueero, (307) 214-8434, - (11-20-12)
Ricky Jackson, San Jose, California, USA, P: 2-1, A: 4-2, 168, 5'9, 2-4-85, Shamrock MMA (775) 852-9780, - (11-20-12)
Brian Warren, San Bernadino, California, USA, 18-17, 165, 6', Unbreakable Gym, - (1-18-13)
Yoshihiro Akiyama, Osaka, Japan, 14-6, 170, 5'10", 7-29-75, Team Cloud, - (11-20-12)
Nate Jolly, Cincinnati, Ohio, USA, P: 12-5, A: 19-3, AB: 1-0/1, 155, 5'8", 7-22-82, Bob Stines, ( 606) 862-1349, (606) 521 4291, - (11-20-12)
Juan Quesada, Pittsburg, California, USA, 1-1, A: 4-0, AK: 1-0, 159, 5'10", 8-3-83, Cesar Gracie, Dan Black, (925) 813-0229, - (5-20-13)
Cody Wilson, Warsaw, Missouri, USA, P: 1-1, 6-2, 170, 5'10", 9-7-74, Jeb Chiles, (660) 885-8852, - (11-20-12)
Che Mills, Gloucester, England, 143-5, 170, 5'9", 9-29-82, Trojan Freefighters, - (11-20-12)
Jonny - Jonathan Wester, Rogers, Arkansas, USA, P: 2-1, A: 9-5, 161, 5'8", 3-24-87, Kaleb Plank, (479) 774-1268, - (11-20-12)
Jeremy Severn, Charleston, South Carolina, USA, P: 1-0, 5-3, 169, 5'11", 11-17-87, Jason Hicks, (843) 530-8746, - (2-18-13)
Travis Gervais, Winnipeg, Manitoba, Canada, 2-0, 160, 5'6", 8-5-86, Giuseppe DeNatale, (204) 471-9944, - (11-20-12)
Tyler Stinson, Winfield, Kansas, USA, 23-9, 170, 6'3", 1-17-86, Team Punisher, - (11-20-12)
Dallas Jakobi, Durban, KwaZulu-Natal, South Africa, 6-3, 170, 5'9", 3-15-82, Gorgeous Boyz Hardcore, - (11-20-12)
Chris Stranger. Winnipeg, Manitoba, Canada, 5-2-1, A: 1-0, 170, 5'11", 11-1-73, Giuseppe DeNatale, (204) 471-9944, - (11-20-12)
Lindsey Hawkes, Winnipeg, Manitoba, Canada, 6-6, A: 1-1, 169.5, 5'11", 12-31-84, Curtis Brigham, (204) 996-9662, - (11-20-12)
Paul Daley, Nottingham, England, 30-12-2, 165, 5'9", 2-21-83, Team Rough House, - (11-20-12)
Ross Pearson, Sunderland, Tyne and Wear, England, 13-5, 155, 5'8", 9-26-84, Team Rough House, - (12-31-11)
Dong Hyun Kim, Busan, South Korea, 15-1-1, 155, 6'1, 11-17-81, Busan Team M.A.D, - (12-31-11)
Sean Pierson, Toronto, Ontario, Canada, 11-6, 170, 6'1, 3-10-76, Tap Star, - (12-31-11)
Junior Assuncao, Atlanta, Virginia, USA, 13-5, 170, 5'9", 6-24-81, Unit 2 Fitness, - (12-31-11)
Efrain Escudero, Tempe, Arizona, USA, 18-4, 155, 5'9", 1-15-86, MMA Lab, - (12-31-11)
Josh Samman, Tallahassee, Florida, USA, P: 8-2, A: 2-0, 185, 6'2", 3-14-88, Tallahassee Combat Sports / Gracie Barra South Jax, (850) 459-9581, - (12-29-11)
Emmanuel Sanchez, Springfield, Oregon, USA, 4-1, A: 9-1, 165, 5'9", 8-11-90, Ryan Clark, (541) 232-6300, - (5-20-13)
Mikhail Venikov, Orangevale, California, USA, 3-1, A: 3-0, 169.6, 6'1", 5-28-83, Team Alpha Male, (916) 844-5531, - (5-20-13)
Nick Christy, Sacramento, California, USA, 8-4, 169.8, 6', 2-26-81, Self, (916) 604-1745, - (5-20-13)
Mike Wade, Bristol, Tennessee, USA, P: 2-2, 6-2, 170, 5'10", 6-9-86, Aj Panebiance, (540) 460-7420, - (12-27-11)
Clay Harvison, Orem, Utah, USA, 9-4, 169, 6'1", 9-25-80, Riven Academy, - (12-27-11)
Marcus Davis, Bangor, Maine, USA, 20-9, A: 2-0, PB: 17-1, 170, 5'8", 8-24-73, Team Sityodtong / Team Irish, - (12-27-11)
Joseph Cornerol, Greer, South Carolina, USA, PMMA: 2-0, AMMA: 6-2, AKB: 10-3/5, 170, 5'11", 5-25-88, Ray Thompson, (864) 967-3930, - (11-1-11)
Nick Nolte, Kansas City, Missouri, USA, P: 5-3, A: 7-3, 165, 5'11", 3-4-81, Aspire Martial Arts Fight University, Jon Brown, (913) 832-2095, - (9-11-11)
Thiago Alves, Ft. Lauderdale, Florida, USA, 17-7, 170, 5'8", American Top Team, - (3-21-11)
Chris Lytle, Indianapolis, Indiana, USA, 25-15-5, 5'11", 170, 8-18-74, Jason Godsey, 317-309-5467, - (12-27-10)
Richard Rigmaden, Stockton, California, USA, 2-5, A: 1-2, 170, 6'1", 4-25-80, CSA Gym, (209) 518-0640, - (5-20-13)
Matt Hughes, Charleston, Illinois, USA, 43-9, 169, 5'9", 10-13-73, (800) 536-1029 or MiletichFightingSystems@comcast.net - Matt's Web, - (12-31-11)
Dan Hardy, Nottingham, England, 23-8, 170, 6', 5-17-82, Team Rough House, www.danhardymma.com - (12-27-10)
Brent Weedman, Louisville, Kentucky, USA, P: 15-5, A: 5-0, 170, 6', Eric Haycraft, (502) 224-1611, - (6-1-10)
Brandon DelPrado, Lake Station, Indiana, USA, P: 1-0, A: 12-1, 170, 5'11", 7-1-88 Steve Colon, (219) 484-5747, - (2-22-10)
Lance Benoist, Festus, Missouri, USA, P: 1-0, 6-0, 170, 6'0", 8-26-1988, Kevin Mahn, (636) 278-9035, - (2-22-10)
Tim Stout, Mountain City, Tennessee, USA, P/MMA: 12-9, A/MMA: 3-1, 169, 5'11", 2-9-79, Team Oxendine - Self: t_tout@yahoo.com - (6-1-10)
Jay Hieron, Long Island, New York, USA, P: 16-4, A: 3-0, 170, 5'11", Xtreme Couture, - (2-3-10)
Matt John Serra, Long Island, New York, USA, P/MMA: 9-6, A/MMA: 1-0, 170, 5'6", 6-2-74, Team Renzo Gracie, - (2-3-10)
David Myers, Seneca, Missouri, USA, P: 2-2, A/MMA: 6-2, 170, 5'9", 6-5-83, Bane Fighting Club, (417) 439-8574 or hlank4d@yahoo.com - (2-3-10)
Ricky Bouck, Bristol, Virginia, USA, P: 1-0, A: 8-1, 170, 5'10", 3-6-83, Dee Smith, (423) 383-1981, - (2-1-10)
Ben Nixdorf, Blue Springs, Missouri, USA, P: 5-3, A: 1-1, 167, 6'0", 7-1-85, Steve Crawford & Brad Jones (816) 728-7360, - (9-24-09)
Rob Kimmons, Kansas City, Missouri, USA, P: 23-8, A: 10-0, 170, 5'11, 1981, Steve Crawford, (816) 728-7360, - (9-11-11)
Hayato Sakurai, Tokyo, Japan, 31-8-3, 160, 5'8", 8-24-75, Naoki Sakurada & Matt Hume, Mgr: Kazuhiro Sakamoto, - (4-20-09)
Karo Parisyan, North Hollywood, California, USA, 19-5, 170, 5'10", 8-28-82, - (4-20-09)
John Alessio, California, USA, 23-13, 169, 5'9", 7-7-79, Millenia Jiu-Jitsu / Bad Intentions, - (4-20-09)
Forrest Petz, Lakewood, Ohio, USA, P: 12-76, A: 5-0, 170, 5'10", 9-22-75, Marcus Marinelli, (219) 529-0484, - (4-20-09)
Sam Morgan, Minneapolis, Minnesota, USA, P: 19-11, A: 2-0, 165, 5'10", 7-7-79, Team Bison, - (4-20-09)
Dennis Hallman, Yelm, Washington, USA, P: 39-12-2, A: 2-0, 5'9 (175cm), 169 (77kg), 12-2-75, Victory Athletics, - (4-1-08)
Benji Radach, Castlerock, Washington, USA, P: 17-4, A: 2-0, 5'10 (178cm), 169 (77kg), Victory Athletics, - (4-1-08)
Kyle Gray, Pleasant Valley, Illinois, USA, P: 1-0, A: 11-1, 165, 5'10", 6-15-83, Self, (828) 507-5537, - (8-21-09)
Chris Hale Liberty, Missouri, USA, P: 1-3, A: 6-2, 170, 5'10", 6-30-82, Steve Schneider (816) 985-4385, - (8-21-09)
Marius Cujba, Dacula, Georgia, USA, P: 1-0, A: 6-4, 160, 5'8", 4-7-77, Tony Tucci, 404-822-5356, - (8-21-09)
Jerome Buchanan, Florida, USA, P: 1-0, 3-1-1, 170, 6', 7-12-86, Bulldog Boxing, (904) 982-0063, - (2-27-12)
Andrew Waters, Independence, Missouri, USA, P: 1-1, A: 6-3, 170, 6'0", 6-29-85, Steve Crawford, (816) 728-7360, - (8-21-09)
Amir Khillah, Kalamazoo, Michigan, USA, P/MMA: 5-4, A/MMA: 1-0, 170, 5'9", 8-15-79, Todd Skinner, (269) 214-2131, - (5-16-09)
Jerry Bussen, Richmond, Indiana, USA, P: 0-1, A: 2-1, 166, 5'10", 9-13-87, Don Thompson, (765) 238-1630, - (8-21-09)
Jamie Mether, Iowa, USA, P: 3-0, A: 10-4, 170, Team Peak Performance, - (4-20-09)
Rocky Vercher, St. Charles, Missouri, USA, P: 2-0, A: 6-0, 170, 5'8", 1-29-83, Self, (305) 342-4159, - (10-30-08)
Drew Reed, Pittsfield, Illinois, USA, P: 1-3, A: 2-8, 170, 6'1", 8-9-85, Self, (217) 285-5022, - (11-12-08)
Chance Burke, McKenzie, Tennessee, USA, P: 1-1, A: 2-1, A/KB: 2-0, 159, 5'11", 2-5-86, Arthur Kapeller, (731) 352-0700, - (12-7-08)
Jamie Mether, Iowa, USA, P: 3-0, A: 10-4, 170, 5'8", 9-7-85, Russ O'Connell, (319) 404-4407, - (2-4-09)
Tyler Reams, Charles City, Iowa, USA, P: 2-0, !: 4-1, 165, 5'11", 2-8-83, - (8-21-09)
Decarlo Johnson, Chicago, Illinois, USA, P: 1-4, A: 3-3-1, 168, 6'2", 9-26-85, Ray Pohl & Jeff Waldren, (708) 499-1500, - (8-21-09)
Justin Zabokrtsky, Topeka, Kansas, USA, P: 1-1, A: 5-4-1, 170, 6', 12-4-85, Scott Heston, (785) 246-0301, - (9-14-09)
Cody Ziemer, Nampa, Idaho, USA, P: 1-0, A: 6-1, KB 1-0, 158, 5'10", 10-31-84, Calvin Owens (208) 989-4744, - (9-14-09)
John O'Donnell, Fallon, Nevada, USA, P: 1-0, 2-0, 167, 5'8", - (1-11-10)
Michael Gates, Corvallis, Montana, USA, PRO MMA 12-6-1, 170, 5'11", Self, - (2-1-10)
Bobby Cooper, Knob Nester, Missouri, USA, P: 1-0, A: 11-6, 170, 6'1", 6-13-86, Dave Andrade, (660) 663-0353, - (3-9-10)
Caleb Ball, Rockville, Maryland, USA, P: 1-1, A: 3-5, 170, 5'10", 4-20-82, Daniel Miranda, (931) 436-8313, - (3-9-10)
Darion Terry, Topeka, Kansas, USA, P: 1-0, A: 4-0, 170, 5'7", 4-7-84, Aaron Poston, (785) 806-0747, - (8-12-10)
Nick (Nicholas) Rhoads, Tucson, Arizona, USA, P: 1-1, A: 3-3, 160, 5'9", 4-24-90, Brady Rasor, - (8-12-10)
DJ Bland, Eldorado Springs, Missouri, USA, P: 1-3, A: 3-0, 170, 6'1", 6-26-88, Mid Mo, (660) 525-6429, - (9-13-10)
Chris Barns, Pryor, Oklahoma, USA, P: 5-11, A: 3-6, 170, 5'8", 2-17-85, Self, 918-260-2549, - (10-2-10)
Chad James, Belton, Texas, USA, P: 1-0, A: 1-1, 170, 5'11", 3-8-84, John Moore, (254) 493-3000, - (10-5-10)
Rodney Borden, Kansas, Missouri, USA, P: 1-0, A: 10-2-1, 170, 5'10", 10-16-76, American Jujitsu, (816) 728-7360, - (122-11)
Michael Robinson, Ft. Leonard Wood, Missouri, USA, P: 1-0, A: 6-2, 155, 5'9", 11-4-82, Jason Hensley/Daniel Chavez, (573) 433-6228, - (12-10-11)
Steven Montgomery, Boca Routon, Florida, USA, P: 1-1, A: 6-0-2, 170, 6'4", 12-19-90, Blake Bowman, (954) 330-5663, - (12-27-11)
Richie McCloskey, Baton Rouge, Louisiana, USA, P: 4-4, A: 2-1, 173, 5'9", Gladiators Academy, (225) 218-8871, - (12-29-11)
William Dale - Willie Dale, Rockford, Illinois, USA, P: 3-6, A: 7-1, 170, 5'7", NEED DOB, Self, - (12-27-11)
Matt Ruskin, New York, New York, USA, P: 1-4, A: 2-1, 170, 5'11", 7-28-78, Casey Oxendine, (423) 782-6248 , - (12-29-11)
Franklin "Chancelor" Edmonson, Corbin, Kentucky, USA, P: 2-15, A: 6-1, 165, 6'1", Jimbo Collins, (606) 521-6810, - (12-29-11)
Zachariah 'Zach' Owens, Nampa, Idaho, USA, P: 1-3, A: 5-3, 166, 6', 2-10-90, Calvin Owens, (208) 989-4744, - (12-29-11)
Cody Carrillo, Parsons, Kansas, USA, P: 1-3, 6-4, 170, 5'10", 4-15-82, Andres Chavez-Martinez, (620) 820-3391, - (12-29-11)
Steve Schneider, Kansas City, Missouri, USA, P: 13-20, A: 2-1, 160, 5'9, 12-18-70, American Jiu-Jitsu Academy, (816) 728-7360, - (9-11-11)
___________________
UNRANKED - NON WINNING PRO RECORD OR RECORD UNCONFIRMED


YET TO BE RE-FORMATTED TO www.mixedmartialarts.com FROM OLD DATABASE: FC FIGHTER.COM

Tamdan McCrory, New York, USA, 8-1, 170, 6'4", - (4-1-08)
Jon Friedland, Milwakee, Wisconsin, USA, P: 14-5, A: 4-1, 170, 11-6-75, Self, (414) 248-3595, - (4-1-08)
Jason Tatlow, Sask Home Country: Canada, 8-2, A: 1-1-1, - (4-1-08)
Cody Parish, Oak Grove, Missouri, USA, P: 1-0, A: 10-0, 165, 6'1", 7-20-84, Crawford, (816) 728-7360, - (4-1-08)
Keith Smetana, Rockville, Michigan, USA, P: 3-2, A: 10-7-0-4, (6-3), 170, 6'0", 9-29-84, Jack McVicker, (812) 460-0958, - (4-1-08)
Joey Gorczynski, Norman, Oklahoma, USA, 5-3, 170, Self, (918) 260-2549, - (4-1-08)
Pete Spratt, Dallas Texas, USA, 17-13, 5'10", 170, 1-9-71, Team Punishment, 303-667-8612, - (4-1-08)
Myles Merola, Surrey, British Columbia, Canada, P: 9-4, A: 0-1, 160, Suitela Gym, - (4-1-08)
Steve Berger, St. Louis, Missouri, USA , 18-18-2, 170, 5'11", 5-20-73, Rodrigo Vaghi Jiu-Jitsu, - (4-1-08)
Kirk Gibson, Denton,Texas, USA, P/MMA: 2-0, A/MMA: 3-2, 165, 5'9", 11-6-68, Self, (469) 549-9919, - (4-1-08)
Paul Rodriguez, Orlando, Florida, USA, 10-8-2, 5'7", 165, 5-18-75, Din Thomas, (407) 249-0966, - (4-1-08)
Nate Mohr, Waterloo, Iowa, USA, Pro MMA: 8-5, AM MMA: 1-0, AMKB: 5-0/0, 160, 3-3-83, Russ O'Connell, (319) 234-1935, - (4-1-08)
Henery Matamoros, Milwaukee, Wisconsin, USA, 21-13-1, 5'9", 170, Self, (414) 332-4030, - (4-1-08)
Brad Wright, Christiansburg, Virginia, USA, P: 1-0, A: 7-0, 169, 5'9", 10-16-79, Tim Mannon, (615) 512-4135, - (4-1-08)
Carlton Spaulding, Lawrenceville, Georgia, USA, P: 1-1, A: 6-1, 165, 5'11", 10-13-77, George Allen & Gary Brown, (678) 481-4733, - (4-1-08)
Tom Aaron, Troy, Missouri, USA, P: 1-0, A: 6-0, 155, 5'8", 7-13-78, Steve Berger, (314) 961-1177, - (4-5-08)
Gary Hancock, Picayune, Mississippi, USA, P: 1-0, A: 6-2, 170, 5'7", 1-13-85, Lawrence Patrick, (985) 643-3002, - (4-1-08)
Casey Pintar, Lafayette, Georgia, USA, P: 1-0, A: 4-0/2, 170, 5'9", 6-19-86, Steve Headden, - (4-1-08)
Steve Kinnison, Houston, Texas, USA, P: 11-11, A: 4-0, (708) 991-1143, - (4-1-08)
Billy Stamp, Bloomington, Illinois, USA, 9-8-1, 165, 6'1", 5-16-79, Ryan Blackorby, (309) 672-3090, - (4-1-08)
Will Burns, Columbia, Missouri, USA, P: 1-0, A: 6-3, 170, 6', 7-22-80, Self, (573) 239-0438, - (4-1-08)
Ran Weathers, Kennesaw, Georgia, USA, P: 7-3, A: 5-3, 170, Need Height & DOB, Velocity Kickboxing, (770) 792-7925, - (4-1-08)
Nathaniel Bernal, Lee's Summit, Missouri, USA, P: 1-0, A: 5-3, 170, 6'0", 12-29-85, Brian Davidson, (816) 721-1464, - (4-1-08)
Cody Senseney, Biloxi, Mississippi, USA, P/MMA: 3-0, A/MMA: 2-0, 170, 10-14-87, (228) 217-9003, - (4-1-08)
Leo Perez, Plainfield, Illinois USA, P: 1-0, A: 5-3, KB: 2-0, 170, 6', 4-21-78, Charles Wilson (815) 439-8510, - web, - (4-1-08)
Timothy Gawenda, Grayson, Georgia, USA, P: 1-0, A/MMA: 4-2 A/KB: 3-1, 170, 5'10", 11-11-06, Gary Brown & George Allen, (770) 513-1848, - (4-1-08)
Jacob Kuester, Milwaukee, WI, P: 2-1, A: 2-0, 170, - (4-1-08)
Shawn Connor, Tallahassee, Florida, USA,P: 1-0, A: 2-0, 165, 5'10", 6-22-78, Brian Orkin, (850) 212-6592, - (4-1-08)
Matt Taira, Fayeheville, North Carolina, USA, P/MMA: 1-0, A/MMA: 1-0, 160, 5'9", 9-6-78, Greg Thompson, (919) 622-2773, - (4-1-08)
Rick Fitch, Republic, Ohio, USA, P: 1-0, A: 4-1, 170, 5'8", Johnny Benitez, (419) 767-0138, - (4-1-08)
Tim Nixon, Marquette, Michigan, USA, P: 1-2, A: 4-4, 170, 6'3", 6-23-83, Kak Koonnala, (906) 226-8752, - (4-1-08)
Dale Wooden Fayetteville, North Carolina, USA, P: 1-0, A: 3-3, 170, 5'8", 7-19-75, Jeremiah Lancaster, (973) 255-0836, - (4-1-08)
Joshua Cate Knoxville, Tennessee, USA, 7-4-2, 160, 5'6", 1-11-78, Helio Moreira, (865) 386-5052, - (4-1-08)
John Nellemoe, Newman, Georgia, USA, P: 1-2, A: 3-0, 170, 5'7", 6-23-69, Self, (678) 200-5977, - (4-1-08)
Antonio Flores, Houston, Texas, USA, P/MMA: 2-2, A/MMA: 1-1, 170, 5'10", 7-16-77, Self, (312) 399-5390, - (4-1-08)
Brad Wright, Christiansburg, Virginia, USA, P/MMA: 1-0, A/MMA: 4-0, 170, 5'9", 10-16-79, Tim Mannon, (615) 512-4135, - (4-1-08)
Tyson Rainey, Nevada, Missouri, USA, P: 1-0, A: 4-2, 170, 5'8", 1-16-83, Self, (417) 448-1659, - (4-1-08)
James White Dentoa, Texas, USA, P/MMA: 3-8, 165, 6', 9-3-76, Victor Rackliff, (940) 380-8232, - (4-1-08)
Matt Warner, Crosby, Texas, USA, P: 3-1, 170, 5'6", 5-21-1975, Self (713) 823-6416, - (4-1-08)
Dustin Severs, St. Louis, Missouri, USA, P: 2-3, A: 6-0, 165, Rodrigo Vaghi Jiu-Jitsu, - (4-1-08)
Dave Cochran, Redmond, Oregon, USA, P: 13-17, A: 13-7-1, 160, 5'6", 5-10-73, JT Taylor, - (4-1-08)
Cade Lee, Cartersville, Georgia, USA, P: 1-2, AMMA: 3-0, AKB 1-1/1, 170, 5'8", 1-6-71, Self, (678) 313-2726, - (4-1-08)
Mike Showman, Independance, Missouri, USA, P: 1-0, A: 4-7, 185, 6', 10-16-84, Phil Jones, (816) 651-5087, - (4-1-08)
Lance Thompson, Slidell, Louisiana, USA, P: 1-0, 2-2, 160, 5'10", 6-24-88, Eric Thompson, (985) 290-9276, - (4-1-08)
William Miller, Indianola, Illinois, USA, P: 1-0, A: 1-0, 168, 6'3", 8-28-84, Chad Steinbaugh, (217) 280-0907, - (4-1-08)
Matt Rangel, Houston, Texas, USA, P: 1-0, 2-1, 170, 5'11", 1-16-82, - (4-1-08)
Ryan McClellan, Tallahasee, Florida, USA, P: 1-0, A: 1-1, 160, 5'6", 6-29-81, Brian Orkin, (850) 556-0941, - (4-1-08)
Gabriel Siqueira, Marietta, Georgia, USA, P: 1-1, A: 1-0, 170, 6', 1-11-82, Junior Assuncao, (678) 467-0505, - (4-1-08)
Anthony DeRome, Southgate, Michigan, USA, P: 1-0, AMMA: 2-2?, 170, 5'9", 11-29-78, Robert Noble, (313) 381-4701, - (4-1-08)
___________________
INACTIVE FOR MORE THAN 6 MONTHS - RETIRED?

Josh Koscheck, Buffalo, New York, USA, 17-11, 170, 5'10", Dethrone Base Camp, - (3-1-17)
Aarason Perry, Susanville, California, USA, P: 3-1, A: 6-3, (5-3) 169.8, 6'3", 10-28-88, Jim West, (916) 517-2538, - (4-17-17)
Dillon Moore, Placerville, California, USA, P: 2-0, 5-4, (4-2) 153.6, 6', 5-12-92, Jim West, (916) 517-2538, - (4-12-17)
Nick Diaz, Stockton, California, USA, 26-9, 169, 6', 8-2-83, Cesar Gracie, - (10-12-15)
John Corstorphine, Orangevale, California, USA, P: 8-7, A: 2-0, 168, 5'11", 11-29-84, Mike Rumsey & James Fanshier, (916) 532-0372, - PHOTO, - (11-18-13) - (ISCF CA Title Retired On 11-20-13)
Georges St-Pierre, St. Isidore, Quebec, Canada, 25-2, 5'10", 170, 5-19-81, Tristar Gym, T: Angelo Exarhakos, M: Stephane Patry, - (2-14-14)

St-Pierre was placed here until he makes an official announbcement as to whether he will continue fighting or has retired.

Logan Estep, Bel View, Maryland, USA, P: 0-1, A: 1-1, 170, 5'11", 5-26-89, Brad Pole, (410) 603 3961, - (9-1-13)
Chris Evinger, ( Evenger ), Odessa, Missouri, USA, P: 0-4, A: 5-2, 170, 6'3", 9-3-83, Phil Jones, (816) 651-5087, - (2-21-13)
Shawn Harris, Harrisburg, Pennsylvania, USA, P: 3-0, A: 6-4, AB: 4-0, 175, 5'9", 11-19-70, Eugene Summers, (717) 770-4842, - (1-17-13)
James Merriott, Independence, Missouri, USA, P: 1-1, A: 1-1, A: 170, 6'0", 5-5-82, Phil Jones, (816) 651-5087, - (6-20-12)
Clint Zeedyk, Mark Center, Ohio, USA, P: 7-4, A: 1-1, - (12-29-11)
Dan Funes, Tallahassee, Florida, USA, P: 1-3, A: 2-0, 160, 5'10", 3-12-79, Brian Orkin, Harrison Phiefer, (850) 445-5093, - (12-29-11)
Brandon Fink, Oakwood, Illinois, USA, P: 2-1, A: 1-0, 170, 5'10", 6-23-84, Chad Steinbaugh (217) 280-0907, - (12-29-11)
Dale Sapp, Winston-Salem, North Carolina, 1-6, 167, 5'9", 6-28-70, Gerry Todd, - (12-29-11)
Kirk NielsenWaseca, Minnesota, USA, P: 1-3, A: 4-11, 160, 5'10", 7-6-73, Trevor Nielsen, (502) 213-4384, - (12-29-11)
Ray Cooper, Oahu, Hawaii, USA, 14-9, 5'6", 169, 11-19-73, Ronald Jhun & Adrian Silva, (808) 632-9595, - (12-29-11)
Josh Flowers, Granite City, Illinois, USA, P: 2-3, A: 4-2, 160, 5'10", 2-10-87, Steve Knogl, (618) 781-4480, - (12-27-11)
Sean Pentek, Alexandria, Virginia, USA, 3-1, 168, 6', 10-17-83, Mike Hess, (703) 508-1197, - (12-29-11)
Jason Black, Benttenford, Iowa, USA, P: 21-4-1, A: 3-0, 5'8", 170, 8-15-72, Miletich, (800) 536-1029, - (12-29-11)
Cam McHargue, Griffin, Georgia, USA, P: 6-3, A: 6-0, 168, 5'11", 5-26-69, Joel Chavous, (478) 475-1092 - More info Click Here. - (12-29-11)
Ronald Jhun, Honolulu, Hawaii, USA, 21-21-2, 170, 5'11", Jesus is Lord, - (12-29-11)
Brian Martin, Blacksburg, South Carolina, USA, 1-0, 165, 5'10", 7-23-75, Self, No Area Code Given: 839-0055, - (4-1-08)
Sam Wells, Lansing, Michigan, USA, 10-8, 158, 5'7", 5-3-70, Self, (517) 272-0722, - (12-29-11)
Suyan Queiroz, Kansas, USA, 1-2, 165, 5'6", 9-27-75, Murilo Bustamante, (913) 449-7660, - (12-29-11)
John Paul Watson, Dawsonville, Georgia, USA, P: 1-2, A: 3-3, 170, 5'9", 12-11-72, Capi Woodall & Self, (678) 858-1274, - (12-29-11)
___________________
INACTIVE FOR MORE THAN 6 MONTHS - RETIRED? - NO PRO WINS
___________________
SUSPENDED: Michael - Mike Perry
Apopka, Florida, USA, P: 1-0, 8-3, 170, 5'10", 9-15-91, Self, (407) 715-4434

As an Amateur, Michael Perry fought on the ISCF Sanctioned Night Of Champions 2, August 24th, 2013, Daytona Beach, Florida, USA and told the ISCF Event representative he was registered. He was NOT.
Perry has been suspended until he pays his ISCF license fee of $25 plus a "Non Payment" Fine of $50. TOTAL: $75.00

ADDITIONAL FINE:

Perry fought while under "THIS" ISCF Suspension on 10-12-13, WCFL: World Class Fight League 7. $50.00

TOTAL FINES DUE AS OF 11-18-13: $125.00.