FRIDAY, December 27th, 2019, AT 6:00 PM/ PST
It's Often What We Don't See That Keeps The Sport Moving Forward
Steve Fossum
In this field of fight sports, like any, there are the stars everyone sees in front of the camera, which we call the exposed tip of the iceberg. However, like the Iceberg image of success, there is a lot of individuals who make up all the work below the water line of that Iceberg, known as it's foundation for its very existence. Here's an award given to one of those like us who share the work, "Below the waterline, but support what everyone else is doing and seeing above." The thankless part of being one of those behind the scenes doing a lot of work to keep us all not only organized, but more so, SAFE, so that those above the waterline can bask in all the Glory. Congratulations Andy Foster (Executive Director of the California State Athletic Commission) for winning the Yahoo Sports, is the 2019 Yahoo Sports Man of the Year in boxing. Thank you for all you do to keep the Fight Sports moving forward in a Safe as well as Successful way for everyone.
Full Story Reposted Below Can Be Found at Yahoo Sports
By Clicking HERE.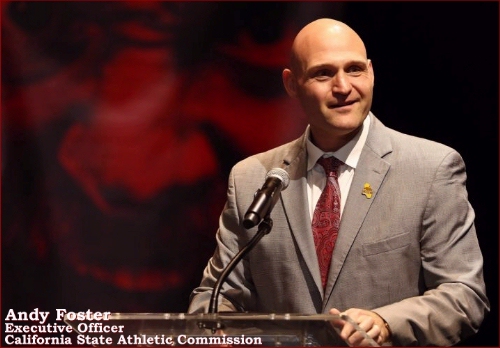 Andy Foster of the California Athletic Commission is the 2019 Yahoo Sports Man of the Year
in boxing for prioritizing fighter safety.
(Photo - Victor Decolongon/Getty Images)
Andy Foster's guidance
Deontay Wilder's knockout highlight 2019
Yahoo Sports boxing awards.
By Kevin Iole
Combat columnist Yahoo Sports / Dec 27, 2019, 12:09 PM
The action in the ring was great in 2019. There were a slew of candidates for Fight of the Year, which we'll announce on Monday, and for the first time in a long time, the fights the fans most wanted to see began to be made regularly.
New stars emerged and the sport is, in a lot of ways, as healthy as it has been in a long time. There is an overwhelming amount of broadcast coverage, perhaps more than ever, and plenty of sponsor interest.
But for fighter safety, 2019 was one of the worst years ever. Four fighters died after bouts, underscoring the huge risk a fighter takes every time he/she walks up those three steps and slips beneath the ropes.
The California State Athletic Commission, under the direction of executive officer Andy Foster, has become a leader in regulation and ensuring fights are as fair as can be while at the same time prioritizing fighter safety.
A former MMA fighter with a 9-2 pro mark, Foster has become the country's top combat sports regulator by focusing on these areas since his appointment in 2012.
In 2019, Foster led a commission that began to aggressively focus on the dangers fighters face in weight cutting. Foster won't hesitate to force a fighter to move up a weight if he feels the fighter is too dehydrated and unable to compete safely at his/her current weight.
Fighters often try to shrink their bodies as much as possible to fight at the lowest possible weight class. Dehydration has been linked to many fighter deaths and traumatic brain injuries.
In addition, the California commission has become a leader in the anti-doping field, and in 2019 set standards for thresholds that sought to differentiate between cheating and contaminated supplements.
For all of that, and his commitment to quality sport, Andy Foster is the 2019 Yahoo Sports Man of the Year in boxing.
My runners-up are a pair of heavyweights who have revived interest in boxing's most important division. For more than a quarter of a century now, whenever a lapsed fan would talk about what's wrong with boxing, the discussion almost always began with issues in the heavyweight division.
If that complaint is put forward today, though, it's simply because someone isn't paying attention. The heavyweight division is as vibrant and compelling as it has been since the Mike Tyson, Evander Holyfield, Lennox Lewis and Riddick Bowe era in the early 1990s.
This group isn't near that yet, but it is on that path and it has talent at all levels.
WBC heavyweight champion Deontay Wilder and lineal heavyweight champion Tyson Fury are my runners-up. With their talents, their accessibility and their willingness to promote themselves and their sport, they've lifted the game's most important division and may finally be putting the tired old saw about "boxing is dead" to rest.
It would have been great if they'd fought an immediate rematch of their memorable 2018 draw in 2019, but they are not only signed to fight each other on Feb. 22 in Las Vegas, but they've signed to fight a third time. And their rematch would have almost certainly occurred had Fury not signed a deal with Top Rank in February.
My other runner-up is the veteran Manny Pacquiao, the legend from the Philippines who won two high-performing pay-per-view bouts and handed Keith Thurman his first defeat in a throwback performance. He did that while being as accessible as any major fighter ever and while holding down a sort of important second job.
Pacquiao, of course, is a senator in his native country.
Others I considered were unified super lightweight champion Jose Ramirez, a leader in his community; Matchroom Sport promoter Eddie Hearn; Top Rank president Todd duBoef; and Fresno, California-based promoter/manager Rick Mirigian.
My other awards:
Prospect of the Year: My requirement for this is a fighter must be under 25 years old, have fewer than 25 pro fights and have never fought for a world title. There are three fighters in this category who stand out from the crowd: welterweights Vergil Ortiz (21 years old, 15-0, 15 KOs) and Jaron Ennis (22 years old, 24-0, 22 KOs) and heavyweight Daniel Dubois (22 years old, 13-0, 12 KOs).
This is one of those years in which any of the three could win it, but my choice, after much consternation, is Dubois. He's got the size (6-foot-5, 240 pounds), punch and athleticism to sit atop the heavyweight division for a decade.