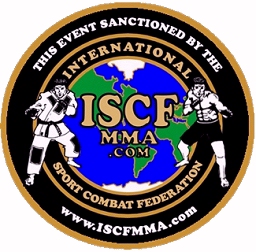 ACCEPTED MMA RULE MODIFICATIONS FOR THE

United Kingdom
Although ISCF MMA Promoters in the United Kingdom are allowed to use the General ISCF rules,
the ISCF has also approved these MMA Rules in the United Kingdom.
Accepted ISCF Rules for
Amateur Mixed Martial Arts Contest
In The United Kingdom
THERE ARE -2- FIGHTING DIVISIONS IN THE UNITED KINGDOM - Updated June 2010



NOVICE AMATEUR: No head-contact at all. Strikes to the BODY ONLY.


OPEN AMATEUR: Regular ISCF MMA Rules.
---
ELBOWS: Elbows are allowed, but not at all to the head, and Elbow Pads must be worn.
HEADGEAR: Not allowed due to the proven risk of potential injuries.
BOUT LENGTHS: ALL Bouts in ALL Divisions will be contested over 3 rounds of 3 minutes.
NOVICE AMATEUR Division: No head-contact at all.
OPEN AMATEUR Division: Kicks and Punches ARE ALLOWED whether standing or on the ground.
GLOVE SIZE: More padded 8oz gloves - supplied by the promoter.