THURSDAY, October 31st, 2002, AT 1:40 PM, PT
Your Prayers Are Needed...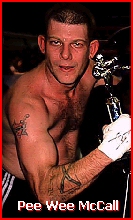 Valdosta, Georgia, USA: Nikki Truett, the fiance of the fearless fighter, Walter "Peewee" McCall, (Right) has met with a horrible accident. While traveling on a road in rural Berrien County, Georgia, she was struck in the head by the head, neck, and shoulders of a deer. Unconscious, she traveled down the road a quarter mile before striking a tree which shattered her arm and damaged her otherwise.
Because of this, McCall will be unable to train to compete for the IKF North American Amateur Championships as scheduled against Neil Halmstad of Wrenshall, Minnesota, USA. The NA Tournament staff is looking to resolve this situation by accommodating Halmstad in a suitable weight class.
The sad part of this situation is that the deer's head and shoulders were separated by the deer's body by a Berrien County deputy's car, who allegedly left the accident scene traveling to have his vehicle inspected. After searching for Nikki for hours, McCall was finally able to encourage authorities to assist in the search. She was found an estimated 5 hours after the accident by State Troopers. McCall said today that Nikki is still unconscious, but she is moving. Her bruised lungs and color is returning as well as her vital signs improving.
We here at the IKF & ISCF asks that you remember Nikki, medical personnel caring for her, and the McCall family in your prayers. Being considerate of his North American opponent's situation, the never-say-die McCall has issued this statement for Mr. Halmstead's consideration,
"I would hate to be in Neil's shoes where my projected opponent for the North American Super Welterweight title was forced to not fight. For this I am sorry. If Mr. Halmstad is interested, I am willing to fight him whether or not he wins a title sometime after I am able to start training again. Good luck Neil."
For more information in regards to this situation, kind words etc. please contact Mr. McCall's trainer, Mr. James Corbett by e-mail at jscorbett_1@yahoo.com
---
THURSDAY, October 31st, 2002, AT 2:30 PM, PT
NOVEMBER 2nd, 2002


ISCF Iron Spirit Promotions
USA
SOUTH EAST CHAMPIONSHIPS!
14 ISCF Championship Title Belts To Be Awarded!


Greenville
South Carolina
USA
ISCF Event Representative: TBA
ISCF Event Referees
Tommy Seigler, Ray Thompson & Casey Oxendine

ISCF
USA
South East Challenge!
2 Fighting Divisions
7 Weight Classes Each
2 Skill Levels
Per Fighting Division

For Event Info, Contact Mr. Ray Thompson at (864) 313-1134 or at ray@ironspiritpromotions.com
- Event Confirmed -

---
THURSDAY, October 24th, 2002, AT 4:30 PM, PT



Posted FRIDAY, October 25th, 2002, AT 11:00 AM, PT

Atlanta's Mixed Martial Arts Promotion Presents
CAGEFIGHTER CHAMPIONSHIPS
'HALLOWEEN HEAT!'
SATURDAY, OCTOBER 26th! at EARTHLINK LIVE! Atlanta, Georgia, USA

By ISCF Georgia Press: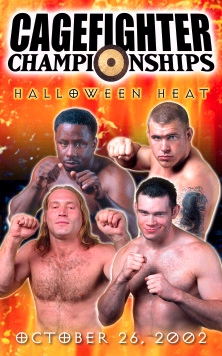 Prestigious and pioneering mixed martial arts writer Cal Cooper of Atlanta, Georgia, has put the finishing touches on his inaugural foray into promoting by announcing the full card for his Cagefighter Championships, an ISCF mixed martial arts fight card, to be held Saturday, October 26, 2002, at Earthlink Live in Atlanta, Georgia.
IKF/ISCF World Team Member Mike Carlson is enthusiastic about the endeavor: "Cal Cooper has been a strident supporter of our efforts to promote and develop the martial sports here in Georgia. As a writer, Cal had "his shoulder to the wheel" to help spread the word about the mixed martial arts at their virtual inception in this country. He is setting off on what I hope will be a very successful venture this weekend."
The following are some of Mr. Cooper's own words on the event.
We're about to throw the biggest fight party you ever saw!
I hope you all come out and support.
We have the best cage ever built.
We have very hot ring girls.
We have halloween costumes.
We have a card that will kick your ass!
Come out and check out Atlanta's own MMA promotion. We are going to show the world that the best fight show of them all is right here in the South.
CAGEFIGHTER CHAMPIONSHIPS!!!!!
Halloween Heat at Earthlink Live! Atlanta, Georgia, USA
Wear a costume! Best costumes get a free

ULTIMATE ATHLETE magazine subscription. ALSO We're shooting for DVD release! visit www.cagefighterchampionships.com for more info. Tickets available on ticketmaster. Tickets are going fast. Only 750 seats in this auditorium seating venue! Get yours now!

CAGEFIGHTER CHAMPIONSHIPS
BOUTS ANNOUNCED
"Battle for the Berth"
Kent 'The Norseman' Hensley (Right) vs. Brian Hawkins
Winner will compete in the KING OF THE CAGE 4-man Heavyweight Championship Tournament on pay-per-view.
ALSO FEATURING:

Forrest Griffin vs Travis 'The Ironman' Fulton
Joe 'Scissorhands' Merit vs David 'The Fury' Davis
George Allen vs Jason Braswell
Kevin 'K.O. King' Brooks vs Jason Jones
Mike Lee vs Pee Wee McCall

PLUS:

Mike Schwartz vs Cheyenne Buchannon
Jeff Alcorn vs Sam Holoway
Kenny Allen vs Chris 'The Critter' Kayouk

JUST ADDED!...

Harris Norwood vs Todd Moon
Fight card subject to change
Tickets also available through Earthlink Live.
CAGEFIGHTER CHAMPIONSHIPS is Atlanta's first ongoing all-MMA promotion.
Info, Contact Mr. Cal Cooper (770) 982-6876 or by e-mail at: cagefighter@earthlink.net
ISCF Event Representative: Mike Carlson - ISCF Referee: Chris Hickman
Doors open at 7 P.M. Fights start at 8 P.M.
---
MONDAY, October 14th, 2002, AT 5:30 PM, PT
HOLIDAY FIGHT PARTY II
Set For December 7th, 2002 In Atlanta Georgia, USA!
Atlanta's Holiday Season Will Include IKF and ISCF Action
THIS EVENT HAS BEEN RESCHEDULED TO THE SPRING OF 2003
IKF and ISCF World Team Member Brett Moses has finally made the announcement that fighters and fans in the Southeast have been anxiously awaiting. He is getting back into promoting in a big way on December 7th, 2002, as presents Holiday Fight Party II, a combination IKF kickboxing and ISCF mixed martial arts card to be held in Atlanta, Georgia, at the Dekalb Atlanta Center.

Mr. Moses has been one of the major behind-the-scenes players who has prompted the success of the IKF and ISCF in the Southeast over the past few years. This veteran promoter, who even has the promotion of pay-per-view events on his resume', has patiently waited for the right time to throw his hat back in the promotional ring.

"I wanted to make sure that I could get the right venue for what the fighters and fans deserve," said Moses, "Sometimes it take a little more time to do things right, but in the end, everybody benefits from not promising more than you can deliver." How does Moses project that Holiday Fight Party II will deliver? "What I am planning is an event that will showcase some of the best athletes in the IKF and ISCF facing each other. Some of the fights are ones that the fans have been jumping up and down to see," says Moses. Fellow IKF and ISCF World Team Member Mike Carlson remarks that he is pleased to see Moses promoting again, "Brett is someone who has expended tremendous effort to make sure that other promoters have been successful. Now it's time for us to pull together and help him succeed in this venture. I feel certain that he will!"

"The Doctor" is highly supportive of Moses, "Mr.Moses' intergrity and trustworthiness have always made him the standard-bearer for what martial sports promoters should represent." Attorney and IKF/ISCF supporter "Bad" Johnny Markwalter adds, "Brett is a guy that you can trust. And I trust that he will have some of those elegant ladies that hang around him as ring card girls on December 7." Moses says to keep an eye on the IKF and ISCF News pages for frequent updates on Holiday Fight Party II.

"Holiday Fight Party 1 was extremely well received and we plan to eclipse the success with some great bouts and an array of first class sponsors. The IKF and ISCF web sites will be the best places to go for information on the event." For more information on holiday Holiday Fight Party II, E-mail Mr. Moses at not_tank@hotmail.com or call him at (404) 285-3535.
---
TUESDAY, October 8th, 2002, AT 2:45 PM, PT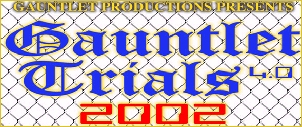 The
Gauntlet Trials 4.0
Is Getting Ready For An Action Packed Night!
Gauntlet Trials, October 12th, Griffin, Georgia, USA
This coming Saturday night, October 12th in Griffin, Georgia, USA, the doors will open at 6pm to host the 4th installment of the Gauntlet Trials. This is a Mixed Martial Arts event with the winners of each five weight classes advancing to the Nationals held in Iowa by Monte Cox. Tickets in advance are $15.00 and $20.00 the week of the event. The card to date is as follows:
150 under

Jason Hicks - SC
Chris Wittnick - South Side BJJ
Todd Moon** - GA -Valdosta Martial Arts
Dustin Rhodes** AL

170 under

Cliff Hagerman - GA Academy Of Fighting Arts
Dan Anchetta - GA - HardCore Gym
Douglas Edwards - GA
Tim Mannon - VA - Ragone's Kempo
David Sosbee** - AL
Dustin Duck** - GA - LA Boxing

190 under

Ron Myers - GA
Mitsuaki Uchida - GA - Taido
Brian Lefleur** - GA -Valdosta Martial Arts
Jim Cruce** - GA

210 under

Jason Thompson - AL
Daniel McRae - VA - Ragone's Kempo
Brent Weedman - KY
Sam Smith - GA- Augusta Martial Arts

211 up

Jeff Alcorn - GA- Warehouse Martial Arts
Jimmy Jennings - GA
Wayne Music - GA -Valdosta Martial Arts
James Thorpe** - GA- LA Boxing
Nate Spivey** LA-Team Outlaw
Also to end the night off we have the ISCF East Coast Welterweight title up between, Walter "Peewee" McCall, - G.A -Valdosta Martial Arts vs Shawn "The Excutioner" Porter - S.C. -Spartanburg Martial Arts
Directions to the venue are:
From Atlanta, Georgia: Take I 75 south to exit 205, turn right off the exit and travel about 11 miles. The venue is Taylor Street Middle School and will be on your left.
From Macon, Georgia: Take I 75 north to exit 205, turn left off the exit and travel about 11 miles. The venue is Taylor Street Middle School and will be on your left.
The fighter hotel is the Best Western - 770-227-8400 ( Be sure to ask for the Gauntlet rate) For more information contact Matthew Waller at Gauntletprods@cox.net
Card subject to change. ** fighters are not 100% confirmed
---
WEDNESDAY, September 25th, 2002, AT 5:20 PM, PT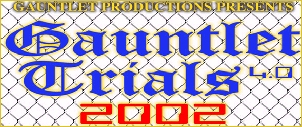 WALLER HAS THEM READY TO
"RUN THE GAUNTLET"
Gauntlet Trials, October 12th, Griffin, Georgia, USA
ISCF World Team member Matthew Waller is proud to announce the "Gauntlet Trials" an ISCF sanctioned mixed martial arts event to be held at Taylor Street Middle School Gym, in Griffin, Georgia on October 12th.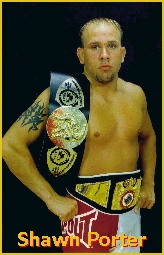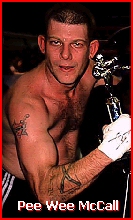 The card will feature a series of MMA tournaments and a couple of PRO bouts including Kevin Brooks vs Sean Kilgus.
The card will also have numerous "featured bouts," including and ISCF East Coast title fight between Shawn Porter (Left) and Peewee McCall (Right).
"We are expecting a great turnout and are proud to bring ISCF action back to Middle Georgia," said Waller, who is busily putting the brackets together for the tournaments. Adds Waller, "We are still looking to fill out a few weight divisions, and are going to try to get a few IKF fights matched up as well."
ISCF World Director, Mike Carlson, adds, "Mr. Shush (Waller) always runs a tightly organized and efficient promotion. I am looking forward to another great show out of Matthew."
Athletes interested in competing should contact Mr. Waller at gauntletprods@cox.net or call 478-475-1092.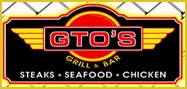 MORE NEWS OF 9-25-02
The Golden Boy
"Jesse Finney"
Is Back in the Kickboxing Ring
ALSO: Along with IKF Kickboxing
This Event Will Feature Missouri's First ISCF Bouts!
Say it ain't so.... To a crowd to be over 1,000 people Promoter, Trainer, and Fighter Jesse Finney (right) is stepping back into the kickboxing ring after a couple of years off in this Saturday nights (September 28th) "MIDWEST FIGHT FEST" at Lucky's in St. Louis, Missouri, USA.

After opening a bigger gym and expanding the classes the gym offers.Jesse Finney is ready to start up where he left off, at the top. "Now that I have a solid stable of top fighters I am ready to step back into the ring and pursue my personal goals", Finney said. When Finney took a leave from fighting he was a 2-Time IKF Champion, and had comprised a record of 22-0 with 18 KO/TKO's. His first opponent is Curtis Christopher, from Lafayette, Louisiana, USA. Christopher will be bring his undefeated record of 15-0 to St. Louis, Missouri for the Main Event.

In the nights other action, Marc "The Hammer" Mayfield (Left) will be going up against Chad Smith, from O'Fallon, Illinois, USA. Smith has an amateur record of 16-1 and has been trying to turn pro for quite a while, but can't find any fights. Mayfield has a record of 35-5, and is coming off his 2002 IKF USA Nationals Title Wins. Mayfield's last lost was in July, against Marc Hominick of Canada for the vacant IKF FCR Super Welterweight North American Title. This fight was called by IKF World Ambassador Brooks Mason, "The best Amateur fight I had ever seen". The fight between Smith and Mayfield should be just as exciting as the fight between Mayfield and Hominick.

This night will be the first ISCF fights to be held in the State of Missouri. This past summer the IKF has been working with the Missouri State's Athletic Commission on getting Amateur MMA/NHB fights approved. Now that it has finally been approved (amateur) it is only fit that Finney's Championship Kickboxing and Martial Arts be the first to host these fights. (A previous event was scheduled last weekend, but with no Medical Doctor -MD- at ringside, the ISCF was forced to cancel the event)

UFC veteran Steve Berger will be the ISCF referee. In action that night will be "Mean" Mike Green of St. Louis, going up against John Hoppes of Waterloo, Iowa. Green has been working on his stand-up, while training with Finney's Championship Kickboxing and Martial Arts. Talking about NHB, Mike Rogers a King of the Cage Veteran, will be fighting in his first Full Contact Rules kickboxing fight.

Rogers, who just lost a split decision to Vernon White for the King of the Cage Heavyweight Championship, has been training with Finney's Championship Kickboxing and Martial Arts, has his sights on IKF US Nationals Champion Marcus Glen. He is hoping to meet him in the ring in early 2003. Rodgers will be leaving from this fight and getting ready for the Abu Dhabi try-outs two weeks from now.

On a night with great fights the undercards will also be something to watch. Four 2002 IKF USA Nationals Champions will also be in action this Saturday. Kevin Engal, (Left) who is ready to show the kickboxing world why he is one of the best, is ready for anyone. His opponent dropped out, due to an injury. So the matchmaker is currently looking for someone to fill this spot.

Leslie and Erin McNamara (Right) will both be in the ring this weekend. The twin sisters are both coming off impressive wins at the 2002 IKF USA Nationals and are looking to extend there records. Leslie will be facing Kim Nolden, of O'Fallon, Illinois, USA. This is a rematch from an exciting fight back on July 13th. Erin will be facing Melinda Richy, of Little Rock, Arkansas, USA.

The last, and definitely not the least is John Felts, (Below Right) of 21st Century Martial Arts. For those who might not remember who this guy is, you soon will. He is taking over the Juniors weigh classes with terror. This kid is someone that we will definitely hear about for many years. His opponent is Shadow Swopes, of Hot Springs, Arkansas, USA.

Others seeing action will be Dylan Leonard (Finney's), from St. Louis, Missouri, USA. His opponent is 2002 IKF USA Nationals Runner-up Nick Anderson from Davenport, Iowa, USA. This should be another exciting fight with both fighters wanting to put there name into the IKF rankings. Leonard is one of Finney's up and coming fighters to keep an eye on. Drew Harris (Finney's) will be stepping into the ring for the first time against Alan O'Neal of Hot Springs, Arkansas, USA.

The event Representative will be Brooks Mason, who is sure to have something great to say after watching these fights. Look for the results sometime next week here on the IKF News Page. The IKF Referee for this event will be Mr. Vance Thompson. IKF Judges are John Leach, Jim Howell, and John Felts Sr. For more information contact Finney's Championship Kickboxing and Martial Arts at (314) 351-5226.


Jesse Finney






---
MONDAY, September 23rd, 2002, AT 10:20 AM, PT
FALL BRAWL 2002
DELIVERS AUTUMN ACTION AT AUGUSTA, Georgia, USA!
Cook Takes Home ISCF Title
A packed house of kickboxing and mixed martial arts fans were "reporting for duty" at Augusta, Georgia's Fort Gordon for outstanding IKF and ISCF sanctioned action. New and familiar faces joined the ranks of the trainers and competitors, and the night saw outstanding efforts for the fighters in attendance. The matches themselves saw some fighters establish themselves, others prove points, and a few surprises.
The night began with IKF World Team member Dennis Palmer leading in the National Anthem. The Fort's soldiers must have thought well of the rendition, as they responded heartily!
Then, it was time for the action to begin.
IKF Super Middleweight Amateur Kickboxing
John Groves vs Ryan Robertson
Respected Coastal Georgia trainer Dr. Ren Halverson, D.C., who only a few years ago had numerous athletes on what seemed to be each and every Southeastern martial sports card, came to Fort Gordon looking to reestablish his program. His fighter, Ryan Robertson, helped him on his way to doing that, winning against the always game John Groves by KO in the first round.


IKF Light Middleweight Amateur Kickboxing
Jake Pruitt vs Pee Wee McCall
When PeeWee McCall's opponent, "Razor" Rob Akins failed to show at the venue, bout coordinator Elizabeth Carlson scrambled to find McCall, who had brought family and friends with him to see him fight. Augusta fighter Paul "Mantis" Edmunds, lighter, and just getting back in the gym after a long lay off, felt so badly for McCall, he even volunteered to fight the heavier McCall. As fate would have it, Augusta Martial Arts Academy head instructor Mike Carlson was standing at the entrance to the fight when Jake Pruitt entered. Upon seeing Carlson, Pruitt inquired, "You got anything for me tonight?" Needless to say, this was music to Carlson's ears, who grabbed all access badges for Pruitt and his companion and rushed them to the physician performing physicals. Pruitt and McCall fought in Augusta earlier this year in an ISCF MMA bout. Showing the fighting spirit of a true warrior, Pruitt was game for this IKF full contact rules match. These two warriors attacked each other for three hard rounds, with McCall winning via a split decision.
Again, Pruitt deserves enormous credit for coming in as he did, and serves as a great inspiration for his willingness to fight McCall "at the drop of a hat."


ISCF Light Middleweight Amateur NHB
Joshua Hancock vs Matthew Corsey
Hancock, a world rated kickboxer, has spent the last few years trying to venture out into new territory in the world of MMA. Corsey trains under ISCF US Champion Cam McHargue, and wanted to make a name for himself with a well-known adversary. In the beginning of the fight, Hancock's striking skills were evident as he scored repeatedly on Corsey who refused to give any ground. Ultimately, the specialist Corsey was able to win via a guillotine choke from the guard. After the fight, Hancock indicated that he would be back in the kickboxing ring again and was speaking to an IKF promoter about a December fight date. Corsey showed a lot of class and seemed poised to continue in MMA. It looks like both fighters have good plans for the future.


IKF Cruiserweight Amateur Kickboxing
Adrian Turpin vs Andy Foster
In this rematch of the IKF Southeastern Regional Tournament Championship bout, Foster attempted to smother the technician Turpin to stop the South Carolinian's tremendous and feared technical attacks. Although Foster had some measure of success with this plan, Turpin was able to land enough shots, including a few of his signature side kicks, to win, via split decision.


ISCF Light Middleweight PRO NHB
Morrison Butler vs Shaun Gay
This bout showed a contrast in styles that made for a truly outstanding and exciting match. LA Boxing's Butler displayed a powerful physique and clearly wanted to dominate the "long and lean" Gay, who wanted to keep the action standing. While Butler dominated the first part of the bout with his solid ground control skills, the patient and experienced Gay methodically scored by striking from the guard and while standing, and came on as the fight progressed. In the end, Morrison's early dominance gave him a unanimous decision in a bout in which the fighters were completely exhausted, giving it their complete all for the fans. Some saw Gay as having won the bout, causing calls for a rematch to abound!


At the intermission, Mr. Carlson recognized several in the audience. Valdosta, Georgia "Superfan" James Banks, was presented with a trophy for his consistent and enthusiastic support of the martial events in his home state. Former Georgia Representative Robin Williams, who has supported and lobbied for laws to keep the martial sports legal in Georgia, was provided with a plaque honoring his efforts for the fighters and fans of Georgia, as was Georgia Senator Joey Brush, who is a strong supporter of kickboxing and mixed martial arts. Former Columbia County (Georgia) County Commission chairman, and attorney Barry Fleming was also present, telling the audience that he would do all he could to keep kickboxing and mixed martial arts legal in the Peach State. Then, it was time for more action!



IKF Heavyweight PRO Kickboxing
Mark Selbee vs Kevin Brooks
Selbee, who is on the hunt for a shot at IKF Pro US Champion, Kevin Hudson wanted to make a statement that the entire IKF would hear. Brooks sought to demonstrate that he had the ability to compete successfully in another weight division and "get in line" for Hudson himself. As the bout began, Brooks showed no fear of the much-heralded Selbee, scoring with solid punches and taunting Selbee by sticking his chin out at Selbee and sitting with his legs crossed between the early rounds.
As the fight progressed, it appeared that Selbee changed strategies. Instead of "trading blows" with the powerful Brooks, Selbee showed tremendous versatility and began to approach his opponent with finesse! Pulling from his background as a tae kwon do champion, Selbee began firing from a diverse arsenal that included throwing spinning techniques and multiple ax kicks, landing with both. Brooks showed a chin of granite, taking the punishment. The accumulation of these blows by Brooks caused referee Gary Brown to stop the bout in the fourth round. Both fighters accomplished what they sought to do in this match. Brooks never went down and proved he deserves respect as a heavyweight full contact rules fighter. Selbee fought and beat a talented true heavyweight and demonstrated that he is much more than a "knock out artist." Many in the crowd were inquiring whether and when Selbee will get his shot at Hudson. The win over Brooks was certainly not a set back in that venture!


ISCF Pro Light Heavyweight NHB US Title
Steve Headden vs Kevin Cook
The main event featured a contrast in styles. Headden, the area favorite, is a patient technician, well schooled in both jiu-jitsu and judo. Cook sports tremendous experience and is probably one of the most powerful fighters in his weight class there is. This match up has all of the indications of a great conflict and did not disappoint the fans. The strategies were clear early on. Headden wanted to keep the fight standing to take advantage of his superior reach. Cook looked to charge in on Headden and execute a "ground and pound" strategy. At the beginning of the bout, Headden was able to set the pace on the ground via his expert guard play, fending off Cooks striking and making numerous submission attempts. Cook seemed satisfied to remain in Headden's guard, and attempt to strike. As the fight wore on, the powerful Cook began to score with more and more effectiveness from Headden's guard. Ultimately, Headden's corner threw in the towel, ending the match.
Cook was ecstatic about taking the belt back to Florida with him. Headden, whose class as a martial artist showed in the number of his students and fans that had come from Atlanta to watch him, showed poise and grace in defeat and will surely be back in the ring soon. It didn't take long for the ISCF US title belt to start attracting admirers, as ISCF Pro Joe Merit climbed into the ring and challenged Cook on the microphone. ISCF regional Champion Kent "The Norseman" Hensley was also overheard saying that he thought that he could come down and "make weight" to challenge Cook, who, due to the number of hungry fighters there, almost didn't seem to have time to enjoy his win, before challengers started "showing their fins in the water."


All in all, Fall Brawl 2002 brought IKF and ISCF action back to the Garden City and supported our armed services, by holding the bouts at Fort Gordon and giving the soldiers a discount on their tickets. The promoters want to thank the ISCF, IKF fighters, trainers and fans, and all of those who worked and volunteered to make the show a success!
Pictures will be added to this article later in the week. For more information, contact Augusta Martial Arts Academy at (706) 855-5269.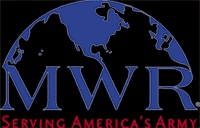 ---
FRIDAY, September 20th, 2002, AT 4:30 PM, PT
FIGHT TALK..
With "Bad" Johnny Markwalter
RE: IKF/ISCF Augusta, Georgia, USA "FALL BRAWL" Event This Saturday Night.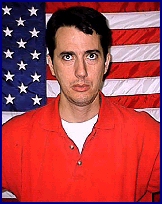 IKF/ISCF Note: "Bad" Johnny Markwalter (Right) has served as everything from a prosecutor to a ring announcer. The hard-hitting former assistant district attorney is renowned for his righteously indignant in-court presentations. Once, in a final argument, Bad Johnny responded to a criminal defense lawyer's implication that a respected investigator had mischaracterized evidence in his own special way. He told the jury that opposing counsel was a "Coward," and implored him to, "Be a man!" The case resulted in a conviction! Bad Johnny is also an enthusiastic fan of the martial sports, particularly when events come to his native Augusta. Below he revels in the fights scene and enjoys the opportunity to provide his take on upcoming bouts.
Bad Johnny on Fall Brawl 2002
"It looks to me like the Carlsons are letting some new blood come into the game. There has been a lot of rotating and recycling of the same group of fighters lately, so I think it is great that some fresher faces will get the chance."
Bad Johnny on Rob Akins Vs Walter McCall: IKF Amateur Kickboxing (Light Middleweight)
"Razor Rob is well conditioned with great technique. Walter "PeeWee" McCall honors his heritage by positioning himself the as the modern embodiment of a Confederate foot soldier, sometimes low on ammunition, but always high on spirit and aggression. I think that Akins will be out of luck when this one ends, and I expect that McCall will be waiving a victory flag all the way back to Valdosta. Bad Johnny SEZ--McCall by Unanimous decision."
Bad Johnny on Holding Fights at Fort Gordon
"What a place! You feel like you are in a building that should house a fight when you are in there. It is great that our armed services can be supported too, they deserve it, especially now."
Bad Johnny on Mark Selbee Vs Kevin Brooks
"IKF Professional Kickboxing (Heavyweight): This will be the first pro fight I know of for Selbee where he will face a guy like Brooks--a true heavyweight who is coming down in weight to meet him. These guys are both well trained and skilled, and the biggest thing to hurt Brooks over the last year has been some fluke bad luck. Even though I see Selbee winning , I predict that Brooks will establish himself as a force in another rules division by his performance in this fight. Bad Johnny SEZ--Selbee by split decision."
Bad Johnny on ISCF/IKF
"They are clearly the leaders in their respective sports. They also operate with principle and integrity. Everyone saw how Steve Fossum was "front and center" when IKF and ISCF honored Jim Tredore, a local narcotics investigator who was wounded in the line of duty, at Winter Wars 2002, here this year."
Bad Johnny on Steve Headden Vs Kevin Cook:ISCF U.S. Light Heavyweight Title Bout
"This is an interesting match up between the powerful and compact Cook and the master technician Headden. I see this fight coming down to whether Cook can aggressively impose his will or whether Headden can stretch the match out and submit him. With a title on the line, and fans from Atlanta filling the house, I think that Headden will take the belt. Bad Johnny SEZ--Headden, via submission, in the third round."
Bad Johnny on The Doctor
"Well, I guess after my Winter Wars 2002 picks were so much more accurate than his, he is sipping some Merlot, and sitting this one out!"
DISCLAIMER: The views expressed in the foregoing column are strictly those of Johnny Markwalter, Esq. They do not represent the feelings, thoughts, or expressions of the IKF, ISCF, Karate Masters, Inc. d/b/a Augusta Martial Arts Academy, M.E.R.K. Services, Inc., any of their representatives, employees, and/or assigns, including but not limited to Steve Fossum, Eddie Singleton, William Dunwoody, Mike and/or Elizabeth Carlson.
FALL BRAWL FIGHT CARD
IKF Amateur Kickboxing - Super Middleweight
John Groves vs Ryan Robertson


ISCF Amateur NHB Super Heavyweight
Sam Smith vs Richard Cox


IKF Amateur Kickboxing - Light Middleweight
Rob Akins vs Pee Wee McCall


ISCF Amateur NHB Light Middleweight
Joshua Hancock vs Matthew Corsey


IKF Amateur Kickboxing - Cruiserweight
Adrian Turpin vs Andy Foster


ISCF PRO MMA Light Middleweight
Morrison Butler vs Shaun Gay


IKF PRO Kickboxing - Heavyweight
Mark Selbee vs Kevin Brooks


ISCF PRO MMA Light Heavyweight NHB/US TITLE
Steve Headden vs Kevin Cook
For more information, contact Augusta Martial Arts Academy at (706) 855-5269
---
TUESDAY, September 17th, 2002, AT 2:00 PM, PT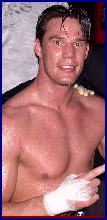 HEAVY (WEIGHT) ARTILLERY TO
"SOUND OFF"
AT FORT GORDON ON 9-21-02

"A fighter worth watching."

That is how IKF World Ambassador and Kickboxing laureate Brooks Mason

(Left) described Atlanta's heavyweight kickboxer, Mark Selbee (Right). All eyes will be zeroed in on the ring this coming Saturday night, September 21, 2002, in Augusta, Georgia, USA as Selbee locks horns with MMA standout and premiere Southeastern competitor, Kevin Brooks, in a 5 round, IKF full contact rules professional kickboxing contest.
Selbee, who trains out of the highly successful LA Boxing camp in Atlanta, is focusing his efforts to secure a shot at IKF U.S. titleholder Kevin "Hurricane" Hudson (Below Right). A win over the respected Brooks could get him noticed by many, but as a young pro (1-0) it will take more than 1 win to get a shot at Champion Hudson.
Brooks, a versatile and talented combat athlete, should not be overlooked by Selbee. Trained by legendary cornerman Gary Brown at Eagle Martial Arts in Lawrenceville, Georgia, sporting a solid background in boxing and various martial arts,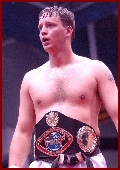 and coming from a fight camp comprised of the likes of George Allen and Joe Merit, Brooks could represent a true "spoiler" for Selbee's future U.S. title hopes.
Consistent with the military motif of holding Fall Brawl 2002 at Augusta's Fort Gordon, these two fighters each possess the same "doomsday weapons"-- devastatingly powerful right hands!
For more information, contact
Augusta Martial Arts Academy
at (706) 855-5269
---
TUESDAY, September 10th, 2002, AT 11:00 PM, PT
ISCF U.S. TITLE BOUT TO TOP
Augusta, Georgia USA's
FALL BRAWL 2002 CARD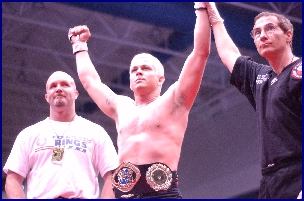 ISCF Georgia, USA: Brazilian Jiu Jitsu Pan Am Games Gold Medalist and number 7th ranked ISCF Middleweight Steve Headden (Right) of Atlanta, Georgia, USA will move up a weight class to the Light Heavyweight division to face number 7 ranked Light Heavyweight Kevin Cook of Lakeland. Florida, USA in the main event at Fall Brawl 2002. Fall Brawl 2002 will be an ISCF and IKF sanctioned kickboxing and mixed martial arts event to be held at Fort Gordon's Gym 1, in Augusta, Georgia, on Saturday, September 21, 2002.
Headden, who holds and ISCF South Eastern Title in the Middleweight division, will fight where many say he will be more comfortable anyway. The densely muscled Cook is an experienced and highly skilled adversary for Headden, who will be fighting near his home of Atlanta. While other, additional match-ups are still "in the works", Fall Brawl 2002 looks to have both well known Southeastern standouts as well as newcomers "stepping into the squared circle " for the first time. As it stands now the September 21, 2002, Fall Brawl card is as follows:
FIGHT CARD WAS REVISED ON 9-12-02
Pro Light Heavyweight ISCF MMA: Steve Headden vs Kevin Cook.
Pro Heavyweight IKF Kickboxing: Mark Selbee vs Kevin Brooks.
Pro Middleweight ISCF MMA: Joshua Hancock vs Matthew Coursey.
Light Heavyweight IKF Kickboxing: John Groves vs Ryan Robertson.
Pro Light Middleweight IKF Kickboxing: Rob Akins vs Walter "Pee Wee" McCall.
Amateur Cruiserweight IKF Kickboxing: Adrian Turpin vs Andy Foster.
Pro Light Middleweight ISCF MMA: Shaun Gay (Right) vs Morrison Butler.
Amateur Super Welterweight IKF Kickboxing: Paul Edmonds vs Gary Underwood.
Welterweight ISCF MMA: Todd Moon vs Kenny Allen.

**FIGHT CARD SUBJECT TO CHANGE
A daytime shoot sparring and grappling tournament will also provide an opportunity for athletes of all skill levels to try their hand at martial sports competition, in a more controlled environment than the night fights. Please allow an extra 15-20 minutes to get on the Base (Event Location). Augusta Martial Arts Academy supports our Armed Forces!
Directions to get to Gym 1, Fort Gordon.
Follow I-20 East.
Exit just before Augusta at the Bel Air Road/Dyess Parkway Exit.
Turn right off of the exit ramp onto Dyess Parkway.
Follow Dyess Parkway into Gate1 at Fort Gordon.
Continue through Gate 1 straight on Chamberlain Avenue.
Travel through several lights and turn left onto 19th Street.
Gym 1 is the large white wooden building on the right at the top of the hill.
For more information, contact Augusta Martial Arts Academy at (706) 855-5269
The Event Promoters of this event are the Promoters of Winter Wars. For info on the Winter Wars event click HERE!


MORE NEWS OF 9-11-02



IKFKickboxing.com
Records "ANOTHER" TOP Internet Rating!
Last month we reported a new "HIGH" Rating of the IKF (www.IKFKickboxing.com) website. However, we have even better news today as we announce yet ANOTHER Internet Traffic Rating record for the site! The last report we gave you announced the IKF Web Site as being ranked at 110,994 among the Millions of Internet Web Sites. Today the site registered at 106,965 on the web traffic rating site, Alexa.com
These are not "Hits". This is a ranking among the millions of world wide web sites. Like in Golf, the lower the number, the better the rating. For example, Yahoo.com is the number 1 rated site in the world. Since the IKF started tracking the site back in April of this year, there has never been any Sanctioning body ranked ahead of the IKF Site. In fact, no site has gotten closer than 280,000 ranks of the IKF Site.
The IKF as many know is the sister Organization to the ISCF. The IKF, International Kickboxing Federation, is the largest kickboxing sanctioning body in the world today and the web traffic numbers prove this. For a comparison example as to where the IKF web site ranks among other sanctioning bodies...
ISKA at 390,923.
USMTA at 487,979.
WKA at 534,201.
WMTO at 998,929.
IAMTF at 1,051,372
USKBA at 1,087,909
WAKO at 1,534,277
KICK at over 4 million.
Other Fight related sights will give you even a better idea of how popular the IKF web site is around the world. Some of these rankings as of today, September 11th, 2002 include;
K-1 Japan: 221,881.
K-1 USA: 284,695.
The World Boxing Association at 247,029.
USA Boxing at 246,571.
WBC at 271,539.
Golden Gloves rates in at OVER 3,800,000.
How does the IKF site compare to sites like the NFL, NBA, Chuck Norris or Bill Wallace? See for yourself by going to our Fight Site Tracker page by clicking HERE. Or check out these sites for yourself by going to Alexa.com Remember, the lower the number, the higher the site traffic rating...