TUESDAY, July 27th, 2004, AT 12:10 AM, PT
The PARTY Returns…




On Saturday, August 7th, The PARTY Returns…
LIVE at The Tabernacle
ANARCHY IN AUGUST II!
All bouts No-Holds-Barred Mixed Martial Arts with MAIN EVENTS featuring:
GEORGE ALLEN (EAGLE/VELOCITY) vs DAMIEN STELLY (ALLIANCE/US ARMY)
ISCF PRO SOUTHEASTERN US WELTERWEIGHT TITLE MATCH
JEFF "LITTLE POPEYE" BEDARD (AFA) vs. AARON WILLIAMS (DIXSON'S DUNGEON)
Shidokan Lightweight Champion Raphael Assuncao will be making his Pro MMA debut, IKF North American Heavyweight Kickboxing Champion Mark Selbee in his second Pro MMA bout & Juan "El Matador" Guevara attempting to keep his unbeaten streak intact. Tickets available from TICKETMASTER & all ALLIANCE, TIGER & VELOCITY locations. All bouts sanctioned by the ISCF - International Sport Combat Federation. Card subject to change. Check www.thefightparty.com for further details or call The Fight Party Hotline at (404) 315-7235.

---
THURSDAY, July 8th, 2004, AT 9:10 PM, PT
ADRENALINE ATHLETICS PRESENT
"Adrenaline Extreme Combat II"
ISCF Amateur MMA
ISCF Promoter Chad Osborne is ready to host tomorrow nights (July 9th) "Adrenaline Extreme Combat II" Amateur MMA at the Beaumont Club, Kansas City, Missouri, USA. For more info please contact Mr. Chad Osborne at (816) 914-6527 or by e-mail at chad@adrenalineextremecombat.com or go to www.adrenalineextremecombat.com
MORE NEWS OF JULY 8TH, 2004
POSTED AT 3:00 PM, PT
RESULTS FROM THE
"Clash Of The Titans"
June 30th - Kansas City, Missouri, USA
KICKBOXING

Super Middleweight: J. J. Barnes (167) defeated Mike Richardson (170) by TKO Round 1.

ISCF MMA

Light Middleweight: Joe Maben (161) defeated Steve Mio (163) by submission via arm bar at 1:05 of Round 1.
Heavyweight: Rob Kimmins (205) defeated Chad Sullivan (215) by TKO, Accumulated punishment at 0:27 of Round 1.
Welterweight: Lee Gibson (155) defeated Bobby Gregg (153) by TKO Accumulated punishment at 1:17 of Round 1.
Super Heavyweight: Matt Cox (240) defeated Damon Sprague (230) by TKO, Accumulated punishment at 0:47 of Round 1.
For more info please contact Mr. Joseph Kelly or Mr. Craig Cummings at (816) 454-1123 or by e-mail at joekelly@titan-e.com
---
WEDNESDAY, June 30th, 2004, AT 12:10 PM, PT
TONIGHT'S ISCF ACTION!
"Clash Of The Titans"
ISCF Amateur MMA & Pro Boxing!
ISCF Promoters Joseph Kelly & Craig Cummings are all set to host tonights "Clash Of The Titans" MMA and Pro Boxing event at the Union Station, Kansas City, Missouri, USA. The nights headliners will be pro Boxing but amateur MMA bouts will be added in the mix. for more info please contact Mr. Joseph Kelly or Mr. Craig Cummings at (816) 454-1123 or by e-mail at joekelly@titan-e.com
---
WEDNESDAY, June 23rd, 2004, AT 8:00 PM, PT
RESULTS FROM
Rumble In The Jungle IV
St. Louis, Missouri, USA - By Robert Donaker of Shamrock Promotions
ISCF/IKF St. Louis, Missouri, USA: Last Saturday night in St. Louis, Missouri, USA, Shamrock Promotions in affiliation with Finney's Championship Kickboxing and Martial Arts once again provided St. Louis Missouri with another "Rockin" night with The Rumble in the Jungle IV!
When the sun went down on Saturday night, the famous St. Louis humidity was no where to be found. The sky was clear and the air was cool, but inside The Rum Jungle the action was HOT! In front of a packed house Shamrock Promotions had set the stage for an exciting night of action packed fights. Here are the nights results as reported by Robert Donaker of Shamrock Promotions
ISCF MMA: Tyler Cregger defeated Andrew Rippley by arm bar at :28 into the first round.
Amateur Boxing: Mike Gladney defeated Rush Remmington by TKO. Remmington dislocated his shoulder at the end of round 1.
IKF Kickboxing: John Antigliano defeated Josh Fischer by KO at 1:27 of round 2.
ISCF MMA: Dustin Severs defeated Mark Long by triangle choke at 2:38 of the first round.
ISCF MMA: Dustin Roberts defeated Kevin Engel by choke at 2:26 of the first round.
ISCF MMA: Jesse Finney defeated Shawn Polaney by KO at 1:17 of the first round.
The other boxing match was cancelled due to Eric Watson not showing for weigh ins. Next fight will be held on September 18th. People seeing action will include: Jesse Finney, Kevin Engel, and Dustin Severs. For additional information please call (314) 608-3104.
---
FRIDAY, June 18th, 2004, AT 1:40 PM, PT
THIS WEEKEND IN THE ISCF!
Rumble In The Jungle IV
Set To Take Stage In St. Louis!
IKF St. Louis, Missouri, USA: This Saturday night in St. Louis, Missouri, USA, Shamrock Promotions in affiliation with Finney's Championship Kickboxing and Martial Arts brings to the St. Louis fight scene The Rumble in the Jungle IV. The fights are held at Rum Jungle on historic LaCledes Landing. The night is packed full of action. Shamrock Promotions is once again bringing variety to the card. The fight card is set with 5 NHB/MMA, 1 Kickboxing, and 2 Boxing. The NHB/MMA bouts are sanctioned by the ISCF and the kickboxing fight is sanctioned by the IKF ( International Kickboxing Federation).
Shamrock Promotions has been getting involved with USA Boxing, and has started to put some great amateur fights on their cards. The main part of the fight card, is made up of 5 NHB fights. NHB has surpassed Kickboxing in the St. Louis area over this past year. The main reason is two top-notch gyms, Team Vaghi Submission Jiu Jitsu and Finney's Championship Kickboxing and Martial Arts. Vaghi's has put out such fighters as KOC veteran Mike Rodgers, and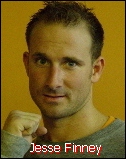 UFC Veteran Steve Berger. As well as numerous great Jiu Jitsu Champions. Where Finney's has put out some great kickboxers. These two gyms have been cross training with each other to put out some great fighters.
It seems that more and more fighters are changing over to MMA/NHB. This holds true with Saturday night's card. The main event will showcase Promoter Jesse Finney (Right) against Shawn Polaney. Finney made a name for himself in kickboxing winning numerous Titles. This is his first MMA fight. Polaney is a college wrestler from Iowa, and is trained by Travis Fulton. This fight looks to be the typical wrestler verse striker.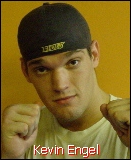 Kevin Engel will be back in the ring continuing to make his change from Kickboxing to MMA. Engel won his first MMA fight by discussion in RITJ III back in February. His opponent will be Dustin Roberts. Roberts also won his previous fight at RITJ II back in February.
Two other great matches will feature two fighters From Team Vaghi Submission Jiu Jitsu. Tyler Cregger will face Andrew Rippley, and Dustin Severs will face Mark Long. Cregger and Severs have been students with Vaghi for a couple of years. Rippley is trained by his brother Derrick Rippley. Cunningham is from Cedar Rapids, Iowa.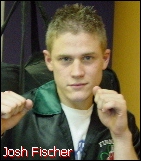 Mike Green will be back in the ring, taking on one of Travis Fulton. fighters from Iowa.
The fight card is rounded out with a Kickboxing fight, between Josh Fischer and Jon Antigliano. Fischer is on of Finney's top students, and former world champion Zenny Reynolds trains Antigliano. The two boxing matches are worth the price of the tickets themselves. The first one will put Aldo and Eric Watson up against each other. Aldo is trained by Finney's and is from Durango, Mexico. Watson is trained by Jimmy Howell out of St. Louis, Missouri.
The final Boxing match is between Rush Remmington and Mike Gladney. Remmington is trained by Kevin Bozada. Gladney is trained by Jimmy Howell. The fights start at 7:30, doors open at 6:30. For ticket information call (314) 608-3104.
---
WEDNESDAY, June 17th, 2004, AT 3:00 PM, PT
BJ Penn Stripped of UFC Title?
Is This True?
As Reported On maxfighting.com
LAS VEGAS, NV, May 17, 2004: According to a press release today on maxfighting.com BJ Penn was stripped of his UFC Welterweight Title. According to the release, Zuffa, LLC, owner of the Ultimate Fighting Championship, announced that due to BJ Penn's reported signing with the K-1 organization, Penn would no longer compete in UFC events. Additionally, Penn's actions have resulted in him being stripped of his title.
When we checked on the UFC website, we didn't find any news or announcement of this, nor did we find any listing of BJ Penn at all, let alone as a Champion. You can read another story on all this by clicking HERE. (Condition Critical-Commentary by Jake Rossen)
Talk about this on the MMA-NHB Message Board
---
FRIDAY, June 11th, 2004, AT 6:40 PM, PT
Boxing Sanctioning Body
WBC Files for Bankruptcy!
SPECIAL SENT TO THE ISCF
June 11, 2004, MEXICO CITY: Graciano Rocchigiani may have put the World Boxing Council down for the count. The legendary boxing organization was forced to file for bankruptcy Friday after court proceedings upheld a $31 million award given to Rocchigiani, who claimed he was illegally stripped of the organization's light heavyweight title in March 1998. The WBC was forced into Chapter 7 bankruptcy liquidation proceedings Friday, a year after it filed for Chapter 11. The WBC had hoped to persuade the court and jury that it was not liable or responsible for "the harm Rocchigiani alleged."

"Sadly, and despite a vigorous defense, the WBC did not prevail," WBC president Jose Sulaiman (Right) said. Sulaiman called it "impossible" for the not-for-profit WBC to pay the $31 million verdict awarded in April 2003. He also claimed that the organization has done everything in its power to comply with the procedures and orders of the Federal Court in New York and Bankruptcy Court in Puerto Rico. The WBC also was ordered to recognize Rocchigiani as champion from 1988-2000. Rocchigiani beat Michael Nunn for what was supposed to be a title that Roy Jones Jr. relinquished. But in June, when Jones decided he wanted to keep the belt, the WBC opted to retain him as champion.
KICKBOXING CONNECTION...
Feel sorry for Jose Sulaiman kickboxers? If so, maybe you forgot how he publicly voiced his opinion about K-1 Kickboxing... For those who don't remember who Jose Sulaiman is, he is the one who verbally attacked K-1 on record last year when they had announced a signing of Mike Tyson. Sulaiman said:
"The most astonishing thing is to see how a country of such elevated culture such as Japan, is adopting this criminal practice that literally takes society back to the cave era. The fact that such a brilliant boxer who at age 20 conquered a world heavyweight title with a brilliant victory over Trevor Berbick on November 22, 1986, becoming the youngest world champion in boxing history and holding the enviable record of 24 first-round KOs, close to Jack Dempsey's 25 first-round KOs amazing record, can not be thinking of blemishing such extraordinary career by stooping so low to participate in the denigrating legalized savagery of K-1. We wholeheartedly hope that Tyson forgets his recent past and comes back to the noble sport of boxing that opened the doors of greatness to him, to regain his status of world professional champion simply because K-1 is for those who have nothing left at all or for amateurs or cheap street fighters" - Jose Sulaiman
We liked the part where he referred to the "noble sport of boxing". Ya... Right... What's even funnier is the loving music played when you go to their website... (WBC) For someone in his position to say such a thing about ANY Kickboxing Event, we say, "Karma has a strange way of catching up with you!" As far as we are concerned, Sulaiman can take his "noble sport of boxing" and... Well, You get the idea...
MMA CONNECTION...


Sulaiman's actions brought back memories of when when the UFC (Ultimate Fighting Challenge - Mixed Martial Arts) was starting and getting big PPV numbers in the 200,000 to 300,000 range. Back then, those in the world of boxing took notice and got a little worried. In to save them then was Senator John McCain (Right) or Arizona. In 1996, McCain and his colleague Colorado Republican Senator Ben Nighthorse-Campbell wrote to the governors of all 50 states, calling UFC "a brutal and repugnant blood sport . . . that should not be allowed to take place anywhere in the U.S." Its pretty obvious knowing his support of the sport of Boxing that he surly didn't take it upon himself to go on a personal crusade to crush the UFC because he was 'worried for fighter safety'. It was MANY Peoples opinion back then that McCain got bought out by bigger pockets, those with a vested interest in boxing that is, and McCain used his political sway to pretty much knock Mixed Martial Arts (MMA) off of InDemand PPV. However, it pretty much backfired on him because his actions made MMA FAR BIGGER today and look who is getting the last laugh here...
THANKS JOHN!
SPECIAL OUTSIDE SOURCE: McCain was put front and center some years back by known MMA Supporter Eddie Goldman. In Goldman's eyes, MMA was being harassed. And he says the story behind the harassment is rooted in McCain's self-interest. It's about a conspiracy involving Senator McCain, professional boxing and Anheuser-Busch, the brewing company. Back then, here's how Goldman's theory worked:
McCain opposes MMA because it threatens the boxing industry's hold on the pay-per-view TV audience; boxing's largest corporate sponsor is Anheuser-Busch, whose second largest wholesaler in the country is owned by Jim Hensley, the father-in-law of Senator John McCain. Theoretically, says Goldman, what's good for boxing is good for McCain.
On his 1996 financial-disclosure form, McCain acknowledges owning between $1 million and $5 million in Anheuser-Busch Company stock, along with significant interests in Hensley and Company, his father-in-law's Anheuser-Busch distributorship.
Again and again, in interviews, McCain has played loose with the facts. He has vastly exaggerated the extent of the violence associated with MMA, and has refused to acknowledge rule changes and safety precautions that make MMA far less dangerous than it was when he first logged his complaints. McCain is no stranger himself when it comes to other contact sports. He was a boxer in the Navy, he's a follower of professional boxing and, in fact, no stranger to pugilistic violence. McCain was ringside at the 1995 boxing death of boxer Jimmy Garcia, he has seen the ultimate brutality of boxing and, yet, remains a fan.
---
FRIDAY, May 7th, 2004, AT 12:30 PM, PT
Great Video Story On MMA In Georgia!
CLICK HERE and scroll down Under "More Headlines" To...
Special Report: Inside Extreme Fighting
---