FRIDAY, February 27th, 2004, AT 9:00 AM, PT
"WAR IN WESTPORT"
IKF Kickboxing & ISCF MMA!
IKF and ISCF Promoter Dan Tharp will host "WAR IN WESTPORT" tonight at the Beaumont Club in Kansas City Missouri, USA. We had no bout info as of press time but for more info please contact Mr. Dan Tharp at (816) 560-1964 or by E-Mail At: Sicarii67@aol.com
---
MONDAY, February 23rd, 2004, AT 10:00 PM, PT

IKF & ISCF Warriors Are Set To Battle
As Winter Wars 2004 Approaches
Noted IKF and ISCF event Expected to Draw Fire on Saturday, March 13
One of the most identifiable and long standing IKF and ISCF events is Augusta, Georgia's Winter Wars. In 2002, Kevin "Hurricane" Hudson won his IKF professional U.S. title there. ISCF Superstars Cam McHargue and Steve Headden won their first ISCF titles at previous Winter Wars cards. Clearly, the event ranks as a highly prestigious one for fighters, particularly those in the Southeast to be a part of as a resume builder, if nothing else.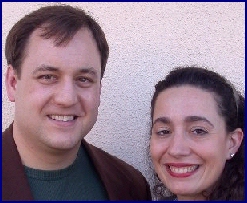 On Saturday, March 13, 2004, Winter Wars will return to the Garden City and Southern fight fans can expect great IKF and ISCF action. IKF and ISCF World President, Steve Fossum, adds: "This year's Winter Wars will be yet another addition in a long line of great events. Mike and Elizabeth Carlson (Right) have together represented true driving forces for IKF and ISCF for nearly a decade. Anyone wanting to see a truly great event should come to Augusta on March 13."
Winter Wars 2004 will host IKF sanctioned kickboxing bouts under the American/Full Contact Rules and ISCF sanctioned mixed martial arts contests on Saturday, March 13, 2004. It will be held at Gym 5 on Augusta's Fort Gordon. For additional information, or for fighters wishing to compete on the card, contact Augusta Martial Arts Academy at (706) 855-5269 or by e-mail at: augustamaa@earthlink.net
---
TUESDAY, February 10th, 2004, AT 10:30 AM, PT
"Rumble In The Jungle"
Results From St Louis, Missouri, USA!
Full Story Later This Week
IKF Kickboxing: Josh Fischer (Finneys) defeated Cory Cortrell (Columbia, MO) by unanimous decision: 30-27, 30-27,30-27
ISCF MMA:John Manke (Vaghi) defeated Lazano Francis (Kansas City, KS) by rear naked choke.
ISCF MMA:Dustin Severs (Vaghi) defeated Damion Smith (Kansas City, KS) by arm bar.
Boxing: Brandon Bowie (Troy, MO) defeated Kenny Garcia (Granite City, IL) by unanimous decision: 29-28, 29-28, 30-27.
ISCF MMA: Todd Feager (Finney's) defeated Leo Pla (Kansas City, KS) by unanimous decision: 30-27, 30-27, 30-27.
IKF Kickboxing: Ivy David (East St. Louis, IL) defeated Rob Rickerman (Finney's) by decision. 29-28, 30-27, 29-28.
ISCF MMA: Nick Zona (Finney's) defeated Colin Botbrick (Tulsa, OK) by TKO. Referee stopped fight in Round 2.
IKF Kickboxing: Matt Taft (Finney's) and John Antigliado (Columbia, MO) fought to a draw. Antigliado missed kicks in the third round.
ISCF MMA: Kevin Engel (Finney's) defeated Henry Ikuebuwa (Kansas City, KS) by unanimous decision: 30-27, 30-27, 30-27.
For information please contact the Finney Gym at (314) 351-5226, or email them at finneys@finneyskickboxing.com
---
SATURDAY, February 7th, 2004, AT 2:05 PM, PT
Results From Last Nights
SUBMISSION FIGHTING OPEN X!

Brett Moses, ISCF Georgia, USA: The 10th edition of the Submission Fighting Open X (SFOX) was a huge success for ISCF World Team member Matthew Waller (Right). The Macon Georgia Municipal Auditorium was filled to capacity with an "Exact Paid" attendance of 1,632 spectators. Well over 100 last minute and late arrivals were turned away at the door. Those in the know saw Waller running around like the proverbial "chicken with his head cut off" (But than again, isn't this the case with every fight promoter on event night...) However, everyone else saw a smooth, well run event, which it was.
Here are the results below.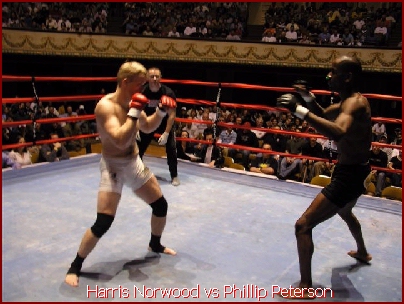 4-MAN 145lb & UNDER AMATEUR MMA TOURNAMENT
The first match saw Harris Norwood facing Phillip Peterson.
Norwood staggered Peterson with a knee and then slammed him to the mat. Peterson then worked his way back to his feet where he then took Norwood down and ended up in Norwood's guard. Norwood then caught Peterson in a kimura from the guard.
WINNER: Harris Norwood 3:20 of Round 1 by Kimura.
Cole Miller vs Daizo Ishige
Miller attempts a few high kicks which entertain the crowd but are off of the mark. Ishige body locks and takes Miller to the mat (side mount). Ishige hits an arm bar and Miller taps.
WINNER: Daizo Ishige 2:40 of Round 1 by Tap Out Arm Bar.
FINALS: Norwood vs Ishige
They circle and Norwood hits a leg kick and then a foot jab. They go into the ropes and Ishige gets Norwood to the mat and winds up in side mount. Ishige then disengages and begins leg kicking the downed Norwood. Referee Chris Mize then stands the fighters up. Norwood lands some solid strikes but slips. He pulls guard. Ishige attempts a leg lock, Norwood defends and Ishige rains down strikes.
CHAMPION: Daizo Ishige at 3:02 of round 1 due to Strikes.
4-MAN SUPER HEAVYWEIGHT AMATEUR TOURNAMENT
Jimmy Jennings vs William Waite
Jennings hits Waite, Waite turns his back and Jennings pummels him. Referee Mize steps in and stops the bout.
WINNER: Jimmy Jennings at at 1616 seconds or Round 1 due to Strikes.
Tim Miller vs James Faye


The two circle. Miller closes in and delivers strikes.
WINNER: Tim Miller by TKO at 1:12 of round 1.
FINALS:
Jimmy Jennings vs Tim Miller
The two go to the mat but it was Miller getting the best as he gets Jennings to tap from a wrist lock.
CHAMPION: Tim Miller at 1:37 of Round 1 by wrist lock.
WELTERWEIGHT AMATEUR MMA
Chad Shaffer vs Andrew Castongia
Castongia lands a couple of punches before taking Shaffer down. Shaffer attempts an arm bar, but Castongia pulls out. Shaffer stands over him, pounces and applies the arm bar, this time for the tap.
WINNER: Chad Shaffer 1:56 of Round 1 by Tap Out from Arm Bar.

LIGHT MIDDLEWEIGHT AMATEUR MMA
Trey Brown vs James Joiner
Joiner takes Brown down, but Brown works his way back to his feet. Brown then takes Joiner, down, catching the guillotine on the way. Joiner taps.
WINNER: Trey Brown at :31 of Round 1 by Tap Out from Guillotine Choke.
LIGHT HEAVYWEIGHT AMATEUR MMA
Sid Beck vs Tom Nguyen
Beck attempts some big kicks which miss. Nguyen gets a huge slam and winds up in side mount. Nguyen mounts and lands some strikes to the head. Beck catches Nguyen's head in scissors and attempts to pop it…Nguyen works free and winds up in side again. Round ends.
Round 2 saw Nguyen take Beck down again, mount and finally end the fight with a barrage of strikes.
WINNER: Tom Nguyen at 2:37 of Round 2 due to Strikes from the mount.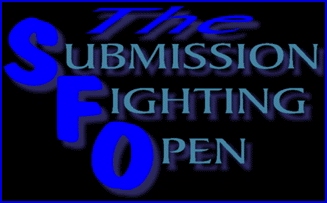 LIGHT MIDDLEWEIGHT AMATEUR MMA
Blake Barber vs Camron Wilshire
Barber takes Wilshire down, Wilshire rolls into an Achilles lock. When Barber defends, Wilshire slides into a kneebar.
WINNER: Camron Wilshire at :27 seconds into Round 1 due to Kneebar.
LIGHT MIDDLEWEIGHT AMATEUR MMA
Junior Assuncao vs Brendan Dumont
The fighters exchange hard low kicks. Dumont shoots in and Assuncao sinks in the guillotine on the way down.
WINNER: Junior Assuncao at :31 seconds of Round 1 due to Guillotine Choke.
FEMALE SUBMISSION GRAPPLING
Dee McGlamry vs Tonya Ivanovic
This back and fourth battle saw Ivanovic get the best of the game McGlamry.
WINNER: Tonya Ivanovic by Judges Decision.
HEAVYWEIGHT MMA -Feature Bout-
Skip Hall vs. Evin Rohrbaugh
Hall, the oldest active MMA fighter came in looking buffed. He began by taking Rohrbaugh down and apply a guillotine. Rohrbaugh defended into the ropes. The fighters are stood up and Rohrbaugh takes Hall down, mounts and begins striking. Referee Mize steps in and stops the bout.
WINNER: Evin Rohrbaugh at 2:21 of Round 1 Due to Strikes.
SUPER HEAVYWEIGHT PRO MMA
James Thorpe vs. Chris Herring
Although Herring & his camp guaranteed a win here, some times, we see that Guarantees can expire, as this one did quickly…Thorpe throws a hard leg kick, shoots a double leg and takes Herring to the ground. Thorpe goes from the side mount to the half mount. Thorpe works back to the side mount and applies a Kimura Lock.


WINNER: James Thorpe at 1:11 of Round 1 due to Kimura Lock.
For more info please contact promoter Matthew Waller at gauntletprods@cox.net or call 478-475-1092 or check out the Gauntlet Productions web page by clicking HERE
---
THURSDAY, February 5th, 2004, AT 6:00 PM, PT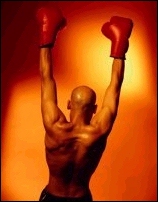 Fighter Insurance!
F. L. DEAN has informed us today that they will re-start coverage for all IKF & ISCF Sanctioned Promoters and their events at the end of this month. Since we have such an excellent "Safety" track record with NO CLAIMS, all IKF & ISCF Sanctioned Promoters will not have to pay a LARGE UP FRONT FEE of something like $2,500.00 for coverage. However, all other non IKF & ISCF sanctioned events WILL.
As far as the rates, we have been informed they will be "VERY" close to those "GREAT" rates we have been paying in the past. Yes, they will be a little higher, but very close to the fees noted on our Fighter Insurance which can be seen by clicking HERE. We here at the IKF & ISCF along with the staff at F. L. Dean Thank you for your patients and understanding during this time.
---
WEDNESDAY, February 4th, 2004, AT 3:10 PM, PT
"Rumble In The Jungle"
Still Headlining Fights 30 Years Later.
St. Louis, MO, USA: On Tuesday October 29th, 1974 two great champions met in the 15 round fight in Zaire. The first fighter was Muhammad Ali. Ali was on his path back to regaining his World Title that he was stripped of when he refused to go to war. His opponent was the current World Champion George Foreman. Foreman had won the title by demolishing Joe Frazier in 2 rounds. The Ali-Foreman event was marketed as "Rumble in the Jungle" (Right).
Over the past 30 years many promoters have revisited the names of historic fights, and using the headlines for their events. This holds true this Saturday night in St. Louis, Missouri, USA. Shamrock Promotions LLC has teamed up with Rum Jungle to bring a tremendous night of action to the St. Louis fight fans.
Rumble Jungle is the biggest night club in St. Louis, with over 40,000sq/ft. The fight atmosphere has been said to the most energetic, by past fighters. The high energy level is joined with an amazing sound system and a 30x30 Video screen, that the fights are projected on. This way there is not a bad seat in the house. The event is headlined as "The Rumble in the Jungle".
This fight won't have World Titles on it but will showcase some of the best fighters in the US. Shamrock Promotions LLC has moved away from the traditional

fight card, and have put numerous different types of fights all on the same card. This Saturday's fight card will have 4 NHB/MMA, 3 FCR Kickboxing, 1 submission, and 1 boxing. When asked why the change Shamrock Promotions President Jesse Finney (Left) answered; "It widens our spectator base, with NHB really getting big, allot of people like seeing it. This way we can give people that might not have scene the different fight styles the opportunity to get interested in something new."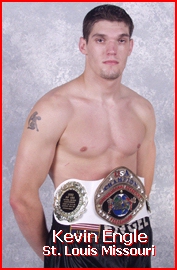 The main event will give fans a new look at number 2 World Ranked IKF Amateur FCR Fighter Kevin "The Hitman" Engel (Right). Engel will be facing Henry Ikebuwa from Kansas City, KS. This will be Engel's first NHB fight. There will be 3 other NHB fights on the card. Nick Zona, from St. Louis will be facing Colin Botbrick. Botbrick is from Tulsa, OK and is trained by Mikey Burnetts out of the Lion's Den. The 3rd NHB fight will be between Todd Fager from St. Louis vs Leo Pla of Kansas City, KS. Pla is no stranger to the St. Louis fights. He posted a win at the same location back in December. The last NHB fight will be between Dustin Severs of St. Louis vs Damion Smith of Kansas City, KS.
The three Full Contact Rules kickboxing fights will be just as exciting. "Little" Matt Taff (Left) of St.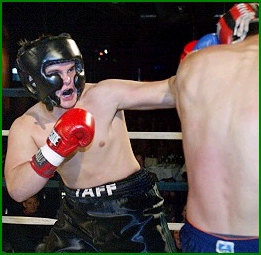 Louis will be facing John Antigliado from Columbia, MO. Josh Fischer of St. Louis will met Cory Cortrell also from Columbia, MO. Cortell and Antigliado are both trained by Former World Champion Zenny Reynolds. The final kickboxing match will be Rob Rickerman of St. Louis against Matt Mabula from Detroit, MI. Mabula is trained by North American Champion Ray Dardin.
Rounding out the card you will see a boxing match between Brandon Bowie, from Troy, MO and Kenny Garcia, from Granite City, IL and finally a submission/grappling match between John Manke from St. Louis and Ken Keiser from Detroit, MI.
For information regarding the fights or if you interested in participating in an upcoming fight show please contact the Finney Gym at (314) 351-5226, or email them at finneys@finneyskickboxing.com
MORE NEWS OF 2-4-04
Waller Of Gauntlet Productions Goes
"One On One" with Thorpe & Herring

ISCF Georgia, USA: Recently Gauntlet Productions' Matthew Waller (Right) caught up with a few guys that will be competing on his SFO X card set for this weekend, February 6th in Macon Georgia, USA. One of them was James Thorpe (Below Right) who is also know as the "Black Plague". This is what Thorpe had to say to Waller about his training and upcoming bout:
Gauntlet Productions (GP): Where do you train?
JT: I train at LA Boxing in Atlanta, Georgia.
GP: How long have you been training and what is your record?
JT: I've been training for about 2 and a half years my nhb record is 4-0 (one win by forfeit).
GP: How and why did you get into this sport?
JT: Well basically I just like competition. I did a lot of grappling tournaments and had some success there... did shoot sparring in Augusta a few times had some success there...I guess nhb was just the next step and it's a fun step.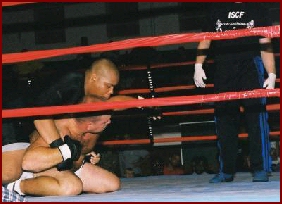 GP: Tell us about your first bout and how you felt walking into it?
JT: I was really nervous leading up to it. My 1st 2 fights were at the Gauntlet Trials 4 in October of 2002, but the day of, at least for me I was pretty much at peace with stepping up and putting it all out there and it turned out real well. I won both fights by submission and now i'm addicted to it. I think everyone should do it once but I think fighting is like lays chips, you cant have just one.
GP: Explain a training day for James Thorpe.
JT: Well I'm pretty lazy so that coupled with a pretty hard job during the day makes me REALLY lazy when I train, but my training partners do a great job of pushing me to train hard. I train on the ground with Steve Headden, I work stand up with Tom and Nhan Nguyen and train nhb with the Nguyen brothers as well. Tom is also fighting February 6th and should do well.
GP: You are set to have your first Pro fight on February 6th in Macon GA against Chris Herring from GorillaNation, out of Rockingham, NC. What made you decide to step up and fight Pro?
JT: It was just to hard to get fights as an amateur. I had a lot of matches fall through. If everything had worked out since I started fighting I'd have like 7-8 fights under my belt by now, so that's the main reason. But also I'm in no hurry I'm taking it slow I'm only 22 so I figure I got plenty of time in the sport. I expect a tough fight from Chris, he's no punk so it should be a good one to see. I know I'm looking forward to it. I want to give a shout out to all my friends who have helped me get to this point if I forget you, my bad: Steve, Chris, Morrison, Tom, Nhan, Rory, Adam, Forrest, George, Lionel, Kendo, Tony T and everyone else at La Boxing that I forgot, thanks a bunch guys!
Next Waller sat down with James opponent, Chris Herring from North Carolina. Here is what Chris had to say to Matthew.
GP: Where do you train?
CH: GorillaNation, Raeford NC. We are a small up and coming fight team. MMA is not leagal in North Carolina so that makes the interest level kinda low and the practitioners spread out. I end up training with the local wrestling team alot, and some local traditional martial arts schools.
GP: How long have you been training and what is your record?
CH: I've been in ValeTudo/MMA for about three years now. My record is 2-4 (0-2 PRO, 2-2 Amatuer)
GP: How and why did you get into this sport?
CH: I've always enjoyed combat sports. I wrestled in high school. About three years ago I ran into a friend, I had not seen in years. He asked me over to watch the UFC (Tito vs Elvis). I was amazed at how much the sport had evolved. The last UFC I had seen was like UFC 2. I was hooked.
GP: Tell us about your first bout and how you felt walking into it?
CH: My first fight was against Jody Poff in The DangerZone. I was scared to death until the bell rang, then it was just go!
GP: Explain a training day for Chris Herring.
CH: Get up around 5:AM, do my roadwork and some rope work. After lunch, it's weight training. Evenings, It depends on what training partner's I find. If it's the wrestlers I work grappling. If it's my boxing/kickboxing guys, I work standup. I've got a wide variety of tough guys, that put me through the ringer.
GP: You are set to have your next Pro fight on February 6th, in Macon Georgia against James Thorpe from LA Boxing in Atlanta, GA. What are your feelings going into this bout and what do you know about your opponent?
CH: I'm very excited about this fight against James. I had the oppourtunity to meet him a couple months ago. He seemed like a tough guy, and he trains with one of Georgia's best in LA Boxing. He actually offered to fight me at the Dalton (Georgia) FightParty event. I turned him down. Now I'm glad I did. It gave me time to properly prepare. I'm expecting nothing but the best from James. Everyone should make this show if they can, its gonna be a WAR!
---
SATURDAY, January 31st 2004, AT 11:20 AM, PT
ISCF CHAMP Wiezorek
To Make UFC Debut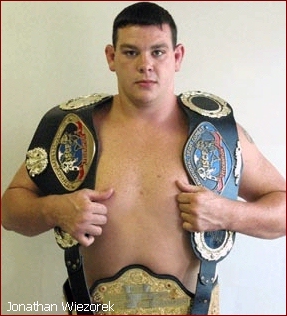 ISCF Georgia, USA: Two Time ISCF Champion Jonathan "Lock N' Load" Wiezorek, (Right, ISCF Pro U.S. Super Heavyweight Champion), is ready to make his debut in Ultimate Fighting Championship (UFC) on April 2nd. He will face Wade Shipp of San Diego, California, in a preliminary match to the main fight card.
Shipp is a newcomer to the UFC as well. UFC matchmaker, Joe Silva, said that his intention is to introduce a couple of newcomers to vie to stay with the promotion. The winner of the debut match will then have a chance to establish himself among the best of the world's heavyweight mixed martial arts (MMA) fighters.
Wiezorek, with a 5-0 professional MMA record, has defeated such notables as Dan "The Beast" Severn, John Dixson, and Jonathan Ivey. His defeat of Severn in 2001 earned him a Super Heavyweight World title of an MMA promotional group. His defeat of Dixson garnered the ISCF title. Wiezorek's last two matches have totaled about a minute in fight time and both ended by choke submission.
Wiezorek says that he expects Shipp to be his most well-rounded opponent yet. "He will be extremely tough," said Lock N' Load. He continued, "Probably the most tenacious I have ever faced."
His manager, James Corbett (Left) of Valdosta Martial Arts Center in Valdosta, Georgia, says

that he (of course) hopes Wiezorek will do well in the match. "Jonathan is training smart for this fight. He is using the talent of a lot of accomplished trainers and fighters from around the south east to help prepare him." Corbett continued, "There are many world class fighters right here in Georgia that are helping Wiezorek. Many of these; Foster, Headden, Griffin, just to name a few; are as deserving as Wiezorek of such a fight opportunity themselves."
The event will be UFC 47 and held at Manadalay Bay in Las Vegas, Nevada. The event will be available via Pay-Per-View over DirecTV, DISH, and cable.
Wiezorek is a 1997 Georgia State High School Wrestling Champion and a graduate of Valdosta State Universities rigorous Sport Medicine program. He is currently earning a Master's Degree in Sports Medicine at the University of Tennessee in Chattanooga. He is interested in exploring a full-time career as a professional fighter and also has future plans to earn a Ph.D. in Sports Medicine and teach on the university level. He is sponsored by Open MRI of Valdosta, Casca Grossa, Langdale Industries, ACH Mortgage, Vulcan Steel, Harmon's Awards. For more information on Wiezorek, click HERE.
---
FRIDAY, January 30th 2004, AT 7:00 PM, PT
Illinois Says "NO" To Kickboxing...
Unless It's IKF Sanctioned!
Mixed Martial Arts Banned Too... Can ISCF Come To The Rescue?
On Wednesday, January 14th, Illinois Governor Rod Blagojevich banned "Toughman" events. Along with it, the State of Illinois is cracking down on other fighting events as well, including Kickboxing and MMA/NHB (Ultimate fighting style events). The State Department of Professional Regulation closed legal loopholes that have permitted Toughman bouts in Illinois in the past. In the past, Toughman's claim that it was a kickboxing event in Illinois exempted it from the state's boxing act. No longer. The new Illinois rules strengthen the previous definitions in the Boxing Act that had previously allowed promoters of "Toughman" events to mask their events and advertise them as "kickboxing" events. Officials said Toughman organizers got away with the "kickboxing" loophole but now the competitions are subject to the standards of professional boxing, including strict weight classes and medical safeguards. Violators face stiff fines and criminal charges. State inspectors say that many of the participants lack fight training, the referees are unlicensed, or at the very least...lax. Toughman and other amateur competitions must now ensure that the promoter, all the fighters, referees and ringside doctors are properly licensed by the state before the event can go forward.
The Illinois Department of Professional Regulation effectively halted the matches through emergency rule changes to the state's boxing law. The new law also says that Promoters and participants of MMA/NHB (Ultimate fighting style events) must now follow the same rules as professional boxing. When you look at the toughman weightclasses, one needs to wonder, "HOW" did they get away with such massive weight spreads: Light Heavyweight: 160 -184 Lbs., Heavyweight: 185 - 400 Lbs. With an entree fee as high as $62.50, toughman had a pretty good profit margin.
Last year Toughman came into the headlines here at the IKF because of owner Art Dores' "Insulting" attempt to legalize his events by calling them "Kickboxing!"
Toughman pits amateur fighters against each other in a bid to be called the toughest in a community. Toughman drew attention last June when a 30-year-old Florida woman was coaxed into fighting an experienced woman boxer and suffered fatal injuries. Jodie Meyers, the sister of Stacy Young, who died in such a fight in Sarasota, Florida last year, and Meyers' husband Donald joined Illinois Professional Regulation Director Fernando Grillo in announcing the change. The Meyerses have become activists in getting states to prohibit the fights. Illinois is the 14th. "These competitions amount to organized street fights," Grillo said. "The participants lack training, the rules are loose -- at best -- and the outcomes are often seriously damaging, if not deadly."
During the last 17 months, four fighters have died after suffering injuries in Toughman bouts around the country. In Texas, where the fights looked like they would survive a big political battle, the state has not banned them, but has made them practically impossible to continue due to their new state regulations. In an article in the Dallas Morning News a story showed how the "pro Toughman" forces rolled in some big political guns to try to save the fights. Even Dore's home state of Michigan has imposed tough new restrictions on Toughman.
The Saginaw News reported: "Michigan officials had issued a cease-and-desist order to stop Toughman events unless Dore could provide unlimited health insurance for his fighters. Facing a court battle with the state, Dore agreed to insure each of his fighters for $2 million, and a previous ruling requires that Dore get rid of a section of his pre-fight waivers that asks that fighters pledge never to make any insurance claims. The agreement kept Toughman critics in the Legislature from banning the events entirely, said state Rep. John Stewart, a Plymouth Republican who called the fights "repulsive."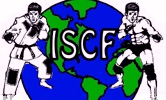 With the ruling, Illinois became the 14th state to ban Toughman fights and will certainly not be the last. The ban on MMA/NHB will not be isolated to Illinois either. Other states are also looking to close down not just toughman but mixed martial arts and kickboxing unless the events are regulated and sanctioned by a legit sanctioning body for the sport like the IKF (Kickboxing) or ISCF. (Mixed Martial Arts).
"The one to thank here is IKF Promoter Rob Zbilski (Left)

." says IKF/ISCF President Steve Fossum. "It was Rob who went to the state to assure IKF events could still take place in Illinois." Zbilski's work was followed up by IKF Promoter

Ryan Blackorby (Right) of Peoria, Illinois who also had discussions with the state about his events. Both Zbilski and Blackorby's efforts were followed up by IKF/ISCF Promoter Jesse Finney (Below Left) of St. Louis Missouri who also does some IKF events in Illinois. Finney has invited the state to sit ringside at his upcoming IKF Illinois show. "If not for the efforts of Rob and the followed efforts of Ryan and Jesse, we all would be wondering right now, when will kickboxing be allowed in Illinois again?" finished Fossum.
Several states across the nation have become quite friendly with the IKF and ISCF over the past

several weeks. The topic has been in regards to placing the IKF and ISCF as the lone regulation for MMA/NHB and Kickboxing in their states. Many more states may end up working with the ISCF because the ISCF is the "ONLY" Sanctioning body for mixed martial arts in the world. Others are promotional "Companies" who have their own rules, regulations and champions. already ISCF is exclusive in the states of Georgia, Missouri and Kansas and close behind are Iowa, Nebraska and hopefully Illinois.
Colorado is considering a ban of toughman and also taking a much closer look at MMA events as well while Washington state has legislation pending to ban toughman completely. Toughman events are still being held in Washington, Ohio, West Virginia, and Kentucky. Last year, the American College of Sports Medicine urged lawmakers to demand better safety standards for the no-holds-barred events or ban them completely.
Chad Mason. Back In Our News!
Toughman's Art Dore wasn't the only one causing problems in the "Fight Arena". There have been "SEVERAL" MMA (Mixed Martial Arts, Ultimate Fighting etc.) Promoters out there that have held events in bars and pulled people from the crowds to fight in them. The IKF tracked down one of these individuals last year named Chad Mason. Mason had been telling everyone his events were sanctioned by the IKF or the ISCF to avoid problems with such laws. Just this week the IKF/ISCF was informed that Mason was up to his old tricks again in Iowa where he had started hosting his new "Fight Club" event this past January 7th, of what was to be a continuous weekly event at a Bar called Vieux Carre Night Club. However a call to the Vieux Carre Night Club. and they informed us that Mason was no longer welcomed there or allowed to do his events there. Mason has been making claims that his events there on a Wednesday night would bring in as many as 1000 people but according to Vieux Carre Night Club the numbers were no where close to that.
The Vieux Carre Night Club stated reasons such as Mason's procedures of picking people (Men "AND" Women) out of the crowd to fight. Not just fight anybody, but fight some of Mason's experienced fighters in which the bouts were completely one sided and dangerous. Although Iowa law prohibits amateur fighters from being paid, its common knowledge among the MMA/NHB crowd that Mason has paid fighters in the past which in reality, makes them pros.
Currently Mason is back at his old venue, Toad Holler and according to those we spoke to, "Pulling intoxicated individuals out of the crowd and throwing them into his ring to fight is still happening." As far as the majority of the MMA/NHB crowd is concerned, promoters like Mason and Art Dore are the very ones that are causing all the bans, not to mention the recent changes in everyone's insurance rates. (See article earlier this month) From what we discovered, Mason has not cleaned up his act at all. At the Vieux Carre Night Club he had a young girl fighter lie about her age and tell everyone she was 18 instead of the 15 or 16 she was. Mason had her fight an intoxicated girl from the crowd with no fighting experience at all (As many of the fighters coming from the crowd are). Mason's "Ringer" girl we discovered had extensive martial arts experience and hurt her opponent real bad in their bout which included kicking the inexperienced girl in the head when she was on her hands and knees.
Due to Mason's recent actions here in January, 2004, the states of Iowa and Nebraska are swiftly moving to now ban MMA/NHB completely. Hopefully the ISCF will be able to step in and assist in some way. One things for sure, Promoters like Mason and Dore will definitely not be on the IKF or ISCF Promoters list!
From MMAweekly.com: Sean Sherk could be the most talented 20-0 guy that your not very familiar with. Sherk is also a perfect 2-0 in the UFC and is starting to make waves in the mixed martial arts world. Some people have referred to him as a Mini Mark Coleman, but it's his powerful frame that opponents have NOT been able to deal with. Last year, Sherk wrote on MMAweekly.com, "I am asking the MMA community to permanently ban Chad Mason from promoting shows. He is taking advantage of a movement yearning to find its legs and I cannot allow this person to continue his practice of stepping on people for financial gain. I urge everyone to strongly reconsider any dealings with this individual. This sport is still a grassroots community, one with a lot of hope to succeed. It's a shame bad apples have plagued what so many have fought for so I ask you to do the right thing and shun his unscrupulous practices." So what was Sherk so upset about? Here's the whole story below.
I remember how proud I felt standing across Matt Hughes at UFC 42, fighting in the main event on pay-per-view after struggling to make a name for myself in smaller shows since 1999. I'm a very private person and have made MMA my full time career—it's in my blood, the subject never drifts far from my mind.
Today I'm working 15-hour days, holding down two jobs. This is certainly not where I expected to be after recently proposing to my girlfriend. When I choose to fight, there is nothing that is going to stop me…until I met promoter Chad Mason.
In mid-August, Chad (Mason) contacted me about promoting a fight in my hometown here in Minnesota. After reaching an agreement with my manager, DeWayne Zinkin, Jr., I spent hours on the Net finding suitable venues to help him any way possible. I really want the sport to grow, and despite hearing things about Chad's storied past, I wanted to fight in front of my hometown fans, friends and family.
After settling on Spikers, a local bar that I had fought at before, I joined Chad in meeting with them to cut the deal for November 1st. Originally, I was going to be on two Chad Mason cards during the same month—one on the 1st (Minnesota) and one on the 28th (Iowa). On his word and supposed contract, I turned down other offers and put everything I had into training and assisting Chad with the promotion.
Unbeknownst to anyone, including Spikers, Chad changed the first date to November 7th. Spikers called me and read me the riot act, but I assured them the November 7th date was good as gold and not to worry. Though I had nothing to do with the promotion outside of fighting, I told Chad I could sell tickets and sure enough, I sold over 150 in less than two weeks. My family and friends were staying at nearby hotels and I was excited about fighting in front of my hometown crowd.
The Monday before the show, Chad called me and said everything was great and that he was going to finalize my deal with DeWayne, along with buying some airtime on a local radio station for advertising. I felt good about the situation and concentrated on my training, anticipating the inevitable. But as the days passed, I never heard back from Chad and my manager couldn't reach him.
The day before the show I received a call from someone who said the show had been cancelled for two weeks. Promoter Monte Cox even called and said the same thing, as if it had been public knowledge. But how could this be? I had just spoken with Chad days before the show. After receiving two more calls relating to the same subject, I tried to reach him but to no avail.
Chad finally called Thursday evening, admitting the show was canceled. If not for that call, I would have shown up Friday night with all the people I sold tickets to, along with my family and closest friends, expecting to see me fight. I would have looked like an ass.
I told Chad I needed to be paid for the 12 weeks of training and keeping me off the market for three months with no fights and no money. He said he would personally come to Minnesota on Sunday to remedy the money. He never did.
As soon as I got off the phone with Chad that Thursday, I spent the rest of my night calling everyone I know, and everyone I sold tickets to, telling them the show was canceled, assuring their money will be paid back. I called Spikers as well and left a message with the manager telling him the show was canceled and what happened.
I got a call from Brad Kohler on Friday morning saying he talked with Spikers; they wanted to meet with me. He told me they were pissed off and rightly so. Brad went to the meeting to do some damage control. They blamed me for everything that happened. They said they were out a lot of money for chair and table rentals and whatever else. Outside of losing money and other opportunities, I lost face in my own town and that's something I can never regain.
At the end of the meeting they asked if I would stay and meet people on the night in question to explain why there was no show. Along with Brad, I stayed at Spikers for five hours. I spent Friday, Saturday and Sunday returning people's ticket money. Chad Mason just disappeared and left me to clean up his mess.
He (Chad Mason) is a coward without a conscience.
Chad did not answer any of my phone calls or my manager's calls for several days. When we finally got a hold of him, he kept saying he would pay my show money which he said I was entitled to for all my work and training. Chad assured me he would pay the next day, but tomorrow never came. Of course the November 28th date came and went without a thought. Several fighters lost out on this opportunity as well.
The last time I talked with Chad was about a week ago. He said he was going to Western Union to wire the money and would call back 20 minutes later after everything was sent. He never called back.
I've called 30 times since then; he will not answer his phone. So for the first time in nearly three years, I'm working full time and unable to concentrate on training 100%. Every night, no matter how tired I am, I still train with the same intensity I've always had. My name is mud in my own town, Chad Mason contends he is putting on a show (without me against my original opponent) on December 12th and refuses to acknowledge the people he's hurt in the process. To boot, the money owed to me was to pay for my wedding on January 24th, something Chad knew all along.
"I'm not asking for sympathy, but I am asking the MMA community to permanently ban Chad Mason from promoting shows. He is taking advantage of a movement yearning to find its legs and I cannot allow this person to continue his practice of stepping on people for financial gain. I urge everyone to strongly reconsider any dealings with this individual. This sport is still a grassroots community, one with a lot of hope to succeed. It's a shame bad apples have plagued what so many have fought for so I ask you to do the right thing and shun his unscrupulous practices."
Sean Sherk
---
THURSDAY, January 29th 2004, AT 10:10 PM, PT
Adrenaline Athletics Presents...
ADRENALINE EXTREME COMBAT
ISCF Promoter Chad Osborne is all set to host his event tomorrow night, Friday, January 30th at the Beaumont Club in Kansas City, Missouri, USA. Osborne and his Adrenaline Athletics promotional company will present ADRENALINE EXTREME COMBAT. The event will feature amateur mixed martial arts. For more info, please contact Mr. Chad Osborne at (816) 914-6527.
---
MONDAY, January 26th, 2004, AT 1:50 PM, PT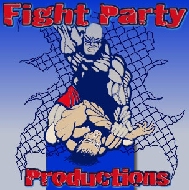 Moses & Oblas
Team Up For Atlanta's
DYNAMIC
"One-Two"
PUNCH!
By Matthew Waller, ISCF Georgia Representative
IKF Georgia, USA: Last Friday night, January the 23rd,

Atlanta was privileged to another great Fight event. But this time, it was a Dynamic mix of Fight Party Production's

Brett Moses (L) who this time teamed up with Atlanta Boxing Super Promoter, Undisputed Productions David Oblas (R). Together their work and efforts produced one on the greatest "One-Two" punches in Atlanta fight history!
It was a "REAL" sellout crowd for the 1,800 plus seat venue and a night of exciting ISCF Mixed Martial Arts and Pro Boxing that would make any spectator a hard core fan. Moses continues to raise the bar for any Mixed Martial Arts promoter in the South East and for Oblas, it was business as usual with his great boxing events. In attendance at the event was ISCF World Middleweight Champion, Steve Headden,
IKF North American Heavyweight Champion Mark Selbee and some heavyweight boxer guy named Evander Holyfield... Just kidding Evander, it was a great "HONOR" to have you there! Here are the results for the MMA bouts for the evening.
ISCF News was not sent in any of the Boxing results. For those we suggest you go to
www.undisputedproductions.com
BOUT 1: Cliff Fretwell VS Mike Collier
Round 1: Collier shoots in and takes Fretwell down landing in a half guard where Collier started throwing several strikes. While Collier works on striking the head and body, Fretwell works for position and rolls Collier to gain the full mount and then Fretwell begins to work on ending the bout with several attempts of arm bars to which Collier escapes. Fretwell gets side control and delivers a series of knees to the body which the tightly packed crowd began to roar in excitement about. Round one ends.
ROUND 2: Fretwell gets full mount quickly and lands several powerful punches to Collier and begins to work his submission skills again on him but Collier was able to defend and escape each one. With seconds left in the round Fretwell gets a solid arm bar which had everyone at ringside wincing in pain yet there was no look of fear or pain on Collier's face and then the bell rings ending round 2.
ROUND 3: Fretwell gets Collier back to the ground and throws more strikes, taking his time to make sure each strike hit it's target. Collier answered as many strikes as he could back to Fretwell and then Fretwell starts to work for more submissions when the bell rings ending the bout. WINNER : FRETWELL by Judges decision
BOUT 2: CHAD JAY vs MIKE ISRAEL
Israel comes out throwing punches and it quickly goes to the ground where Israel takes Jay's back and sinks in a tight rear naked choke that put Jay to sleep. WINNER : ISRAEL by Rear Naked Choke, Round 1
BOUT 3: RYAN ELLISON vs BEN RUNION
Runion walks out and throws a high head kick to Ellison which just misses. Ellison opens up his arsenal of hands which knocks Runion down. Ellison chases him to the canvas and sets in a guillotine choke that Runion struggles to get out of. After about 30 seconds, he finds his way out and both fighters were quickly back on their feet trading punches. Within moments, both fighters were back to the ground where Ellison took Runions' back and where he sinks in a rear naked choke for the tap. WINNER : ELLISON by Rear Naked Choke, Round 1
BOUT 4: ADAM BRUN vs BERNARD RUTHERFORD
Rutherford walks in after the bell and begins throwing powerful punches which brought the fight quickly to the ground where both fighters work for position and exchange strikes. Rutherford gets a guillotine choke and Brun taps quickly. WINNER : RUTHERFORD by guillotine choke, Round 1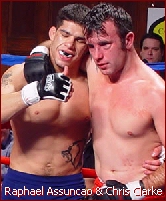 BOUT 5: CHANDLER OAKS vs FRANK MARYSKA
Both fighters meet in the center of the ring with an exchange of fast strikes from punches to knees. From the clinch Maryska takes Oakes down and works for the mount. Maryska gets a front choke to end the bout. WINNER : MARYSKA by Front Choke, Round 1
BOUT 6: CHRIS CLARKE vs RAPHAEL ASSUNCAO
The bell rings and Assuncao charges Clarke and begins to throw many punches which Clarke takes and throws back a few of his own. Assuncao traps Clarke in the corner and unleashes a flurry of punches and knees which drops Clarke and the bout is over. WINNER : ASSUNCAO by Referee stoppage, Round 1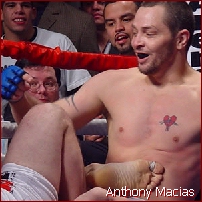 BOUT 7: ANTHONY MACIAS vs KEVIN GITTEMEIER
Both fighters trade a few punches and Gittemeier introduces a few kicks in the bout. While Macias pulls in Gittemeier for a clinch Gittemeier slams Macias to the canvas and gets half mount where he begins striking Macias with a few knees. Both fighters work their way back to their feet and Gittemeier quickly slams Macias back down again falling into the guard of Macias

where each fighter moves to work on a heel hook. Macias soon let go of Gittemeier's heel and then began to taunt Gittemeier's efforts on his submission with a few yawn like actions and offering his other heel to Gittemeier (Right). Soon Macias secures a toe hold and gets the tap. WINNER : MACIAS by Toe Hold, Round 1.
For more info contact Mr. Brett Moses at not_tank@hotmail.com or Mr. David Oblas at (770) 444-3953 or by e-mail at dave@undisputedproductions.com
MORE NEWS OF 1-26-04
The
SUBMISSION FIGHTING OPEN X
ISCF Georgia: Gauntlet Productions announces the Submission Fighting Open X that will explode in Macon Georgia on Friday February 6th. The Macon City Auditorium in Macon Georgia, USA will be host to the event. This no-holds-barred event will feature competition from all over the South East inside a 18-foot ring.
The Submission Fighting Open is Georgia's longest running mixed martial arts promotion and has been in effect since 1997. Owned and operated by Gauntlet Productions, the same company that brings you The Gauntlet Trials Southeastern Regional MMA qualifiers. The SFO is the premier showcase for up and coming talent in the southeastern region of the U.S.
Below is the scheduled fight card as of today.
145 & Under - 4 Man Bracket

Cole Miller, AFA, Georgia
Daizo Ishige, U.S. Taido, Georgia
Phillip Peterson, Richard Trammell's Fitness, Georgia
Harris Norwood, Eagle Kickboxing, Georgia

145.1 - 155: Single

Chad Shaffer - HardCore Gym, Georgia Vs Andrew Castongia - Family Martial Arts Center, Georgia

155.1 - 170: Single

Trey Brown, AFA, Georgia Vs James Joiner. Independent, Tennessee

155.1 - 170: Single

Blake Barber, AFA, Georgia Vs Camron Wilshire, Richard Trammell's Fitness, Georgia

155.1 - 170: Single

Junior Assuncao, LA Boxing, Georgia Vs Brendan Dumont - U.S. Taido, Georgia

170.1 - 185: Single

Walt Davis, Andy Foster, Georgia Vs TBA

185.1 - 200: Single

Sid Beck, Triad/ Eagle Karate, Georgia Vs Tom Nguyen, La Boxing, Georgia

221 & UP: 4 Man Bracket

Tim Miller, AFA, Georgia
James Faye, Self, Georgia
William Waite, Independent, Georgia
Jimmy Jennings, Independent, Georgia

Single Grappling Bout

Dee Mglamry, AFA, Georgia Vs Tonja Ivanovic, LA Boxing, Georgia

Single Bout

Skipp Hall, Alabama Vs Evin Rohrbaugh, Georgia

Single Bout

James Thorpe, La Boxing, Georgia Vs Chris Herring, GorillaNation, North Carolina

*Fight card is subject to change.
Doors open at 7:00 PM.
Tickets are on sale NOW can be purchased either by phone or online: $10 Balcony; $15 Floor; $25 Ringside. Tickets
Macon Coliseum: 478-751-9232!
TicketMaster: 478-752-1600
ONLINE: CLICK HERE!
The Macon City Auditorium, 415 First Street, Macon, Georgia, 31201
MAP - CLICK HERE!
Driving Directions to Macon City Auditorium


From Atlanta: I-75 South to I-16 East, Downtown Exit off exit turn right (corner of First and Cherry streets)
From South: I-75 North to I-16 East, Downtown Exit off exit turn right (corner of First and Cherry streets)
From Savannah: I-16 West, Downtown Exit off exit turn left (corner of First and Cherry streets)
If you have any questions please contact promoter Matthew Waller (R) at gauntletprods@cox.net or call 478-475-1092.
---
FRIDAY, January 23rd, 2004, AT 8:40 PM, PT
FIGHTER INSURANCE
Those promoters seeking fighter insurance you can attain coverage from Gagliardi Insurance out of Campbell, California. They can be reached at (408) 369-8040. They will insure events sanctioned by the IKF and the ISCF. They are the "ONLY" Company offering fighter insurance at this time so if someone is telling you they can get you covered for a couple of hundred dollars, they are WRONG! Due to the massive amounts of claims from other groups (See January 12th Article Below) this insurance has gone up dramatically to about $80.00 to $115.00 per fighter (Depending on the requested amounts of coverage). All of us hope that a new carrier for this type of insurance will be attained by mid February. We will keep you posted.
---
WEDNESDAY, January 21st, 2004, AT 3:25 PM, PT
Bout Change For
FRIDAY NIGHT FIGHT PARTY
Fight number 3 listed below as: MIDDLEWEIGHT MMA: MIKE ISRAEL, Team Tiger vs. FRED GRISWALD, Dixson Jiu Jitsu, has been changed to: MIDDLEWEIGHT MMA MIKE ISRAEL, Team Tiger vs. CHAD JAY, Dixson Jiu Jitsu.
Also, fight number 6 listed below as: LIGHT MIDDLEWEIGHT MMA: JUAN GUEVARA, Team Tiger vs. ROY JOHNSON, Dixson Jiu Jitsu has been changed to: LIGHT MIDDLEWEIGHT MMA: JUAN GUEVARA, Team Tiger vs. MARK KLING, Dixson Jiu Jitsu.
For more info contact Mr. Brett Moses at not_tank@hotmail.com or Mr. David Oblas at (770) 444-3953 or by e-mail at dave@undisputedproductions.com
---
TUESDAY, January 20th, 2004, AT 3:40 PM, PT
FRIDAY NIGHT FIGHT PARTY
Announces Fight Line-Up!
At last, the MMA portion of the FRIDAY NIGHT FIGHT PARTY, to be held this coming Friday (January 23rd) at the Tabernacle in Atlanta Georgia has been finalized. Here are the match-ups below.
MMA CHALLENGE MATCH: CLIFF FRETWELL, LA Boxing vs. MIKE COLLIER, South Carolina
HEAVYWEIGHT MMA: BERNARD RUTHERFORD, LA Boxing vs. ADAM BRUN, Dixson Jiu Jitsu
MIDDLEWEIGHT MMA: MIKE ISRAEL, Team Tiger vs. FRED GRISWALD, Dixson Jiu Jitsu.
MIDDLEWEIGHT MMA: RYAN ELLISON, Alliance vs. BEN RUNION, Dojo Martial Arts Center – Myrtle Bch
LIGHT MIDDLEWEIGHT MMA: FRANK MARYSKA, Team Tiger vs. CHANDLER OAKES, Dojo Martial Arts Center.
LIGHT MIDDLEWEIGHT MMA: JUAN GUEVARA, Team Tiger vs. ROY JOHNSON, Dixson Jiu Jitsu.
WELTERWEIGHT MMA: RAFAEL ASSUNCAO, Alliance vs. CHRIS CLARKE, Dixson Jiu Jitsu.
MAIN EVENT – LIGHT MIDDLEWEIGHT MMA: KEVIN GEDEMEIER, LA Boxing vs. ANTHONY "MAD DOG" MACIAS, UFC/MARS/PRIDE VET
Atlanta's LA BOXING and TIGER ACADEMY enter three fighters each and Jacare's ALLIANCE two. Reknown fighter John Dixson, who has fought all over the world, brings a Dixson Jiu Jitsu team from his Mississippi camp. Super Brawl veteran Maurice Travis brings a team from his new school in Myrtle Beach, South Carolina And Anthony "Mad Dog" Macias will travel from Dallas, Texas, to be cornered by another Ultimate Fighting veteran, Andy Anderson.
Evander Holyfield has confirmed that he will be in attendance Friday night at the Tabernacle to give the First Annual Undisputed Productions Fighter of the Year Award (Boxing) to O'Neil "Give 'em Hell" Bell. The venue will hold a total of 1,700 fans and ticket prices are: $25, $35, $45, $50 and $1,000 for a ringside table. For more info contact Mr. Brett Moses at not_tank@hotmail.com or Mr. David Oblas at (770) 444-3953 or by e-mail at dave@undisputedproductions.com
---
MONDAY, January 12th, 2004, AT 4:45 PM, PT
Fighter "MEDICAL" Insurance!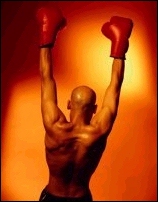 In 2004, Kickboxing and MMA promoters around the USA from many different organizations, including the IKF & ISCF found themselves without an insurance company to offer fighter medical coverage for their events. A couple of years ago, the IKF & ISCF Sanctioning Organizations agreed to an exclusive discount agreement with the sports insurance company F. L. Dean. F. L. Dean also covers promotional groups such as King of the Cage, UFC, K-1 USA, ISKA, USA Boxing, Toughman and several pro boxing promoters.
However, due to some "VERY" high claims submitted by some of these organizations, F. L. Dean was forced to drop fighter "Medical" insurance coverage from their offered coverage. In speaking with F. L. Dean last week, we here at the IKF & ISCF were assured we would be re-signed with them to offer fighter medical coverage to all IKF & ISCF promoters on events Sanctioned by the IKF & ISCF at a reduced rate by late February if not sooner.
F. L. Dean agreed to offer us here at the IKF & ISCF this coverage because in the years we have been with them there has not been a single medical claim from one of our sanctioned events. This of course was due to our insistence in areas of rules, regulations and of course, fighter safety. However many of the other groups will not be offered fighter medical coverage due to the extensive dollar amounts they have submitted through medical claims. Some of these groups have had claims totalling as much as $100,000.00 an incident and as much as 2 million dollars in one year.
Something that needs to be noted that F. L. Dean brought to our attention is that they insured events last year that had 2 deaths in boxing (Colorado & New Jersey) and 5 deaths from toughman events under Art Dore's "Adorable Promotions" group.
---
MONDAY, January 5th, 2004, AT 7:10 PM, PT
"Shush" Speaks Out About 2004
Upcoming Georgia IKF and ISCF Action!

Georgia, USA: The Peach state has traditionally been a hot-bed of IKF and ISCF action. The year 2004 promises to be no exception. "We have five events already set for the first of the year." says Matthew "Mr Shush" Waller. (Right) ISCF & IKF events Coordinator for the State of Georgia. "With such a diverse series of events it looks like the fighters will be able to stay as busy as they want to". The Georgia IKF and ISCF events for 2004 as they stand now are scheduled as follows:
For those wanting information or wanting to be a part of these events feel free to email the promoters at the above links, and as always keep your eyes on the IKF/ ISCF news pages.
---