THURSDAY, February 28th, 2002, AT 8:00 PM, PT
High Profile Southeastern MMA Fighters
To Meet In Kickboxing Match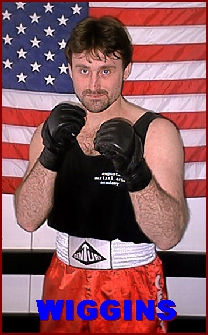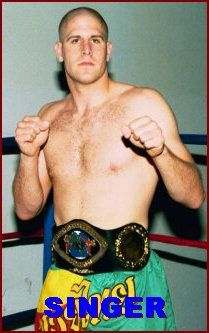 Two versatile combat athletes are set to clash at Augusta, Georgia's Winter Wars 2002 on March 16, 2002.
In what was basically his first year in competition, RINGS veteran
Clint "Wildman" Wiggins (Left)
stepped out of a traditional martial arts background and fought in MMA, shootfighting, muay thai, international and full contact rules kickboxing matches.
Gauntlet Trials II
Tournament Champion Rory Singer (Right,
IKF Super Heavyweight Amateur MuayThai Rules Georgia Champion
A title that will retire the moment he steps into the ring in this bout)
carries an MMA record of 5-2 (2-1 as a Pro), and is a state golden gloves and muay thai champion.
For the rest of this Story
Click
HERE!
---


MONDAY, February 25th, 2002, AT 6:40 PM, PT
Two U.S. Title Bouts To Headline
WINTER WARS 2002
In Augusta, Georgia, USA

Lane Collyer



Kevin Hudson




Dan "The Beast" Severn

United States Title bouts in mixed martial arts and in kickboxing will be on the line in Augusta, Georgia on March 16, 2002, as Augusta Martial Arts Academy presents Winter Wars 2002. Southern sensation Cam McHargue will lock horns with veteran Todd "Crazy T" Carney for the vacated International Sport Combat Federation (ISCF) United States Light Middleweight title.

In the co-main event, Heavyweights "Lightning" Lane Collyer (Left) and Kevin "Hurricane" Hudson (Below Left) will square off for the vacant IKF Pro United States Heavyweight Title in the full contact (kicks above the waist only) rules division.

In the ISCF Bout, McHargue is known for pulling from his gymnastics background and exciting yet effective use of "flashy," athletic, and "high-risk" maneuvers in the ring. Carney has a reputation for always being willing to take bouts against anyone, at the "drop of a hat." This time, however, Carney has had ample time to prepare for a known opponent.

The number 8 IKF Ranked Full Contact Rules Heavyweight Hudson, a former world kickboxing champion, is known for being able to "kick like a lightweight," and is making a long awaited return to the ring. His opponent, Collyer, is ranked #2 in the IKF Full Contact Heavyweight Rankings, #3 in the IKF International Rules Heavyweight Rankings and number 2 in the IKF MuayThai Heavyweight Rankings. Collyer has as aggressive streak which has laid many opponents low.

In other MMA title action, Steve Headden will face Shaun Gay for the ISCF East Coast United States Middleweight title. Headden, who sports a background in judo and Brazilian jiu jitsu, will face journeyman Gay, who has years of training in kickboxing and jujitsu, and is one of the Southeast's most active competitors.

Winter Wars 2002 will be a daylong event at the Augusta State University Athletic Complex. At 9:30 AM, the daytime martial tournament will get underway, including continuous point sparring, kata, weapons kata, grappling and shoot sparring divisions. From 2:00 PM until 4:00 PM, Dan "The Beast" Severn (Left) will hold an "Ultimate Grappling" seminar. At 6:00 PM the doors will open for the night fights, which will begin at 7:00 PM.

The after fight party will be held at the event hotel, The Partridge Inn. Those interested in staying at the Partridge Inn, please request the "Winter Wars 2002" rate. Please go to www.partridgeinn.com for hotel information. All of Winter Wars 2002's mixed martial arts bouts will be sanctioned by the ISCF - International Sports Combat Federation. All kickboxing bouts will be sanctioned by the IKF - International Kickboxing Federation and the Professional Karate Commission. The day tournament will also be sanctioned by the Professional Karate Commission.

Winter Wars 2002 will be the culmination of a week's worth of martial sports events in Augusta, Georgia. On Thursday, March 14, 2002, Augusta Martial Arts Academy will host two-time world kickboxing champion, Johnny "Superfoot" Davis for a two hour kickboxing seminar scheduled to begin at 7:00 PM at Augusta Martial Arts Academy. Each seminar participant will receive a copy of Mr.Davis' newly published kickboxing training manual, "The Art Of Kickboxing."

A press conference and "meet and greet" with the fighters, Mr. Severn and Mr. Davis is scheduled for Friday, March 15, 2002, at the Penthouse Suite at the Partridge Inn, from 4:00 PM to 7:00 PM. It is set to be aired live and hosted by Ashley Brown, on Augusta's sports-talk radio station WRDW, AM 1480.

For more information on Winter Wars 2002, please E-mail Mike or Elizabeth Carlson at the Augusta Martial Arts Academy at amaa@prodigy.net, or call at (706) 855-5269, or fax at (706) 855-7119.
For Fight Poster, Click HERE!

WINTER WARS 2002 FIGHT CARD
RED CORNER - BLUE CORNER

Kevin Hudson Vs Lane Collyer
IKF Professional Heavyweight FCR US Title

Cam McHargue Vs Todd Carney
Professional Light Middleweight MMA - ISCF US Title

Clint Wiggins Vs Rory Singer
Professional Cruiserweight FCR Kickboxing

Shaun Gay Vs Steve Headden
Professional Middleweight MMA - ISCF South East US Title

Stephen Thompson (Right) Vs Ruben Lopez
IKF Amateur FCR Light Heavyweight South East Title

Summer Miller Vs Penny DeGraw
Amateur Featherweight Kickboxing

Shannon Hudson Vs Phillip Botha
Amateur Middleweight Kickboxing

Emmanuel Vero Vs Mike Grivas
Amateur Light Heavyweight Kickboxing

Terrie Hicks Vs Andrea Grishman
Amateur Light Welterweight Kickboxing

Joe Jobes Vs Brendan Dumont
Amateur Middleweight MMA

Gene Silas Vs Tony Rhinehart
Amateur Super Heavyweight MMA

Ashley Cross Vs Jake Pruitt
Amateur Light Middleweight MMA


Fight card subject to change - Fight card potentially not in final order




---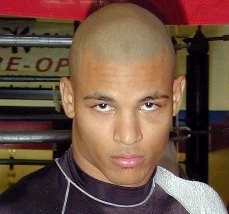 TUESDAY, February 19th, 2002, AT 11:45 AM, PT
Interview with
ISCF IronSpirit
"Submission" Champion,
Muhsin Corbbrey
(Right)
of Hilton Head, South Carolina, USA
---
MONDAY, February 4th, 2002, AT 7:55 PM, PT

DANGER IS COMING!
Fight Night 3 April 7, 2002
The Danger Zone is taking applications for Fight Night 3 at Broadripple Place in Ft. Wayne, Indiana, USA. Seven amatuer 4 man

tournaments and a single pro bout will highlight this great night of fights! Please go to www.the-dangerzone.com and fill out a fighter application and follow the instructions to get involved in one of the most exciting and action packed no holds barred fighting events in the midwest! Tickets are available through The Danger Zone. $25, $20, and $15. Merchandise and The Beast Dan Severn will be on hand for autographs and pictures.
For More Info Contact Becky Levi of The Danger Zone Inc. by e-mail at severndd@cbpu.com or see the Danger Zone WebSite At: www.the-dangerzone.com Sponsored by: Amerisuites and Immortal Equipment - www.immortal-usa.com
---
MONDAY, January 28th, 2002, AT 11:40 AM, PT


Iron Spirit South East Challenge...
A BIG SUCCESS!
By Rebecca Motte








Sent To ISCF By Rebecca Motte of Iron Spirit Promotions. Result News about last weekends Iron Spirit Promotion - South East USA Challenge at Ray Thompson's Upstate Karate in Simpsonville, South Carolina, USA.

Heads up to all you Submission Grappling fans out there............ Iron Spirit Promotions under the guidance and vision of owner Mr. Ray Thompson (Right) and his associate Mr. Tommy Seigler, has succeeded in "putting a new face" on the submission grappling scene. Submission grappling has failed to gain wide public support because it lacked the hard core excitement of the NHB/UFC events. Submission grappling has the reputation of playing the "points" scene - BOOOOORRRRING!!!!!!!!!!! Well, all you action fans out there that like to see the competitors "go for blood" step up to the ring ------- with Iron Spirit Promotions "new rules" - no points - NO STALLING ---- fighting for submission is the goal. IHP's tournaments are not for the weak spirited, let me tell you, these fighters have to be in excellent physical shape - able to turn it on wide open for the full 5 minutes therefore giving the crowd some heart stopping, hand wrenching, nail biting non stop action.

According to the competitors that participated in the Tournament held on January 28, 2002 at Ray Thompson's Upstate Karate in Simpsonville South Carolina, USA, this was the best event, with the best level of competitors that they had been to. This is the first of four tournaments to be held in 2002 and sanctioned by the ISCF. The first three tournaments are qualifiers for regional title belt championships to be held at the end of 2002. Each winner, 1st through 4th place will earn points that will qualify them to fight for a title belt. The January 28th tournament started off with a "bang"; even without the striking and kicking, the excitement and action of these matches would give the UFC and PRIDE a run for their money. Over 60 competitors came from all over the southeast to test their skills and with a NINTY SIX percent submission rate - WOW these matches were white knuckled tense.

Team Psychward from Hilton Head South Carolina, USA, started the action off with a "challenge" ---- Japanese Shooto - "we'll show the Brazilians that BJJ is NOT the only game in town". Let me tell you , they certainly made good on their promise, with flying arm bars, (Left) cartwheels, and flashy techniques that would make Pele's signature antics jealous. These guys were amazing. Brothers Muhsin and Beau Corbbrey's (Right doing an armbar) goals of fighting in the UFC and fighting in Japan will not be a hard goal to reach. I think I'll get their autographs now, because when I see them on Pay Per View, I'll sell them for lots of money!!!!! These guys are "ripped" and technically beautiful to watch!!!!

Team Ground Zero - a fight club from Huntington West Virginia, USA - combines many different grappling styles in their training regime. They made a great showing, using more conventional arm bars and chokes but they kept the action rolling and breathtaking as well. Dustin Ware, (Right) the teams PR man, will be a judge for the upcoming Ohio Cage Fighting Championship. And, you could not meet a nicer guy than the team's instructor Ashley Lockwood, OUTSIDE the ring that is. Inside the competition ring - well NICE is not the word I would use.

Team Anaconda came out in force. Competing under the Jacare Alliance Banner, they showed more of the traditional brazilian jiu-jitsu style and they certainly stepped up to the "Challenge" issued - Japan vs Brazil. These guys were muscled, dark and dangerous. I would have certainly thought twice before issuing the challenge. Professor Luis "Sucuri" Togno, a black belt instructor from Charlotte, North Carolina, USA, was there as coach and some of his signature moves were escapes that were actually submissions. Now, WHO would want to SIMPLY escape when they could submit as they are doing it??????? Wish I had a video camera, because even though I begged and pleaded, his fighters just simply would NOT do their moves in slow motion for me. I HATE it when there is no instant slow motion replay.

Our home town team - Upstate Karate - trained by Mr. Ray Thompson, brazilian jiu-jitsu, and Mr Casey Oxendine, Marco Ruas Vale Tudo, came in fast and furious. Blake Grice (Left) and his opponent Scott Estrada, of Team Alliance, came out with pure determination. It didn't take long for these two to take it to the mat. Once there, the positions changed so often it was impossible to keep up with the movement. Finally Blake got the back position and attempted the rear choke. Scott had other things on his mind though, he tucked his chin and blocked the choke and started on his escape. Blake kept switching his hands, digging them in deeper each time until finally the TAP. Blake's second match teamed him up against Andrew "Sprout" Varney from Team Ground Zero. These two poured heart and soul into the fight, but finally Blake capitalized on Sprout's attempted escape from the guard and turned it into a triangle choke. Blake's goal is to compete NHB and from what I saw today, he'll be on the scene in no time short. Joshua Domalgaski, a new comer on the scene with the heart of a lion, strutted his stuff today. His opponent Richard Romero from Mark Mills Columbia Martial Arts was up for the challenge. The match had so much rolling action and so many submission attempts it made me tired just watching. The two came out fighting from the word go, taking it to the ground in less than 3 seconds, attempting chokes - then escaping, attempting arm bars - then escaping, attempting rolling knee bars - then escaping, then quicker than the eye could see ---- A TAP. Submission by ankle lock, winner Josh.
Of all the competitors today though, the ONE that stood out in my mind was a sole competitor - came by himself - no team - no coach - a mild mannered, soft spoken solitary warrior. This Ronin walked around all day long in a quiet relaxed manner, yellow cd player on his side, head phones on. When he stepped into the ring, he maintained the same quiet demeanor. Never got excited, never got flustered, just totally methodical and relaxed. I actually saw him turn 'purple' a couple of times as his aggressive opponents attempted choke after choke. Then out of the blue, with the quick precision of a snake striking it's prey, the strike hit it's mark and the opponent was tapping as ankle after ankle fell victim to this 'catch wrestlers' foot locks. Chris Rogers (Right) is this solitary warrior and ended up "king of the hill' as he took first place in his weight division and first place in absolute. He came to compete and he 'kicked butt', took his "gold cup" and went home. We'll see lots of this guy in the future, he is an exemplary fighter with beautiful control and precision techniques that would make the BEST grappler envious.
My thanks goes out to Iron Spirit Promotions and the inspiration behind it - Mr. Ray Thompson. This was the most exciting grappling event I have been witness to. The goal of Iron Spirit Promotions is to bring the nonstop action and the "blood and guts" excitement of the NHB arena to the submission grappling game and from what I saw today - it was a success. I look foward to "bigger and better" and I KNOW beyond a shadow of a doubt it will happen, because I know Mr. Ray Thompson personally and he settles for nothing than the best of the best.
See all of you on May 4th, 2002 - bring your friends - spread the word ---- this tournament series will become as prestigious as any grappling event around !!!!!!!!!!!!
Results have been posted on our website at: www.IronSpiritPromotions.com. Pictures, fighter profiles and videos will be uploaded over the next few weeks, so please check our site often. For more event info, Contact Mr. Ray Thompson at (864) 313-1134 or by e-mail by clicking TETSUSHIN2@aol.com or ray@ironspiritpromotions.com or Rebecca Motte at rebecca-bjj@mindspring.com

| | |
| --- | --- |
| Team Alliance | |
| Team Ground Zero | |
| Team Psychward | |
| Team Upstate Karate | |
---


FRIDAY, January 25th, 2002, AT 11:50 AM, PT
"Georgia Promoter's Continue To Work Together
With An Eye Towards The Future"
By Cal Cooper at: fightersrus@hotmail.com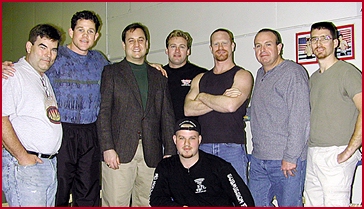 Comment From the President: "This is yet another example of the tremendous spirit of cooperation I have seen in Georgia with their promoters working together. It is also one more example of where the focus of TEAMWORK, as stressed within the IKF & ISCF organizations has proved to be the foundation of success." Steve Fossum, IKF & ISCF President (Right).

On January 19th Georgia fight promoters (Below Right) gathered in Augusta Georgia for a meeting hosted by the International Kickboxing Federation and its subsidiary, the International Sport Combat Federation. The meeting was led by Mike Carlson (Left, ISCF World Director & IKF Representative) at his Augusta Martial Arts Academy. Carlson is the Assistant District Attorney known best to MMA fans as the man who got their sport sanctioned in Georgia.

Also in attendance were SFO and Gauntlet Trials promoter Matthew Waller, Valdosta promoter James Corbett, Douglasville promoters Mark Maske and Mike Crocker, Atlanta Battle at the Brewery promoter Lane Collyer, Augusta's Eddie Singleton, and fighter/ISCF referee Cam McHargue. Atlanta Fight Party promoter Brett Moses also had a representative present. All have been associated with Kickboxing and/or MMA promotions and have supported the efforts of the IKF and ISCF to bring regulation to the fighting sports in Georgia.

Since Georgia law states that MMA can take place in the state if sanctioned by the ISCF, the seemingly casual meeting was an important moment in the development of the sport in Georgia. Likewise, since Georgia is one of only a handful of states to have recognized MMA in a legal manner, the gathering will ultimately effect the entire sport of MMA in the United States.

In the past, MMA in Georgia has always been a mixed bag. A multitude of promoters have run events of various sizes in the state, and, left to their own devices, very few have done a very good job. After the regulation of events began in 2001, Georgia went a long way towards establishing itself as a stronghold of MMA, and many promoters from around the US expressed interest in promoting in the Peach State and being legitimately sanctioned by the ISCF.

Mike Carlson is tickled pink. The meeting on the 19th was for dealing with the practical matters. Events are scheduled for every month for the first, half of 2001, most of which will originate from within the state. Many other events, which are in the planning stages, do not yet have dates. The meeting established a calendar for Georgia, which allows promoters to have a reasonable time period to promote without conflicting with another event in their area. This creates a uniquely promoter friendly environment in the entire Union. No other state law creates such a situation.

The meeting also established the first ISCF fighter database, which will initially be comprised of fighters who compete in and around the South. Individuals were appointed various responsibilities, such as maintaining the "Fighter Pool", and writing testing questions for judges and referees according to established ISCF and IKF rules.

The 2002 Schedule of dates thus far includes:

March 16th 2002, Augusta, GA Promoter: Mike Carlson
April 2nd 2002, Atlanta, GA Promoter: Lane Collyer
May 25th 2002, Augusta, GA Promoters: Becky Levi and Dan Severn



MORE NEWS OF 1-25-02



Georgia Fight Scene Web Site
Complements Southern Bouts

ISCF promoter and World Team member Matthew Waller (Right) is a reliable contributor when it comes to kickboxing and mixed martial arts events in the Peach State. In addition to promoting, judging, and managing fighters, Waller administers the "Georgia Fight Scene" web page which includes a message board which tends to "heat up" when Southern fight dates draw near.
Waller says that he created the site in order to help get the word out about area events, "We are in a business where people tend to travel on the Internet in order to identify who fighters are and where fights will take place. I didn't want Georgia to get left out!"
It also appears that there can be some "high level" information exchanged on Waller's webpage. "It is amazing to me how deep some of the analysis on some of threads gets," says Waller, who claims that Winter Wars 2002, an IKF and ISCF sanctioned kickboxing and mixed martial arts event to be held in Augusta, Georgia on March 16. 2002, has already developed into a "hot topic" of discussion on his webpage. "The Lopez/Thompson and Hudson/Collyer bouts have already got people excited," Waller says, "and folks are not bashful about stating their opinions about who they think will win and how."
Waller says that he is keeping track of the "unscientific sampling" of predictions that his website is receiving, and will report it to IKF and ISCF regularly as WW 2002 draws closer, "Right now, I have taken a look around, and it seems like Hudson and Thompson are getting the most support and are out in front in the voting. I will follow-up, to let fans of IKF and ISCF know how things are developing. As of to date the Lopez vs Thompson fight is getting several votes in, yet for every one Lopez gets, the "Wonderboy" Thompson get four in his favor."
According to Waller, fans can look to threads entitled "1derboy versus Lopez" and "Atlanta versus South Carolina" to get a look at what is currently the area buzz on those two bouts.
Waller also encourages IKF and ISCF fans to register and post on his page, "We are known for our hospitality down here and want fans of IKF and ISCF matches to come to my page and join in the hype. Only profane , libelous or otherwise objectionable posts get deleted, which seldom ever happens anyway."
The Georgia Fight Scene Web Page is located at http://pub49.ezboard.com/fatlantafightscenefrm1 and can be found in both the IKF and ISCF "Links" sections. Matthew Waller can be reached via e-mail at gauntletprods@aol.com
---


TUESDAY, January 22nd, 2002, AT 4:30 PM, PT
Iron Spirit
ISCF USA South East Challenge!

Sent To ISCF By IronHeart Promotions
Well submission grappling fans this weekend is shaping up to be a super submission grappling event at Ray Thompson's Upstate Karate in Simpsonville, South Carolina, USA. (129 N Main St, Simpsonville, South Carolina, USA) Anyone interested in checking the event out beforehand can go to www.IronSpiritPromotions.com.
Thompson has reported that there has been a significant increase in preregistrations over the "Fall Brawl Submission Grappling Championships" he promoted back in November of last year. This is the first of three preliminary events which will lead up to the ISCF South East Regional Championships which will be held on November 9th this year.
Some of those preregistered are Christopher Rogers who won the 2001 Fall Brawl Submission Grappling Men's ABSOLUTE Championship, Rogers has quite an impressive list of titles to his credit as well. Also in attendance will be the "BIG MAN" Dustin Ware who has more gold to his credit than Ft. Knox. For all you "ANIMALS" out there that REALLY want to test your skills the ISCF IronHeart USA Submission Grappling Championships is a good place to do it.
The referees assure us that they will be on top of the whole situation and will REALLY be cracking down on what's weakening the audience appeal of grappling and that is STALLING. The ISCF and the promoters realize that in order to build an audience you have to have an exciting sport. Stalling is counter productive to that excitement. Remember when you have excitement you'll have an audience and the bigger the audience the more chances you'll have of attracting sponsors and where there's sponsors there's money. After all, ultimately, we all want to GET PAID.
So there it is, you now know the plan. We now have to go out and prepare ourselves in such away that our very name draws an audience and that will ONLY happen if our submission grapplers are TIP TOP. See you there. For Event Info, Contact Mr. Ray Thompson at (864) 313-1134 or by e-mail by clicking TETSUSHIN2@aol.com or ray@ironspiritpromotions.com or rebecca-bjj@mindspring.com
---

FRIDAY, January 18th, 2002, AT 5:45 PM, PT
BORDER BATTLES TO HEADLINE
WINTER WARS 2002
Augusta, Georgia Martial Arts Event To Feature Cross State Rivalries
Every Fall, Southern football fans brace themselves as the University of Georgia Bulldogs face the University of South Carolina Gamecocks in a gridiron battle which has for years been referred to as "The Border War," due to the close proximity of the states in question, and the fierceness of the rivalry.

On March 16, 2002, Augusta Georgia will play host to a major martial sports event which will prominently feature "Border Wars" of a different type and in the ring, as preeminent kickboxers from Georgia and South Carolina will face each other for "bragging rights," and much more.


Kevin Hudson






Ray Thompson



Mike Carlson

Augusta Martial Arts Academy's Mike and Elizabeth Carlson, who were recently voted "2001 IKF Promoters of the Year", are gearing up for their biggest event yet. Winter Wars 2002 will be held on March 16, 2002, at the Augusta State University Athletic Complex in Augusta, Georgia. The nighttime event will feature IKF and Professional Karate Commission (PKC) sanctioned professional and amateur full contact/American rules (kicks only above the waist) kickboxing bouts and International Sport Combat Federation (ISCF) sanctioned amateur and professional mixed martial arts matches. The evening fights will come after a daytime karate tournament, also sanctioned by the PKC. Continuous point sparring, forms, weapons and grappling divisions for all ages and belt levels will be available. But it will be that night when the "Border Wars" and other battles at WW 2002 will truly begin.

The main event of the evening will feature Kevin "Hurricane " Hudson (Left) of Lyman, S.C., against "Lightning" Lane Collyer (Right) of Atlanta, Georgia in a contest for the vacant IKF FCR U.S. Heavyweight Kickboxing Title.

Hudson, who is ranked #8 in the IKF FCR Heavyweight Division, is a former world professional kickboxing champion in the cruiserweight division of the old organization known as K.I.C.K. "The Hurricane" has been a high profile figure in the Southern martial sports scene, most notably in recent years as a trainer. Moving up in weight and training hard, Hudson is anxiously awaiting this opportunity to get out of the corner and back in the ring. Countless kickboxing fans want to see the same!

Collyer, who has spent the last year involved in fighting, training, AND promoting, is widely renowned as something of a "Mr. Everything" for IKF due to his willingness to wear "so many hats."

This Atlanta native is world rated in 3 different rules divisions (#3 and the East Coast Heavyweight Champion in Full Contact Rules, #3 in International/Leg Kick Rules and #2 in the Pro MuayThai Heavyweight Division.) and is dedicating himself to winning this prestigious title.

He is also out to prove that his recent loss to "Big" John Dixon (Left) of Gautiar, Mississippi, USA (MuayThai Rules) in December of 2001 was a fluke, and an outgrowth of Collyer "pushing the envelope" too far in one night, attempting to be promoter and fighter on the same card. Many in the kickboxing world agree and are expecting big things of Collyer in this bout.

In either case, these two heavyweights who take their fighting nicknames from atmospheric disturbances will certainly bring some "storm and stress" into the ring. Will the Hurricane blow Collyer away, or will Lighting strike Hudson? Fans will have to come to Augusta to see!

In a HIGHLY anticipated amateur bout, Steven "Wonderboy" Thompson (Right) of Simpsonville, South Carolina, USA, will face Atlanta, Georgia's Ruben Lopez in a cruiserweight kickboxing match up.

Lopez trains at Atlanta's LA Boxing and WOWED fans with his power at the 2001 IKF Southeastern Regional Amateur Championships. There, Lopez scored a devastating first round knockout of James Newkirk who was stopped at the 1:00 mark to win the Men's FCR South East Cruiserweight Regional Championship Bout. However, he never made the trip to the National Finals to prove his worth against America's best amateur fighters. It was a goal unfinished but we hope to see him finish it this year. At the 2001 Nationals, Adam Sylvia of Alexandria, Virginia took home the crown instead.

Thompson though completed his goal last year winning the IKF National Amateur FCR Light Heavyweight Title in IMPRESSIVE fashion when he defeated Vilavahn Seukpanya of Milwaukee, Wisconsin by TKO at 14 seconds into the first round. Thompson's kick was the only strike thrown in the bout and set a new record for quickest win by KO/TKO. The kick broke Seukpanya's arm instantly.

Thompson is trained by his father who was one of the 5 IKF Trainers of the Year, Ray Thompson. (Left) Last year Stephen won the 2000 IKF USA National FCR Middleweight Title by unanimous decision (30-23, 30-24, 30-24) over this past years, Peyton Russell, of Bloomington, Minnesota who was this past years 2001 IKF USA National FCR Middleweight Champion. He has also won numerous national amateur titles with the PKC.

So it looks to be the power and aggressiveness of Lopez against the speed and technique of Thompson. They will have five rounds to see who will return home with border "bragging rights." Of course, many other bouts are scheduled and will be the subject of future press releases. Final match ups are still being made for some, and combatants from outside of Georgia and South Carolina are expected to see action on the card as well.


Lane Collyer





Last year, WW 2001, (February 24, 2001)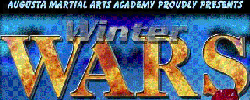 was a veritable "Who's Who" in the martial sports world in attendance. WW 2002 already promises more of the same, with IKF and ISCF President Steve Fossum scheduled to come to the Garden City for the event.
Mr. Carlson, (Left) who was awarded one of the 7 2001 IKF PRESTIGE AWARDS" is highly enthusiastic about WW 2002: "Elizabeth and I realize that there are high expectations on us whenever we are part of an event." said Carlson, "Those are even higher now that the IKF has been so generous to us, both in terms of its support and recognition. We are dedicating ourselves to exceed those expectations in Winter Wars 2002. With the help and support of our many great friends and fellow martial artist, we are confident that we will make WW 2002 our best event ever."
For updates on Winter Wars 2002, keep an eye here on the ISCF News page and on the IKF WEB PAGE. More Information on other fights, fighters, and other details of WW 2002, will be regularly posted there.
For more information, feel free to contact Augusta Martial Arts Academy by E-mail at amaa@prodigy.net, telephone (706) 855-5269 or fax at (706) 855-7119.
Fight card subject to change.
---


TUEDDAY, January 15th, 2002, AT 12:30 PM, PT
DANGER ZONE FIGHT NIGHT 2
RESULTS - Broadripple Place, Ft. Wayne, Indiana, USA - January, 13, 2002
Fourteen fights including 2 amateur tournaments, one pro bout and 7 single bouts.

The most action packed fight show in the midwest made it's impact for the fans in Ft. Wayne! This was a great night for the fights and fans of mixed martial arts. West Virginia's Adam Rivera recorded the fasted KO ever in a DZ event. A 4 second KO! Jody Poff became a two time Amateur Heavyweight Tournament Champion. Sam Wells of Michigan, USA took out Jerry Hackney from West Virginia, USA with a triangle choke at 2:14 of round two in a sensational pro bout. This was a great fight for the fans and to end the show on. Be sure to keep your eye on these two guys in the future.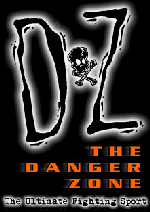 We would like to thank the fighters and fans for a successful DZ event. Look for us back in Ft. Wayne April 7, 2002.
HEAVYWEIGHT TOURNAMENT



John Spears vs. Jody Poff winner Poff at :38 choke.


Chris Herring vs. Jody Poff winner Poff 1:20 ref stoppage knee strikes to head.


Chad Hickey vs. Adam Rivera winner Rivera :04 KO.


FINAL: Adam Rivera vs. Jody Poff. Winner Poff, DQ kick to head of downed fighter (There will be a future single bout rematch of this bout!)



LIGHTWEIGHT TOURNAMENT



Leif Stenberg vs. Chris Melvin. Winner Melvin :35 choke.


FINAL: Craig Williamson vs. Chris Melvin. Winner Melvin 3:13 choke.



Kurt Ileman, Canada vs. James Maloney, NY. Winner McCabe :56 TKO.


Steve Neal, WV. vs. Jay Luce, IN. Winner Neal 3:18 Guillotine Choke.


Joe Negli, MI. vs. Eric Phelps, KY. Winner Negli 3:41 ref stop due to strikes.


Dave Morris OH. vs. David Bailey. Winner Morris :15 choke.


Forrest Petz OH. vs. Chad Roarke. Winner Petz 1:44 ref stop due to strikes.


John Vitta, FL. vs. Dan Swift , PA. Winner Swift 2:53 Towel thrown in.


Jason Scouten, OH. vs. Dave Dillon, IN. Scouten decision.


PRO BOUT: Sam Wells, MI. vs. Jerry Hackney WV. Winner Wells 2:14 of second round triangle choke.


For Additional Event Info Contact Becky Levi of The Danger Zone Inc. at E-Mail or FAX at: (517) 278-9575.





www.the-dangerzone.com
---


UPDATED: WEDNESDAY, January 9th, 2002, AT 2:50 PM, PT

JANUARY, 13th, 2002
The Danger Zone Presents
"Fight Night 2"
Broadripple Place - 6:PM
4610 Parnell Avenue Ft. Wayne, Indiana, USA


www.The-Dangerzone.com

Fight Card Updated January 9th, 2002

PRO BOUT - 165 lb
Same Wells, MI, USA vs Jerry Hackney, WV, USA

136- 150 lb. Tournament
Dan Swift, PA, USA
Craig Williamson, IN, USA
Chris Melvin, KY, USA

151-165 lb. Tournament
Jason Scouten, OH, USA
Nathan McCabe, Canada
Dave Dillon, IN, USA
Steve Foltin,MI, USA

181-195 lb. Tournament
Dave Morris, OH, USA
Kurt Illeman, USA
James Mahoney, NY, USA
David Baily, USA
Joe Negri, MI, USA

211 lbs & Above Tournament
Jody Poff, John Spears, Chad Hickey, Chris Herring And Adam Rivera


SINGLE BOUTS

153 lb.
John Vitta, FL VS Leif Stenberg, MI

180 lb.
Steve Neal, IN VS Jay Luce, IN

190 lb
Layne McDaniel, MI VS Eric Phelps, KY

195 lb
Forrest Petz, OH VS Chad Roark, VA
____________________

Tickets are $25, $20, and $15 with a new venue seating set up
For Additional Event Info
Contact Becky Levi of The Danger Zone Inc. at E-Mail or FAX at: (517) 278-9575

www.The-Dangerzone.com

- Event Confirmed -
---