Atlanta, Georgia, USA
It was a late night in Georgia when the main event took center stage. It was 1:AM Eastern Time. However it would be the final touch of a FULL HOUSE/SELLOUT event that had already seen 12 great bouts in Full Contact Rules, International Rules, MuayThai Rules and ISCF Mixed Martial Arts at the Atlanta Brewing Company in Atlanta Georgia. Nothing is better than a sellout other than great bouts, which is exactly what the full house crowd witnessed... This event had EXCITMENT!
Atlanta Georgia, USA Promoter Lane Collyer had stepped back from his familiar position of "Event Promoter" so he could fight on this event, putting this job title into the hands of his Sukotai Inc. partner, Ron Gaiteri (Right). The night was a MAJOR Success for all involved which included the events major sponsors Spondivits Food & Spirits of Atlanta, Georgia (who has the greatest seafood we've ever tasted!!!) and the Atlanta Brewing Company (Venue sponsor) located in Midtown Atlanta, Georgia. It was a first class event that featured great seafood and hamburgers catered by Spondivits and free Microbrewery Beer for all those of age from theAtlanta Brewing Company (except officials of course...) and of course, a lot of great fight action!! It was truly a night of Fights, Food and Spirits.
As we said, the main event had to wait until after midnight, but it was worth it all as Goutiar, Mississippi's #13 ranked (IKF Pro MuayThai Division) "BIG" John Dixon (245, 18-1/18) and #11 ranked (IKF Pro MuayThai Division)"Lightning" Lane Collyer (18-3/11, Atlanta Georgia) stepped into the ring to contend for the vacant IKF Pro MuayThai Rules Super Heavyweight United States Title. Although Collyer's had all of his ring success in the Heavyweight division, (Under 210 lbs) he wanted to move up in weight to the Super Heavyweight division, (Above 209.1 lbs.). At the weigh-ins, Collyer barely made the minimum weight for the Super Heavyweight Pro MuayThai Rules Division, weighing in at only 209.5 lbs. On the other side of the ring, Dixon was a true Super Heavyweight weighing in at an even 245 as planned. If Dixon's record wasn't intimidating enough, his size was. However, when the two stepped into the ring, it was clear to everyone that Collyer was a lean 210 lbs while Dixon looked a bit soft around the middle. To most, it would appear that the big man may get winded early, but who knows in the fight game. We all know Dixon didn't get here by being winded early and losing. With only 1 loss in his 17 kickboxing bouts of which all 17 were won by TKO/KO, Dixon was here because he's a winner, as was Collyer. Better yet, when the fighters are this big, anything can happen... Here's the round by round action of the main event....
ROUND 1: As the round started, the two showed respect with a tap of the gloves and went into action. From the outside, Collyer went to work on Dixon's legs seeming to hit his target at will with Dixon making little, if any attempt to block any of the kicks. In return, Dixon was 90% hands, mixing up jabs, hooks, uppercuts and a strong right hand which was just missing it's mark throughout the round. As the two worked into the clinch, Collyer scored well on repeated knees to Dixon's body and a few making it to Dixon's head. As round 1 ended, Collyer won on all 3 judges cards 10-9.
ROUND 2: With a slight rest and adjustment of his game plan, Dixon came out as strong as a bull, again throwing mostly hands. Although he appeared to have Collyer on the ropes, Collyer weathered the storm and took the game to the clinch again. Here again was Collyer's strong spot as he scored repeatedly on knees to Dixon's body. From ringside, it appeared Dixon, due to his size, wasn't feeling any sting from Collyer's kicks and punches as he continued to not check/block any of Collyer's kicks allowing Collyer to fire away. It was clear that if Collyer was going to win, he would win in from the clinch. If Dixon was going to win, it would be by landing one of his heavy punches which seemed to be getting closer and closer to finding there mark as he landed more often in round 2. At the end of 2 though, Collyer did enough to win the round again and lead on all 3 judges cards, 20-18.
ROUND 3: As the round begin, Collyer did a spinning side kick that Dixon caught under his elbow. As his leg came down Collyer limped gingerly but continued the fight. What he, and all at ringside didn't know was that he had just broken the top bone in his right foot, (Later confirmed by medical staff at ringside) however Collyer's heart kept him in the bout. Dixon seemed to sense something wasn't right as Collyer started dropping his hands more and his movement slowed in the ring. The experienced Dixon started to push the fight more at this point scoring on the inside with some knees of his own and several strong punches to Collyer's head. Collyer came back landing more knee strikes. This time some found Dixon's jaw that rocked him hard and later, another to his forehead. However the pain in Collyer's foot was becoming more and more noticeable as his ring movement slowed considerably and his hands begin to drop more while Dixon's hands found Collyer's head more and more. The bout had memories of the Rick Roufus Vs Stan Longinidis (1997) bout where Longinidis broke his foot in the middle of the fight which Roufus went on to win to claim the IKF IR Heavyweight World Title.
As the round came near the end, Dixon landed the shot he was looking for all night long. A "BIG" right hand that dropped Collyer to the mat. This bout should have been over at that moment but referee Richard Trammell made a costly error as he waived it off due to the bell sounding the end of the round. (In the IKF the fighter can only be saved by the bell in the FINAL round) Tremmell made not only a costly error that should have been a Dixon win in round 3, but was soon to prove a safety error for Collyer. Although Collyer seemed to have a slight edge in round 3, Dixon's knockdown turned the judges minds who all gave Dixon the round 10-8.
During the break, Collyer never informed his corner of his foot injury, vowing to continue on despite the fact he had no ring movement left and worse yet, that he was still in a sense, out on his feet from Dixon's big right hand at the end of the previous round.
ROUND 4: While Collyer questioned himself to enter round 4, Dixon appeared as if he had just started the round like he just walked into the ring. He wasn't breathing heavy and continued to look extremely composed as he did throughout the entire fight. He may not have a 6 pack stomach, but don't be fooled... Dixon was in "FIGHTING" shape. As round 4 started, Dixon did what any ring veteran would do. Like a hungry animal, he went after his wounded prey. Dixon moved in and landed the last needed "BIG" right hand on Collyer, dropping him to the canvas. This time, referee Trammell made no error in judgement, immediately stopping the bout at 17 seconds into round 4.
Dixon's belt was presented by special guest Frank Shamrock (Right). The win gave "BIG John" the IKF Pro Super Heavyweight MuayThai Title and brought some attention for him as being a potential contender for the K-1 North American Tournament. Question is, is there an opening for him? Well, there just so happens to be one we know of... From what we found out last Thursday, a day before this bout, Collyer had pulled out of the K-1 North America Qualifier event in Milwaukee Wisconsin in February of 2002. If there's still an opening where Collyer's name once was, we'd like to suggest Dixon be the one to fill it. Under the circumstances, it would only seem fair.
As far as Collyer, (Left) he already had plans to stay in the Heavyweight Division (Under 215 lbs.) which is where we feel he's the strongest. Once again, nearly every title in the heavyweight division is vacant and Collyer's proved he's a contender in any of the rules styles at that weight. We're sure to see Collyer back again in the heavyweight division after his foot heels and if Dixon can't get his shot in the K-1 North American Tournament, there's always the chance of him going to England to face Matt Skelton in March for Skelton's IKF MTR World Title. Here's a review of all the nights bouts.
IKF AMATEUR FCR KICKBOXING
George Munn (156, 7-1/6) of Woodstock, Georgia defeated Monty Powell (150, 4-5/2) of Sampson, Alabama by a questionable referee stoppage at 1:51 in round 2 after Powell went down from a clubbing style punch. He rose up quickly to take his 8 count and after the 8 count, referee Gerald Bush stopped the bout. Although Powell kicked more in round 1, (19-13), Munn won a very close round 1 on all 3 judges cards in round 1, 10-9.


IKF AMATEUR IR KICKBOXING
Robert Myers (153, 2-1/0) of Snellville, Georgia defeated Kenny Allen (154, 4-4/2) by unanimous decision, 29-28, 29-28 & 29-28.


ISCF MMA
Shawn Porter (150, 6-3) of Spartonburg, South Carolina defeated Shawn Gay (159, 6-3) of Valdosta, Georgia by unanimous decision, 12-3, 12-3 & 10-5.


IKF AMATEUR FCR KICKBOXING
Brenda Harrison (110, 7-3) of Woodstock, Georgia defeated Teri Prunty (112, 2-2/1) by unanimous decision, 30-27, 30-27 & 30-27.


IKF AMATEUR FCR KICKBOXING
Rod Llaneza (164, 7-2) of Snellville, Georgia defeated Toty Otarola (165, 1-4) of South Carolina by TKO at 1:45 of round 3.


IKF AMATEUR IR KICKBOXING
Steve Hall (169, 3-1-1) of Snellville, Georgia forced an 8 count on John Greaves (173, 2-2, runner up at the 2001 USA Nationals in the IR Light Heavyweight) of Chattanuga, Tennessee in round 1 in route to a majority decision victory, 28-28, 30-26 & 29-28.


IKF AMATEUR FCR KICKBOXING
Andrea Zalas (4-1-1) of Simpsonville South Carolina defeated Penny DeGraw (1-2) of Atlanta, Georgia by split decision, 30-27, 29-28 & 30-27. This was a very exciting bout in the kicking department with Degraw throwing over 50 in the 3 rounds and Zalas over 40.


IKF AMATEUR FCR KICKBOXING
Shannon Hudson (172, 5-2) of Lyman, South Carolina and Mike Wood (168, 1-3-1) put on what many thought was the most exciting fight of the night. In the end, Hudson got the win by split decision, 29-28, 28-29 & 29-28.


IKF AMATEUR MUAY THAI RULES
Zack Day (162, 16-2, runner up at the 2001 USA Nationals in the FCR Super Middleweight) of Augusta Georgia had never fought anything but Full Contact above the waist rules before tonight. However a previously planned opponent for MuayThai veteran Phillip Botha (161, 7-3) of Atlanta, Georgia had dropped off the card. After a few quick calls, event matchmakers booked Day by surprise who was willing to give not just leg kicks, but MuayThai rules a shot. In the end, Day surprised everyone, including Botha with his strength of the new rule style as he took a unanimous decision victory 29-28, 30-27 & 29-28.


IKF AMATEUR IR KICKBOXING
Amateur USA South East Region Light Heavyweight Title Bout
Daniel Ancheta (175) of Athens, Georgia defeated Will Ivey (173) by majority decision, 38-38, 39-36 & 39-37.


ISCF PRO MMA
East Coast ( USA ) Light Heavyweight Title Bout
Kent Hensley (Right - 196, MMA: 8-0) defeated Jared Pettitt (190, MMA: 3-1) of Huntsville, Alabama by TKO when Pettitt didn't answer the bell for round 2. Hensley dominated round 1 and showed so on the judges cards as well where all 3 judges had him ahead after the round, 5-0, 5-0 & 4-1. In the round, Pettitt found himself in trouble several times, twice scooting himself under the ring ropes to avoid submission. Hensley also dropped Pettitt with a devastating forearm strike which was heard across the room.


ISCF PRO MMA
East Coast ( USA ) Middleweight Title Bout
Jason Miller of Atlanta, Georgia, USA (185) defeated Todd Carney of Moundsville, West Virginia, USA (172) by submission at 2:53 of round 2.


IKF PRO MUAY THAI RULES
United States Super Heavyweight Title
John Dixon (245, 18-1 with 18 KO's) of Goutiar, Mississippi defeated Lane Collyer (209.5, 18-3 with 11 KO's) of Atlanta Georgia by TKO at 17 seconds into the 4th round.


For additional event info contact Mr. Ron Gaiteri by e-mail at this link: Rgaiteri2@aol.com.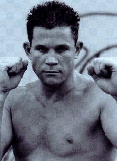 Lane Collyer




Ron Gaiteri