WEDNESDAY, September 29th, 2004, AT 12:20 PM, PT
NEW ISCF E-MAIL
Please be aware the ISCF has a NEW E-Mail Address. It Is
---
TUESDAY, September 28th, 2004, AT 11:30 PM, PT
The Cannon's Guns Go Silent!
At Least In The RING/CAGE...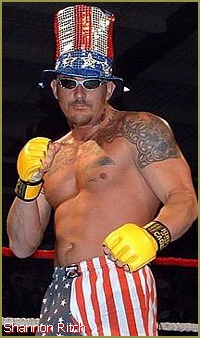 It has become official, as of 10:47 PM PT tonight, ISCF Pro USA Middleweight Champion Shannon "The Cannon" Ritch has said "Goodbye" to the ring sports and has put his efforts into yet another war... IRAQ!
Ritch has told us he will be out of the MMA Ring for at least 6 months while he focus' on his new career for now. "When I get back I look forward to doing a comeback fight, but as of now I'm off promoters list's." Said Ritch tonight. Ritch just graduated training at a tactical Security company who's name we are not allowed to mention here.
He will be deploying to Iraq in a few days for 6 months of security work.
Ritch won his ISCF title on May 21st, 1999 in Phoenix, Arizona, USA when he defeated David Harris of Arizona at 1:01 of round 1 by choke. His quest for the ISCF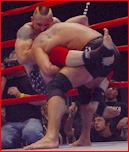 Pro World Title didn't end the way he had wished on October 25th, 2003 in Dalton, Georgia, USA (Left). Ritch stopped the bout himself by verbal submission from strikes at 1:42 of round 1 against Steve Headden of Atlanta, Georgia, USA.
As a professional MMA fighter he has fought all over the world including Japan, Russia, London, Burma, Thailand, Hawaii and all over the USA. Shannon is also 3 time inductee into the Universal Martial Arts Hall Of Fame and just earned his Ph.D M.A. in The Philosphy Of Asian Martial Arts. The year 2004 was a great year for Ritch as he put up a record of 8 wins and 3 loses. The three losses came first in February 2004 to Hector Ramirez. The second loss was at the Gladiator Challenge for their Middleweight Title to James Fanshier, and the third loss was to #1 Ranked Pancrase fighter Yuki Kondo this past June. His record to date is 76 wins 53 losses and 2 draws, a total of 131 fights. His plans for the future include writing a book about all of his adventures and travels as a fighter. Good luck Cannon, and "BE SAFE!"
---
WEDNESDAY, September 22nd, 2004, AT 1:25 PM, PT
Short Results From
Finney's Rumble In The Jungle
September 18th - St. Louis, Missouri, USA
ISCF NHB: Tracey Taylor defeated Dustin Roberts by decision.
ISCF NHB: John Mankedefeated Tim Lynch by triangle choke.
BOXING: Kevin Engel defeated Dwayne Stanley by TKO. Stanley could not answer the bell starting round 3.
ISCF NHB: Davin Roberts defeated Tyler Cregger by TKO. Referee stoppage.
IKF KICKBOXING: Tim Conners defeated Craig Yates TKO, 3 knock down rule.
ISCF NHB: Sky Rigdon defeated Rilly Malone by KO.
ISCF NHB: Mike Green defeated Tim Riddle by TKO, referee stoppage.
ISCF NHB: Josh Hargass defeated Matt Otsenberger by triangle choke.
IKF KICKBOXING Exhibition: Nick Pulgski -vs- Josh Fischer.
For additional information contact Finney's Gym at (314) 608-3104 or by e-mail at jesse@finneyskickboxing.com.
---
TUESDAY, September 21st, 2004, AT 3:00 PM, PT
Great News To Report For
Illinois MMA/NHB!

IKF Promoter Bob Schirmer (R) of Illinois, has spent the last several months meeting with Illinois State officials to seek approval for MMA in Illinois under the watchful eye of the ISCF. After months of meetings and hard work, Schirmer's efforts paid off and his objective became a reality. Today Schirmer got the sport of Mixed Martial Arts approved for his October 23rd event in Cicero, Illinois by the Illinois Department of Financial and Professional Regulations (IDFPR). The event wll be sanctioned by the ISCF to closely watch the event rules and regulations.
The event rules will have minor modifications (No elbows or forearms & no kicking to the head 'OR' body of a downed fighter). The IDFPR Enforcement Officials have determined that this particular event is exempt from the Professional Boxing Act. This event will serve to review the professionalism of the ISCF, the event officials (mainly referee for safety reasons) and the event promoter for organizational reasons. The IDFPR is looking to assure the event will feature skilled and qualified fighters for this style of fighting (MMA - Mixed Martial Arts).
"Bob has done a lot of work to make this a reality." Said ISCF

President Steve Fossum. "Like what Rob Zbilski (L) did for the IKF in Kickboxing in the state of Illinois, Schirmer is trying to do for MMA and their work is greatly appreciated!"
Fossum continued, "From what we have seen, we look for several other states to follow in the coming months/year. This is because we have been informed that many States are having problems with some various promoters since they are not being overseen by a legitimate sanctioning body or a state athletic/boxing commission." Such issues are mainly safety concerns. Concerns with the lack of ringside physicians (MD's) or non qualified ringside physicians have become a major safety concern on these events throughout the US along with things such as not having qualified officials, methods of matchmaking and the defining of amateur and pro fighters, which only the ISCF does. The ISCF is the only Sanctioning Body in MMA/NHB that does not have a financial interest in the events they sanction.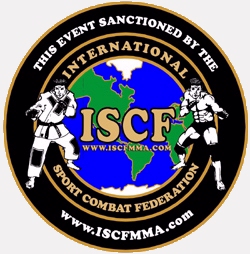 Along with sanctioning events in non regulated states in the U.S. and throughout the world, the ISCF has attained "Sole" sanctioning responsibilities in the states of Georgia, Missouri, Iowa and Kansas, with several other non-regulated states to follow. MMA events promoted in these States without ISCF sanctioning supervision are illegal and promoters of such events could face felony criminal charges. Such "Non-regulated" states have allowed MMA events to take place without any official regulated supervision while some states have banned the sport outright. This is where the ISCF is a "Help" to the sport as it hopes to be for the State of Illinois. In these other non approved States, the ISCF sanctioning supervision could soon be provided because the ISCF is the only "non promoting" sanctioning body for MMA, unlike some 'so called' sanctioning bodies for MMA that several states have already denied.
With sanctioning fees as low as $150.00 per event, this is far from any "Monopoly" as some have claimed in Georgia. If it were, we would see the ISCF charging fees like $5,000.00 per event, simply because they could. However, the ISCF does look closely at who they approve for sanctioning. To date, the ISCF has only denied sanctioning to 2 promoters. One because he was convicted for felony drug charges and the other for bouncing checks to event officials on two events. For more info on ISCF Sanctioning CLICK HERE.
---
FRIDAY, September 17th, 2004, AT 12:10 PM, PT
Rumble In The Jungle
Ready For Action In
St. Louis, Missouri, USA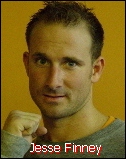 ISCF - IKF St Louis, Missouri, USA: Matchmaker Jesse Finney has put together another exciting night of action this Saturday Night. Shamrock Promotions along with The Rum Jungle is set to bring the St. Louis fight fans an action pack night of fights. There will be 1 IKF kickboxing bout, 1 boxing, and 7 ISCF MAA/NHB fights on the card.
The night will start off with an IKF kickboxing match between Nick Pulaski and Josh Fischer. Fischer is trained out of Finney's Championship Kickboxing and Martial Arts.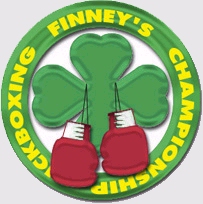 He is another kickboxer to come out of a gym that is known for great champions. The second fight of the night will start a night of great NHB fights. Josh Hargass, fighting out of Kansas, will take on Matt Otzenberger, from Arnold, MO. Both of these fighters are newcomers to the sport, so anything is possible. The third fight will showcase "The Pride of the South Side" "Mean" Mike Green, out of St. Louis, Missouri taking on Tim Riddle out of Cincinnati, Ohio. These two fighters have plenty of ring experience between the two of them.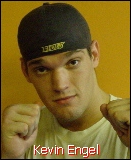 The fourth fight of the night will be between Sky Rigdon of St. Louis, Missouri and Rally MCCane from Tennessee. Rigdon is trained by Rodrigo Vaghi. After a short intermission the fights will start back up with Finney's Tim Conners and from Tulsa, Oklahoma, Craig Yates. Following that match will be Vaghi's Tyler Cregger and Arnold, Missouri's Davin Roberts. Cregger is coming off a big win back in July.
The three remaining fights are going to be worth the wait as former multi time IKF Amateur Kickboxing Champion Kevin Engel will face off against Detroit's Dwayne Stanley in a boxing match. John Manke of Team Vaghi will be facing Tim Lynch from Body Shots. The main event will be between two big men. Tracey Taylor out of team Vaghi and Dustin Roberts. Roberts is trained out of Arnold, Missouri and is no new comer to the Mixed Martial Arts ring. For additional information contact (314) 608-3104 or jesse@finneyskickboxing.com. Doors open at 6:30 fights start at 7:30. This is an all ages event.
---
FRIDAY, September 3rd, 2004, AT 3:10 PM, PT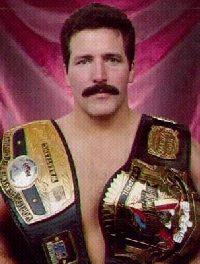 Severn Successful With
Danger Zone
In St. Robert Missouri!
August 28th, 2004
ISCF Missouri, USA: The ISCF welcomes a new Promoter who needs no introduction. Probably the most famous individual in Mixed Martial Arts today, Dan "The Beast" Severn (Right) has teamed up with the ISCF to promote a series of several events. Severn can chalk his first show up as a success as his event, The Danger Zone invaded Missouri with a tremendous show. Featured that night were 2, four man tournaments in Submission Grappling with special commentary by Dan "The Beast" Severn himself. Here are the Match by Match Results:
Match #1: Submission Grappling: Melvin Strange vs. Philip Cognito
Cognito defeated Strange via Neck Choke, 2nd Round at 1:47
Match #2: Submission Grappling: Kevin Wright vs. Pick Wymer
Wymer defeated Wright via Triangle Choke First round at 1:34
Match #3: Submission Grappling: Mike Bennet vs. Zack Allie
Allie defeated Bennet via arm bar Second Round at 2:06
Match #4: Submission Grappling: Payton Paxston vs. Charles Nutt.
Nutt defeated Paxston via arm bar First Round at 1:15.
Match #5: Mixed Martial Arts: Zach Allie vs. Melvin Strange
Allie defeated Strange via KO :43 first round.
Match #6: Mixed Martial Arts: Charles Nutt vs. Payton Paxston
Nutt defeated Paxston via armlock First Round at 1:11.
Match #7: Submission Grappling: Kevin Wright vs. Philip Cognito
Wright defeated Cognito First Round at 1:00.
Match #8: Mixed Martial Arts Mike Bennet vs. Rick Wymer
Wymer defeated Bennet via Rear Naked Choke First Round at 1:31.
Main Event: Mixed Martial Arts: Scott Griffith vs. Ken Sparks Jr.
Sparks defeated Griffith via decision in Three Rounds.
The official Danger Zone referee was Mr. Mike Leson. for more info go to www.the-dangerzone.com. For additional info on Dan "The Beast" Severn, go to www.the-beast.com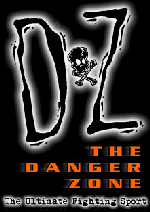 The Danger Zone was formed by Dan Severn, one of the best fighters in the world and the only triple crown Ultimate Fighting Champion. He has a tremendous reputation in the sport as a fighter and now is bringing his knowledge to the promotion arena. This is the bedrock of mixed martial arts fighting. Dan has assembled the best rules and regulations, equipment, officials, and together with various state agencies, has created The Danger Zone Mixed Martial Arts Production.
The Danger Zone is an event where two athletes of different disciplines may be able to display their skills against one another. This event puts competitors in their proper weight classes, skill level, and promotes sportsmanship through competition. This type of competition is intense, a physical and psychological chess match. You can no longer be a one-dimensional athlete. You must be well versed in the combination of wrestling, judo, sambo, and jui jitsu. There is never a lull in the action. The matches start on their feet where a KO or TKO can end a match. If there is a clinch, the action doesn't stop there. They are headed to the ground where the match may be ended with a submission, joint manipulation, KO, or TKO! Dan has been involved in this type of competition since the sport began in 1994. With his knowledge of the game, he hopes to bring The Danger Zone to new heights in the sport today.
MORE NEWS OF 9-3-04
Promoter Announces 11th Installment Of The
Submission Fighting Open.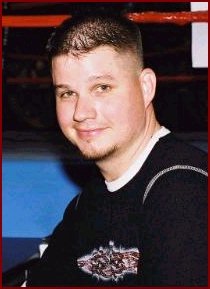 ISCF Georgia, USA: ISCF Promoter Matthew Waller (Right) Announced today that officials of Gauntlet Productions are now taking applications for SFO11 to be held on November 6th, 2004 in Macon, Georgia, USA in The Macon Auditorium. There will be single fights and tournaments on the card in both the professional and amateur categories based on participant entry.
Amateur tourney slots are filled on a "first come, first served" basis so send requests ASAP, or fill out an application and send it in. Weight classes for each are, 140 under, 155 under, 170 under, 185 under, 200 under, 220 under & 221 & up. The applications for the Amateurs can be found by clicking HERE and the rules for both can be found by clicking HERE
The Submission Fighting Open is Georgia's longest running mixed martial arts promotion and has been in effect since 1997. Owned and operated by Gauntlet Productions, the same company that brings you The Gauntlet Trials Southeastern Regional MMA qualifiers, the SFO is the premier showcase for up and coming talent in the southeastern region of the U.S. For more info please contact If you are interested in obtaining a slot on this card please contact Mr. Waller at gauntletprods@cox.net or call (478) 475-1092. This event is sanctioned by the ISCF and the IKF.
---
TUESDAY, August 10th, 2004, AT 10:45 PM, PT
ANARCHY IN AUGUST II
IS AWSOME!


The Southeast's premier MMA promotion, Brett Moses' Fight Party Productions, put together another action-packed night of ISCF

sanctioned MMA fighting. Moses (Right) has once again brought Georgia what they want... GREAT FIGHTS Done Right!
ANARCHY IN AUGUST II, held last Saturday night, August 7th at the Tabernacle, in Atlanta, played to a packed house with 11 MMA bouts and the dual Main Events: George Allen vs Damien Stelly and Jeff Bedard vs Aaron Williams fully living up to the pre-event hype. Here are the nights results below.
Bout 1 Light Middleweight MMA: Omar Lira (Tiger Academy) submitted Bryan Herring (GorillaNation) at 1:34 of round 1 by Rear Naked Choke.
In his first fight, Lira worked his technique and secured the victory.
Bout 2 Light Heavyweight MMA: Mac Teasley (Anderson Vale Tudo) submitted Bernard Rutherford (Velocity) at the 1:36 mark of round 1 by Guillotine Choke.
Rutherford came out strong, but Teasel was able to stay focused and sink in the choke. Rutherford cried foul alleging that Teasley pulled his hair however the referee could not see anything from his position. However, there were a few dreads lying on the ring floor.
Bout 3 Light Heavyweight MMA: John Fabbricatore (Ultimate Martial Arts) defeated Gene Williams (Tiger Academy) at :28 seconds into round 1 by punch KO.
These two came out throwing leather with Fabbricatore getting the better of the exchange.
Bout 4 Super Heavyweight MMA: Nate Horsely (The Hardcore Gym) submitted Scott Harper (S. GA Defensive Tactics Academy) at 2:47 of round 1 by Rear Naked Choke
In both fighters' Pro debut, Harper clearly dominated the early party round, but Horsley kept his composure and worked the submission.
Bout 5 Light Middleweight MMA: Juan Guevara (Tiger Academy) defeated Jeff Powell at 1:59 of round 1 by Tap Out due to Strikes from the mount.
Powell drew blood during the exchange, but it was all Guevara from that point on.
Bout 6 Light Middleweight MMA Grudge Match: Chris Clodfelter (Ox Vale Tudo) submitted Dale Sapp (East Bend Martial Arts) at 4:38 of round 1 by Tap Out due to an Achilles Lock.
Clodfelter clearly dominated Sapp in this grudge match.
Bout 7 Light Heavyweight MMA: Andy Foster (United/Velocity) submitted David Davis (Amarillo, TX) at :24 seconds of round 1 due to Arm Bar.
In his Pro debut, Foster showed the value of technique as he weathered the hard takedown and then quickly submitted the hulking Davis.
Bout 8 Welterweight MMA: Rafael Assuncao (Alliance) submitted Scott "The Body" Johnson at 2:41 of round 1 due to Arm Bar.
"The Body" came out strong with two resounding slams, but the composed Assuncao stayed calm and worked to secure the arm bar.
Bout 9 Middleweight MMA: Rashad Khaaliq (Velocity) defeated Jorge B (Team Kimura) at 3:04 of round 1 by leg kick KO!
Khaaliq, in his Pro debut, put B on the canvas for good with a devastating leg kick.
Bout 10 Light Heavyweight MMA: George Allen (Eagle/Velocity) defeated Damien Stelly (Alliance) by Majority Decision after a full 15 minutes of fighting over 3 rounds.
This bout featured the tough veteran, Allen, versus the young up and coming Army Ranger, Stelly (Making his Pro Debut). Allen clearly won the first round, getting the better of the exchanges and clearly stunning young Stelly. In the second round, the fight went to the ground with Stelly securing a knee bar. The knee bar appeared cinched with the knee extended. Amazingly, after over three minutes, Allen escaped just before the round ended. In the third, Allen came out amazingly strong. Stelly then took him down and toward the end of the round was able to mount and began raining down punches. The bell rang ending the match. Allen won a close bout by again, majority decision.
Bout 11: ISCF Southeastern United States Pro Welterweight Title: Jeff Bedard (AFA) defeated Aaron Williams (Dixson's Dungeon) by Unanimous Decision after 3 rounds and 15 minutes of fighting.
Bedard's lightning fast takedowns and amazing base all but neutralized the attack of the game Williams. However Williams never stopped attempting submissions and sweeps. Still, it was Bedard who was able to defend successfully and land countless strikes for the win.
Check www.thefightparty.com for further details or call The Fight Party Hotline at (404) 315-7235.
---