THURSDAY, September 27th, 2001, AT 4:05 PM PT
"Circle of Truth II"
RESULTS!

Reality Super Fighting's "Circle Of Truth II"
(www.realitysuperfighting.com)
from Savannah, GA held on Saturday, September 22, 2001.
ISCF MMA
Miguel Olmo won over David Moseley by guillotine submission.


ISCF MMA
Glen Mincer won over Jerry Gummo by KO (tap after a slam).


ISCF MMA
Adam Copenhaver won over Mike Newton by heel hook submission.


ISCF MMA
Bill Perez won over Chief Geronimo Abdure-Raheem by armbar.


ISCF MMA
Daniel Castro won over Shane Counts by heel hook submission.


ISCF MMA
Beau Corbbrey won over Raymond Tortorrico in OVERTIME by keylock.


ISCF MMA
Scott Johnson won over Alan Williams by choke.


ISCF MMA
Mike Boukovich won over Skip Hall by tko.


ISCF MMA
Charles "Krazy Horse" Bennet won over Todd Carney by KO.


ISCF MMA
Muhsin Corbbrey won over Joe Cervantes by armbar.


This was an excellent night of fights! Our most sincere thanks to the fighters, their corners, the staff, volunteers, sanctioning officials and fans who supported the event. This event was sanctioned in the state of Georgia & the ISCF.

---
WEDNESDAY, September 26th, 2001, AT 10:00 PM PT
"Fight Night"
This Saturday!
Making his debut as an ISCF Sanctioned Event Promoter this weekend is Mr. Romain Spell of Georgia. Spell will host "FIGHT NIGHT" this Saturday night, September 29th at Herbie's Hideaway in Valdosta, Georgia, USA. The event will have 4 fighters, fighting for the win in every weightclass. For event and ticket info, please contact Mr. Spell at (229) 244-8414 or by E-Mail at ROMAINSPELL@YAHOO.COM
---
WEDNESDAY, September 19th, 2001, AT 8:00 PM PT
THIS WEEKEND'S
"Circle of Truth II"
Has A VENUE CHANGE

RSF 4 In Savannah Civic Center on Saturday Reality Super Fighting www.realitysuperfighting.com announces a change of venue for its next mixed martial arts event, "Circle of Truth II".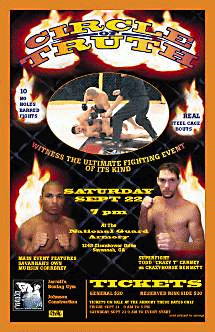 These no-holds-barred cage fights will be held at the Savannah Civic Center, Savannah, Georgis on September 22, 2001. The venue was changed to the Civic Center because of overwhelming interest. The last RSF event in Savannah, GA sold out to a standing room only crowd! Tickets will be available at the Civic Center Box Office or by calling 912-651-6556 (OR, toll free outside of Chatam County 800-351-7469). Tickets go on sale Thursday, Friday and Saturday (10 a.m. to 5 p.m.) General admission seats are $20. Reserved ringside seats are $30.
The long awaited rematch between Todd "Crazy T" Carney and Charles "Crazyhorse" Bennett will take place on this card! The last time these two battled, Crazyhorse KO'd Carney. Carney doesn't like to lose. Since that fight, Carney has won five other NHB matches and, most recently, a pro boxing match where he knocked out his opponent in less than a minute. Crazyhorse is eager to compete after his valiant efforts in "King of The Cage".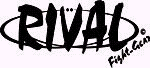 Fans can look forward to five professional bouts including a fight featuring Savannah's own Muhsin Corbbrey who just came off of a big win in Weirton, WV against Jerry Hackney. He will fight Joe Cervantez from Miami, FL from Team Cordosa. Skip Hall — recently featured in Full Contact Magazine — will be celebrating his 58th birthday AND competing on this card against Mike "BOOM BOOM" Boukovich, trained by Tommy Trauma.
This card will be packed! Other fighters who will enter the cage include"BIG" Wade Rome, Beau Corbbrey, Raymond Tortoricco, Jerry Gumme, Shane Count, Ron Myers, Scott Johnson and Team Hybrid's Asher King and D Wade. Bill Perez, "BigDawg" Deeders, Daniel Casto, Miguel Olmo, and Glenn Mincer –known as Florida's "Mini Randleman" will be fighting out of the Team Rival camp.
Making his NHB debut is Eric Marshall. A sincere thanks goes out to Mike Carlson, ISCF World Director, Matt Waller, promoter of the Gauntlet Trials, and our nation's citizens for supporting this event and the American way through this time of crisis. This event is sanctioned by the ISCF, International Sport Combat Federation. Visit the ISCF on the Web at www.theiscf.com.
Card is subject to change. Promoter: Jamie Levine, Event Sponsors: Reality Sports Inc., Rival Fight Gear, Jarrell's Boxing Gym, Johnson Construction, I-95 FM: The Rock Of Savannah.

---
TUESDAY, August 28th, 2001, AT 2:30 AM PT
FULL RESULTS FROM THE
GAUNTLET TRIALS III

Saturday, August 25th in Thomaston Georgia, USA in The Thomaston Civic Center
ISCF AMATEUR MMA
Dave Loving vs Sean Church
After Loving controlled the action early with a front choke, Church turned the tables and applied an armbar. Loving showed tremendous heart, and refused to tapout, despite Church's pressure which kept on even after Church was slammed. In the end, Loving won by split decision.


ISCF AMATEUR MMA
Michael Spears Vs Trey Lambert
Lambert initially attacked with a vicious right hand, and Spears answered with a hip throw takedown. The action slowed with Spears maintaining a mounted position for much of the fight. Spears won by unaminous decision.


ISCF AMATEUR MMA
Jimmy Jennings VS Keith Blizzard
Blizzard applied a guillotine choke arrly on, which Jennings patiently survived. After the escape, Jennings began a series of strikes which resulted in Blizzards submitting.


ISCF AMATEUR MMA
Dustin Davis VS Ryan Starnes
This fight began with flurry of strikes, which led to a battle for position on the ground with Starnes in Davis's guard. After a failed armbar attempt, Davis tried a guillotine which Starnes escaped. Davis then applied an Americana arm lock from his back, which forced Starnes to tap.


ISCF AMATEUR MMA
Peewee McCall vs Jason Smith
McCall threw some heavy leather early and then took Smith down. After being stood up, it was more of the leather being thrown by McCall but this time more intense followed by a vicious slam from McCall and then applying a choke to make Smith tap out.


ISCF AMATEUR MMA
Pat McBride vs Jake Pruitt
Pruitt who has shown great takedown skills in the past was surprisingly put on his back by McBride at the beginning of the bout. Pruitt escaped, and attempted an armbar, which McBride spun out of. Once McBride applied a rear naked choke, he forced Pruitt to tap out.


ISCF AMATEUR MMA
Geronimo Raheem vs Dave Loving
Raheem was relaxed and technical with his striking, even landing side kicks! Lovings constant guillotine choke attempts did nothing to slow Raheem down, once he escaped. After Raheem landed a picture perfect left hook to Loving's chin, Loving submitted giving the win to Raheem.


ISCF AMATEUR MMA
Sean Kilgus vs Michael Spears
Kilgus wowed the fans with a high round kick and, as in his first bout Spears answered with a hip throw takedown. Kilgus reversed, and mounted Spears, and began striking. Spears taps to strikes.


ISCF AMATEUR MMA
David Bennifield vs Nick Eubanks
Hometown fighter Eubanks faced off with Bennifield who came all the way from Louisianna. The Long legged Bennifield silenced the Thomaston crowd by making Eubanks tap to a triangle choke in the for the fastest win of the night ( 58 seconds)


ISCF AMATEUR MMA
Kevin Hogan vs Keith Wozniak
This bout started with barage of punches from both fighters followed by Hogan taking down Wozniak. After the fighters returned to their feet Hogan dispatched Wozniak with a standing guillotine choke.


ISCF AMATEUR MMA
Rory Singer vs Robert Bridges
Bridges took Singer (IKF MuayThai Super Heavyweight Georgia State Champion) down and went into Singer's guard where he was forced to fend off Singer's arsenal of submissions and reversals attempts. When the action returned to standing, Singer's Muay Thai skills showed, as did the arm bar which Singer used from the mount to win.


ISCF AMATEUR MMA
Kevin Jordan vs Jimmy Jennings
The unorthodox style of Jordan overwhelmed Jennings early on, who attempted a clinch, which slowed the action. Once Jordan mounted Jennings, he forced Jennings to tap due to strikes.


ISCF AMATEUR MMA
Forrest Griffin vs Kevin Brooks
This bout started with both fighter throwing a series of punches back and forth, and Brooks landed a hard knee to the head of Griffin. Griffin then charged Brooks who was injured while going through the ropes due to Griffins takedown attempt. Griffin wins via injury default.


ISCF AMATEUR MMA
Peewee McCall vs Dustin Davis
The action of this bout went slowly, as McCall delivered strikes from Davis' guard. After McCall defended a triangle choke and a tight arm bar attempt, Davis mounted and McCall reversed. With no winner in regulation, the bout went into overtime. McCalls striking took over, and he took Davis' back and went for a rear naked choke. However after he lost the choke, he mounted Davis and dominated the overtime, winning by unamimous decision.


ISCF AMATEUR MMA
Pat McBride vs Geronimo Raheem
The Striker Raheem met the grappler McBride. Raheem defended McBride's early shoots and takedown attempts and the fight went back to standing. In the end of a very technical and exciting match, the crowd was on it's feet and McBride took the back of Raheem and forced Raheem to tap with a rear naked choke.


ISCF AMATEUR MMA
Sean Kilgus vs David Benifield
This bout quickly went to the ground, where both fighters attemped various leg lock on one another. The fighters were stood up and Benifield dropped Kilgus with a round kick to the head, and the fighting went back to the ground. The bout went into overtime for more ground work. Kilgus won by submission with an armbar in overtime.


ISCF AMATEUR MMA
Rory Singer vs Kevin Hogan
Singer won by default when his opponet withdrew.


ISCF AMATEUR MMA
Forrest Griffin vs Kevin Jordan
This fight stayed on its feet, with the two heavy weights throwing bombs of leather at each other. Then it went to the ground where Griffin won with an arm bar.


For additional info, please contact Mr. Matthew Waller at (478) 475-1092 or by e-mail by Clicking HERE!
---
MONDAY, August 27th, 2001, AT 7:30 PM PT
PEEWEE'S BIG ADVENTURE
WILL TAKE HIM TO IOWA
GAUNTLET TRIALS III RESULTS!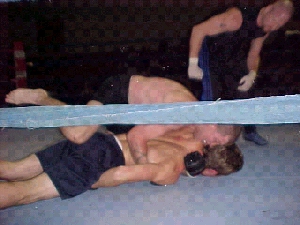 "A redneck is going to Iowa," exclaimed Walter "PeeWee" McCall upon winning the Gauntlet Trials III Lightweight Championship in Thomaston, Georgia, on Saturday, August 25, 2001.
This title came by way of winning two bouts. The first bout was against Jason Smith of Michigan whom he defeated in less then four minutes with a rear naked choke (right). Smith said that he was actually knocked out prior to the submission by a solid overhand right from McCall.
The second bout was a win by unanimous decision against Dustin Davis of Atlanta. In this exciting match that went through the
regulation ten minute round and a five minute overtime, McCall countered numerous submission attempts by Davis and dominated by superior position and striking (Left).
McCall now advances to the Extreme Challenge National Tournament to be held in Iowa in December, 2001.
This regional event was sanctioned by the ISCF, International Sport Combat Federation with mixed martial arts contest rules allowing kickboxing, grappling, and submissions.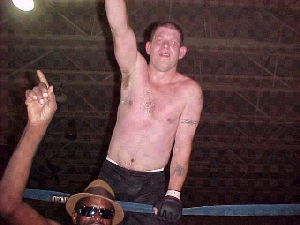 McCall's training is sponsored by Vulcan Steel of Adel, Georgia, where he is employed. He plans to continue to hone his skills at Valdosta Martial Arts Center in preparation for the national tournament.
Valdosta, GA's, own 'Superfan'" McCall's friend and coworker, James Banks (Right), was there to rev up the crowd. Valdosta MMA 'Superfan', who has endeared himself to many in the Southeastern fight scene with his dedicated and enthusiastic rooting for Mccall and other fighters, could not restrain himself after Pee Wee's win, hurling himself into the ring to congratulate the winner upon both wins.
For additional info, please contact
Mr. Matthew Waller at (478) 475-1092 or by e-mail by Clicking HERE!
---
THURSDAY, August 23rd, 2001, AT 9:00 AM PT
GAUNTLET TRIALS III
Fight Card Announced!
Saturday, August 25th in Thomaston Georgia, USA in The Thomaston Civic Center
ISCF Promoter Matthew Waller is all set to host the Gauntlet Trials III this Saturday night, August 25th at the The Thomaston Civic Center in Thomaston, Georgia, USA. The Gauntlet Trials is a feeder show to the EXTREME CHALLENGE, USWF or the SUPERBRAWL. Winners will earn berths in the 2001 Nationals in Iowa held by Monte Cox scheduled for November 2001. Here's the nights fight line-up...
150 & UNDER

Dustin Davis: Beaufort, SC
Ryan Starnes: Douglasville, GA
PeeWee McCall: Valdosta, GA
TBA

150.1 - 170

Shawn Church: Eugene, OR
Jerry Gummo: Beautfort, SC
Dave Loving: Stockbridge, GA
Pat McBride: Beaufort, SC
Geronimo Abdure- Raheem: Swansea, SC

170.1 - 190

Nick Eubanks: Thomaston, GA
Michael Spears: Reedcity, MI
David Benifield: Slidell, LA
Trey Lambert: Atlanta, GA
Joshua Hancock: Harlem, GA
Bobby Gay: Warner Robins, GA

190.1 - 210

Keith Wozniak: Warner Robins, GA
Robert Bridges: Paris, TX
Rory Singer: Athens, GA
TBA

210.1 & UP

Forrest Griffin: Athens, GA
Jimmy Jennings: McDonough, GA
Keith Blizzard: Hardwick, GA
Wilford Moore: Valdosta, GA
Kevin Brooks: Atlanta, GA
_____________________

DIRECTIONS TO THOMASTON CIVIC CENTER
FROM ATLANTA: Take I 75 south to exit 205. Turn right off the exit and travel about 12 miles into Griffin. Turn left at the third red light on to South Hill Street also know as business route 19. Travel about 26 miles going through ZEBULON and into Thomaston. Turn left just past courthouse onto 74 going towards MACON staying in left hand lane. Go through two red lights and turn left onto GORDON STREET. Travel about .25 of a mile to the five way stop and make a HARD right going back onto 74. Got to the caution light and make a right onto HULSTON DRIVE. You will also see the middle school on the right. Make a left onto CIVIC CENTER DRIVE. The Venue will be straight ahead.
FROM MACON: Take THOMASTON ROAD also known as 74 west towards Thomaston. Travel about 45 mins, just before you get into Thomaston you will see a caution light and the middle school will be on your left. Make a left at the caution light onto HULSTON DRIVE. Make a left onto CIVIC CENTER DRIVE. The Venue will be straight ahead.
The doors Open at 6:PM for this event so don't be late. For ticket information you can call 478 475 1092. The Number to the venue is: 706 647 9691. For additional info, please contact Mr. Matthew Waller at (478) 475-1092 or by e-mail by Clicking HERE!