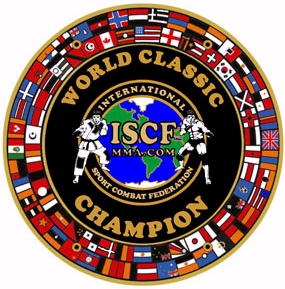 2009
ISCF MMA WORLD CLASSIC
AMATEUR MMA TOURNAMENT


EVENT OFFICIALS
ISCF MMA WORLD CLASSIC MAIN PAGE
OFFICIALS
If you are able to volunteer to be an Official at the 2009 ISCF MMA World Classic Championship please let the ISCF know by e-mail at info@iscfmma.com Those of you who are either local to the event or already going, please let us know by phone or e-mail (info@iscfmma.com) if you can volunteer to be an official at the event. We have received a lot of request for officials however most of them are asking for us to pay their travel fees and we simply cannot afford this. The ISCF is already spending a lot of money for the fighter awards and of course the venue so as in Amateur Boxing, all officials for this special event volunteer their time and skill. So, officials (or trainers who can assist as officials) who can pay their own travel fees will be selected first as the event officials as we have done every year for this event. Once we have you confirmed, we will list you below.
Thank You! Your assistance is GREATLY Appreciated!

2009 Confirmed Officials - AS OF November 13th, 2009


CHIEF ISCF Ringside Official

Steven Crawford
Overland Park, Kansas, USA
ISCFVice President & World Representative

Mr. Crawford will be in charge of checking all fighters at the Cage Entree before each bout.
As Chief Ringside Official he will be in charge of overseeing all officials duties and appointments.
CHIEF ISCF Ringside Officials

Dan Stell
Vacaville, California, USA
ISCF West Coast Representative

Mr. Stell will be in charge of the fighters running order and fighters equipment as well as oversee ALL Fighters & Bouts in ALL Rule styles at ringside.

Sarah Lauri, Idaho, USA

Assisting Mr. Stell with the issuing of fighters equipment.
Event MC & Event Coordinator

Steve Fossum
California, USA
ISCF/IKF World President

Mr. Fossum will oversee and set the pace of the entire event.
RINGSIDE REPRESENTATIVES - In No Particular Order - Officials Assignments & Scorekeeper

Ron Thomas, West Virginia, USA
Chuk Wolfe, Missouri, USA
Mike Storm, Omaha, Nebraska, USA
---
REFEREES - In No Particular Order

Chuk Wolfe, Missouri, USA
Winston Matthews, Illinois, USA
Mitch Harris, Missouri, USA
Farron Otis, Missouri, USA
Chad Osborn, Missouri, USA
---
JUDGES - In No Particular Order

Brian Storm, Omaha, Nebraska, USA
Winston Matthews, Illinois, USA
Travis Cress, Missouri, USA
Darrell Cox, Missouri, USA
Dave Milliner, Kansas, USA
Dave Atchison, Indiana, USA
Neal Fletcher, Missouri, USA
Paul Kolenda, Missouri, USA
Brandy Partridge, Missouri, USA
Benjamin Nogueras Jr., Missouri, USA
Steven Rodriguez, Kansas, USA
Joey Rodriguez, Kansas, USA
Patty Crawford, Kansas, USA
Dave Clifton, Kansas, USA
---
MEDICAL STAFF

Dr. Rance McClain, Kansas, USA, Chief Medical Official
---
TIMEKEEPERS - In No Particular Order

Patty Crawford, Kansas, USA
Donna Atchison, Indiana, USA
---
CAGE CARE

Matt Colbert, Kansas, USA
Steven Rodriguez, Kansas, USA
Joey Rodriguez, Kansas, USA
---
ISCF EVENT AMBASSADOR

Brooks Mason, Omaha, Nebraska, USA
---